Sunil Jaglan, Founder of the Selfie with Daughter Foundation giving away a Emergency kit for woman to a person in Nuh
Yunus Alvi/Mewat(Haryana)
Sunil Jaglan, a Haryana-based activist, and a pioneer of many pro-women campaigns in Haryana, a state where the sex ratio (number of women to men) is one of the lowest in the country, has come up with the idea of a "Health emergency kit for women" to address the problems faced by girls and women during their menstruation.
Jaglan is the founder of the Selfie with Daughters Foundation, an NGO that takes its name from its first and most effective campaign for saving the girl child.
He is working on an idea to make available "emergency kits" to women and girls to help them deal with an emergency in case they start bleeding in the middle of their routine or when they are caught unawares.
Though menstruation is a biological process in a woman's body, its onset can vary by a few or more days from a 29-day cycle. Due to this, young girls are sometimes caught unawares and they urgently need a sanitary pad, sanitizer or soap, and if possible, underwear to change.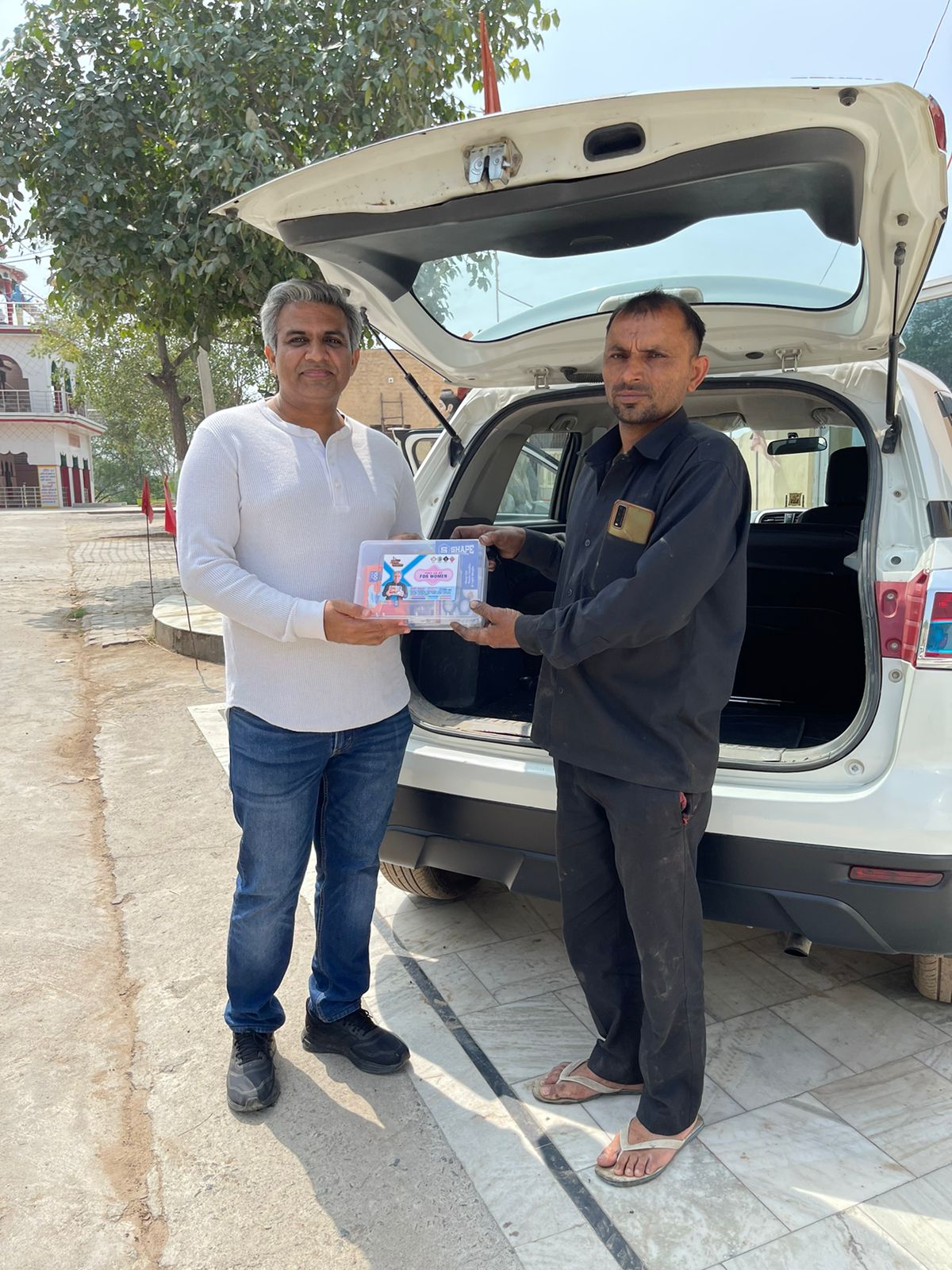 Sunil Jaglan (left) distributing Women's emergency kit

Jaglan's kit will have all these provisions.
He said the campaign to make 'emergency kits available to girls will be initiated from cities like Gurugram, Nuh, and Jind districts of Haryana.
In the due course, he hopes to expand his campaign across Haryana and the country.
Jaglan is a pioneer of several campaigns aimed at bridging the gender gap in a conservative society like that of Haryana. His campaign "Selfie with daughter" in which men proudly pose with their daughters and "period chart in every house," have broken taboos and led to more freedom and elevated status of a girl child.
He has also been associated with other campaigns like Beti Bachao Beti Padhao, Pad-mitra' Gali Band Ghar, Laado Go Online, Selfie against Dowry, etc that have helped change attitudes towards women and social evils.
Jaglan says he should have started this campaign much earlier.
He says since a girl or a woman can have her periods at an unexpected time, making sanitary pads available to them anytime and anywhere is a necessity.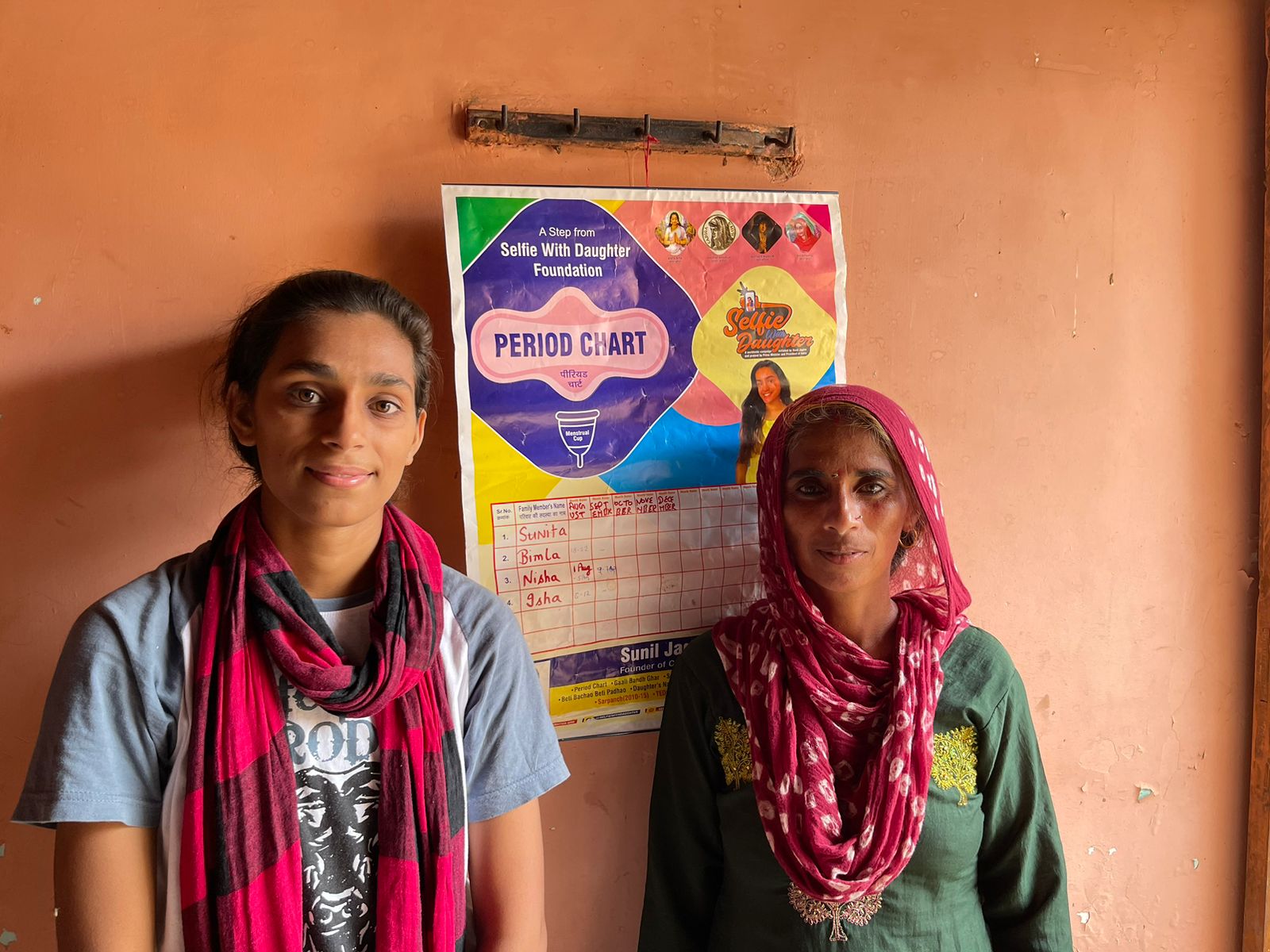 A father and a daughter in Nuh posing with the period chart

According to Jagalan, the taboo, and shame of menstruation have not completely gone from society. He says the governments also highlight such issues only on specific days like 'World Menstrual Hygiene Day', whereas such sensitive topics need to be talked about regularly.
Sunil and his team have prepared 500 first-aid kits for women and these will soon be distributed in Haryana. He told Awaz-the voice that he is seeking to involve more youth in this campaign. The campaigners would carry the medical kits in their vehicles and give these to women randomly.
He says while his volunteers will distribute the sanitary kits he hopes and would work to sensitize men and encourage them to keep such a kit in their vehicle to help a woman in an emergency.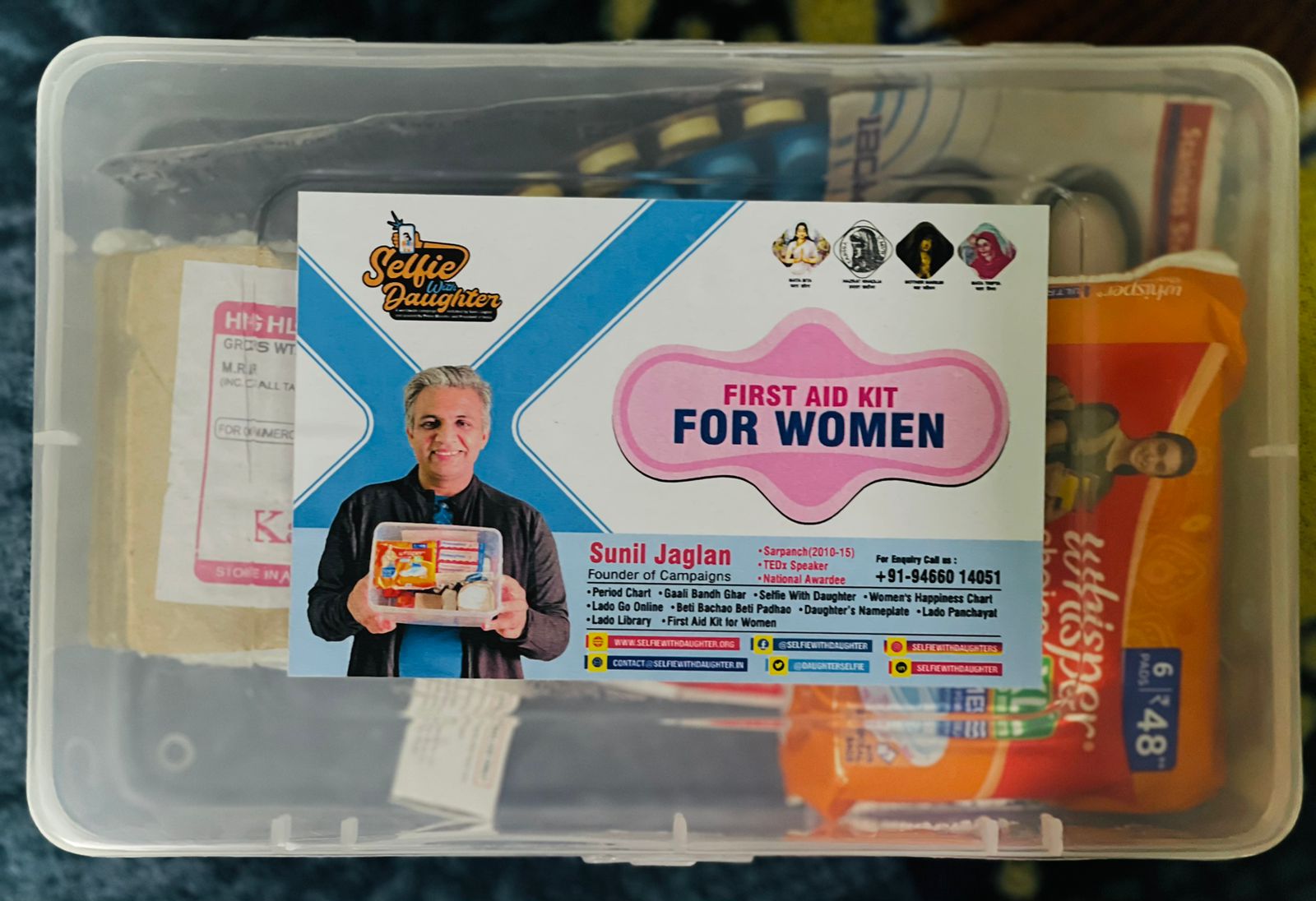 Poster of the campaign for Emergency kit for women"

The emergency kit for women will contain a sanitary pad, a period chart, and all items of first aid.
Jaglan's idea for an "emergency kit" is inspired by his daughters. He said that period is a natural phenomenon while traveling with his daughters, he realized the need to have a kit.
His campaign "Selfie with daughter" has been appreciated by Prime Minister Narendra Modi in several editions of his radio programme Maan ki Baat.
Jaglan says, 'If Prime Minister Modi speaks about his latest campaign, it is sure to more popular and become a pan-India phenomenon and bring about a revolution."
His organization is also involved in ensuring all homes in Haryana have a Menstruation or a period chart listing the date of the start of menses of all the girls and women in the family for the men to know about and care for them.
The Selfie with Daughter Foundation has already generated a lot of awareness about the health issues and problems faced by adolescent girls and women during menstruation and the need for men to take care of them during those days.
Sunil Jaglan says the lack of awareness about menstruation and delayed or irregular periods are the cause of major health issues for serious diseases in women.
In the period chart, the date of epidemic of every month will be written along with the names of all the female members of the household. With this, the male members of the house will also be able to become aware of this subject.
Sunil Jaglan has dedicated this campaign to Mary Kerrner, who first discovered the sanitary belt for menstruation on her death anniversary.
Sunil Jaglan says that many women in India still have no awareness about and access to sanitary napkins (towels). There is still a sense of shame felt by a girl in asking a male shopkeeper for these.
The menses is a painful period for a woman. She feels tired, weak, and at times nauseated. Many women have problems like water retention in limbs that leads to bloating of the stomach and hands-feet, abdominal cramps and pain and backache, fever, loss of appetite, and even constipation during their menstruation.
A woman's health needs special care during those five days. She must rest and it's so rare for people to think about it in a patriarchal society.
Society considers it normal for a woman to feel weak and complaining about it is not appreciated. Women should not be prohibited in any way from doing religious work during periods.
Nishat Roon, a law student from Ferozepur Jhirka, says that changing attitudes to periods is necessary "We have to face a lot of trouble those days. In our area like Mewat, where sanitary pads are only marginally used, Selfie with Daughter Foundation's period chart has brought a change."
Pooja Nuh, another resident, said that both she and her mother have listed the dates of onset of their period in the menstruation chart pasted on the wall of their house.
"We feel very comfortable now. Sunil Jaglan ji has explained it to all so easily. Our brothers have also seen this chart."
ALSO READ: Kashmir's pad-woman Irfana says men build palatial houses but can't buy STs for women
Anvi Anjum Islam, who is the brand ambassador of the Selfie with Daughter campaign, said that this campaign is sure to bring about a revolution in society. "It will become like the nameplate campaign of yesteryears when women were given property rights and the families flaunted it.