Aasha Khosa/New Delhi
Famous Pakistani foreign policy expert Uzair Younus' grandfather once lived in Ghed Bagasra, a village in Gujarat facing the Arabian Sea at the time of the partition of India.
75 years later as his famous grandson came there to trace his roots, he found two bullet marks on a house which, he was told, had triggered the flight of his and other Muslim families' of the Memon clan to Karachi, Pakistan, in 1947.
However, besides going on a nostalgia trip, Uzair, a US-based south Asian security expert linked to many think tanks and an avid vlogger whose views on Pakistan are taken very seriously, also discovered how the land of his ancestors had developed differently that the country they had left for in 1947.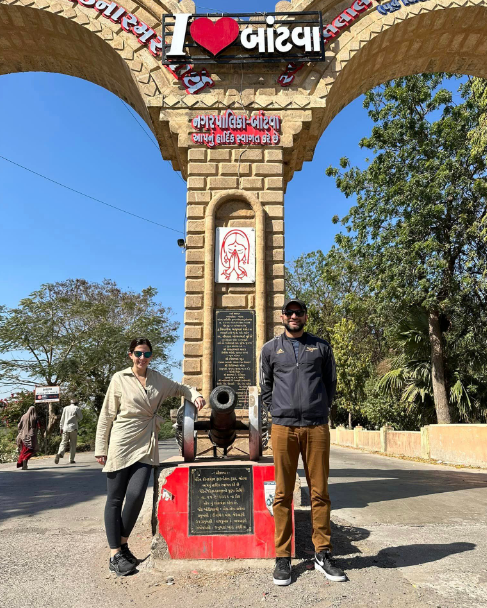 Uzair Younus and his wife somewehre near his ancestral village in Gujarat

The Washington-based Uzair Younus is a Vice President at The Asia Group, a security consultancy group for businesses and the director of the Pakistan Initiative at the Atlantic Council's South Asia Center.
Sharing his experiences, Uzair said his recent visit to several cities and towns in India exposed him to a new world. "Visiting India was like stepping into the future," he told a Pakistani vlogger.
Uzair said he was surprised by the pace and the reach of India's digitalization, digital payments, infrastructure growth, and, culture of coexistence.
Uzair and his American wife recently visited Delhi, Mumbai, Goa, Rajkot, etc. and he spoke of their experiences on his vlog.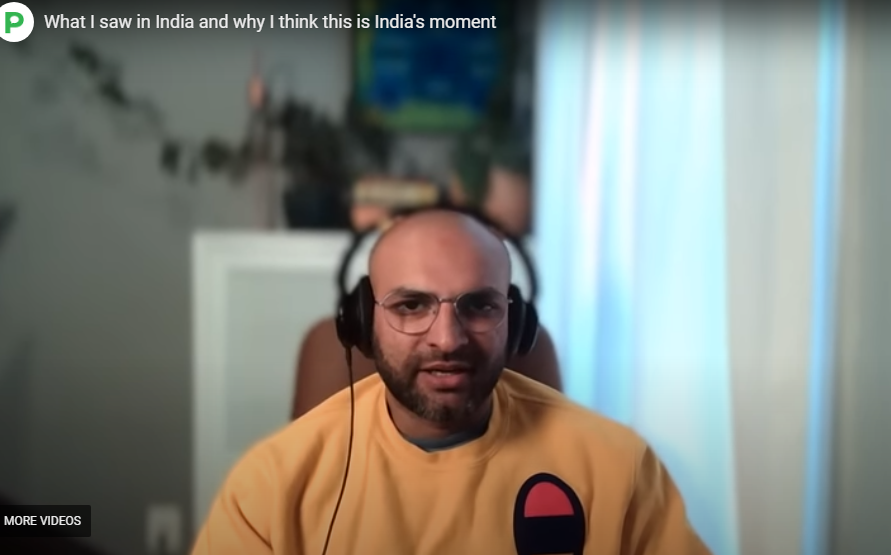 Thumbnail of Uzair Younus' Vlog

He said while interacting with people in India he realized "Indians are energized as if they were telling the world, it's India's moment; it is now or never."
Uzair's blog titled What I saw in India and why I think this is India's moment on Pakistonomy with 32.2 K subscribers was posted on YouTube 11 days ago. It has already recorded 154,022 views.
More significantly, Uzair's vlog has led to him being interviewed by many Pakistani vloggers on his journey to India.
Uzair says he was struck by the common practice of digital payments by even the small vendors and in the villages. "The fellow selling flowers at the village dargah asked me to pay by scanning a QR code," he said.
"Everyone in the village had a smartphone and making payments through a QR code is the way of life," he said.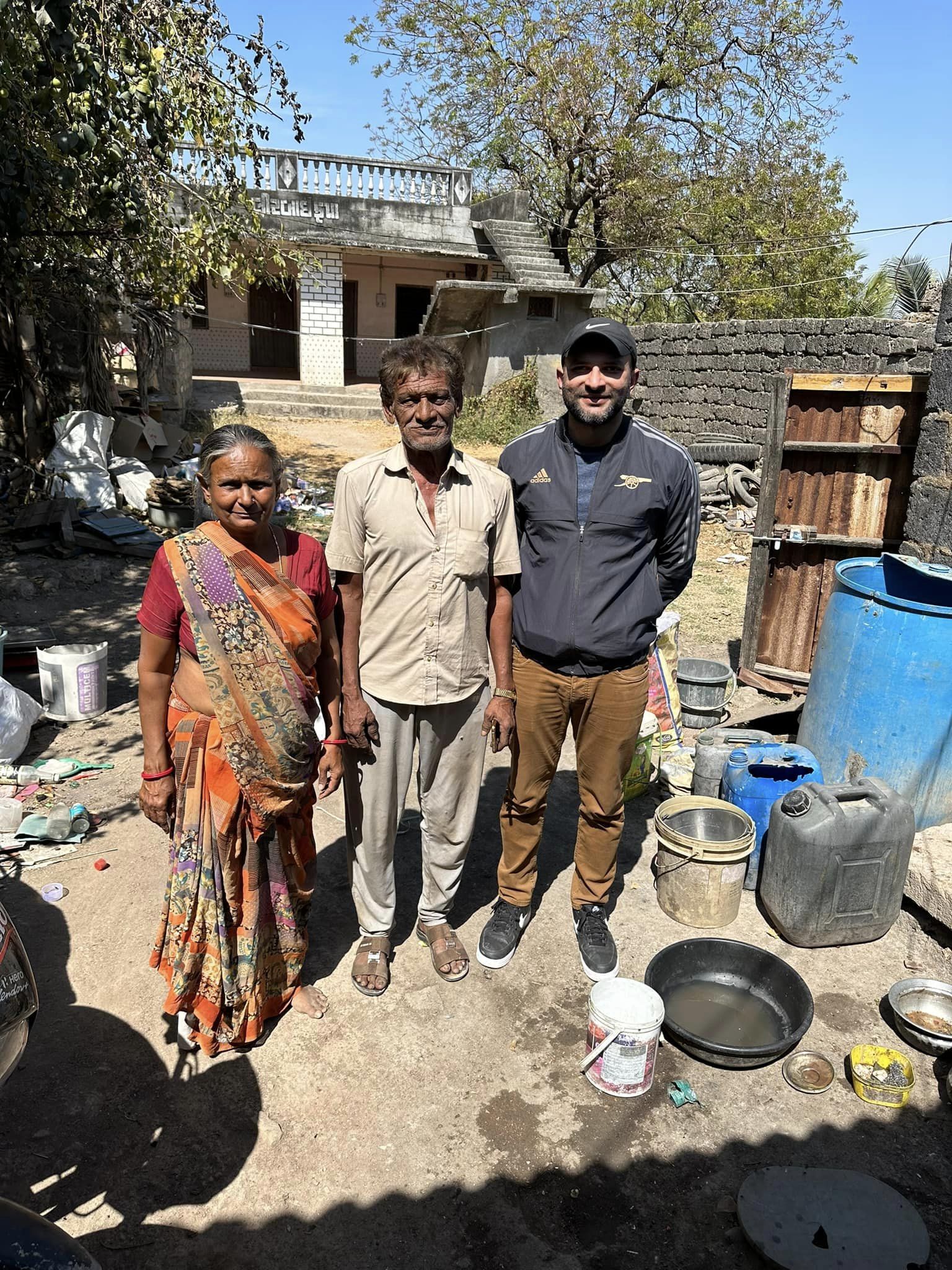 Uzair younus with local in his village

Uzair recounts several instances where he was asked to make digital payments be it while buying an entry ticket to the Taj Mahal, Agra, paying his guide, or buying food from a roadside vendor.
He was also surprised to see the Indian financial inclusion through zero-balance bank accounts and no fees on UPI-linked digital payments. "Modi faced a lot of criticism on this but it helped document transactions, reduce corruption, and ensure delivery of schemes," he said in an interview.
Besides, he said India's huge investments in infrastructure were visible as he traveled across cities via air and road. He said even in Rajkot, a city in Gujarat, he saw the airport full of foreigners.
Uzair's most interesting insight into India's growth came from the village of his ancestors.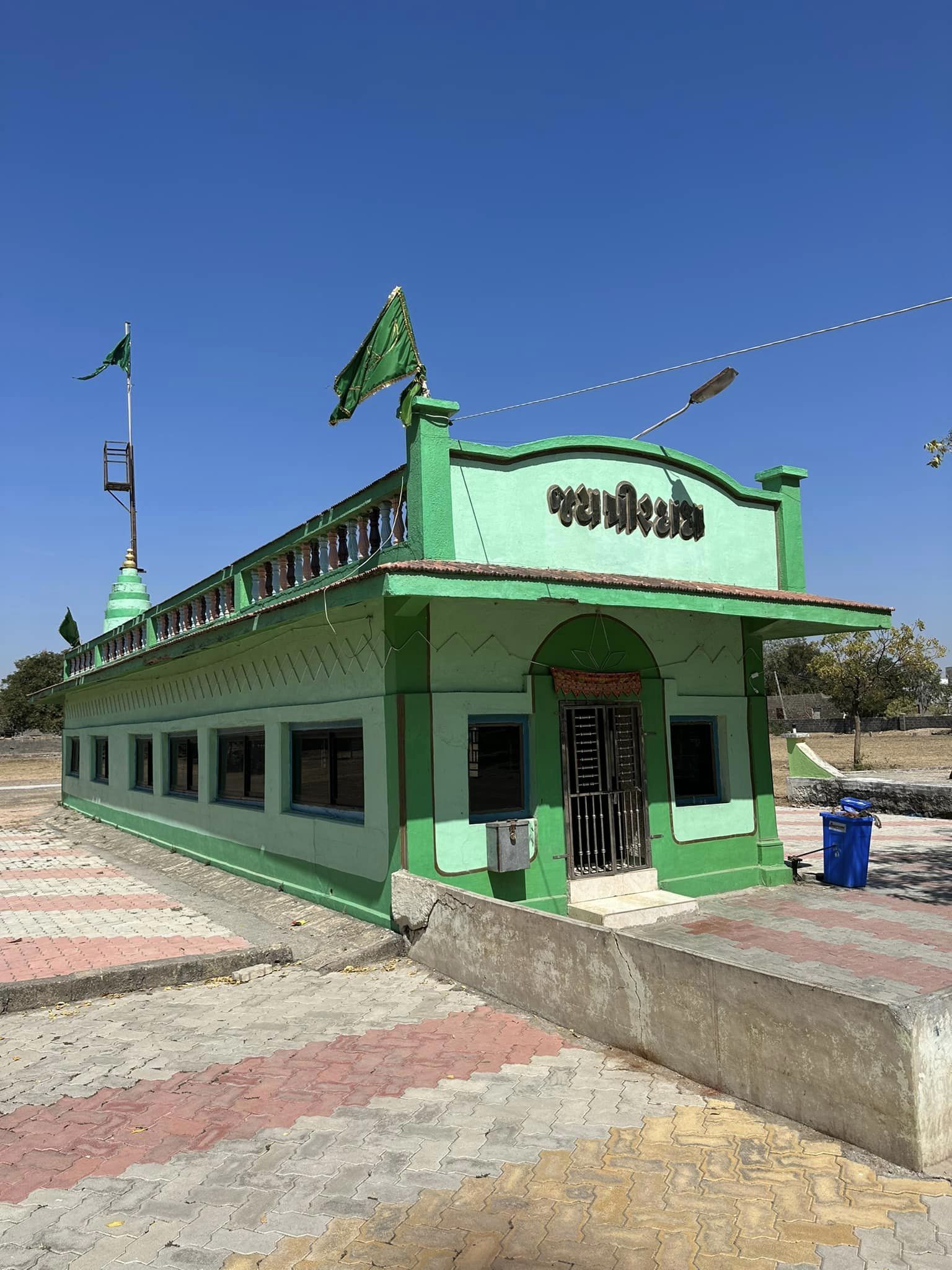 The shrine of Peer Ismail and Peer Jawala

He said in the village while he was looking for the shrine of a Sufi Saint, who had converted his family and others to Islam some 250 years ago, and his father had visited it years ago, he wondered if it continued to exist.
Later when a villager offered to take him there, he assumed it to be a non-descript place as the village has no Muslims after their flight to Pakistan in 1947.
"I thought it would be a small placed tucked away in some corner as no Muslims lived in the village of 3,000 persons.'
To his pleasant surprise, the shrine turned out to be a sprawling place, painted in green, was nicely produced up, and was being maintained by the priest of the neighbouring temple.
The graves of Ismail Peer and Jwala Peer – Sufis who had converted Memons to Islam – were inside the shrine.
"The Hindu temple priest told me that this dargah has immense spiritual powers. He asked me to offer my prayers and seek the blessings of Peers and all my wishes will be fulfilled."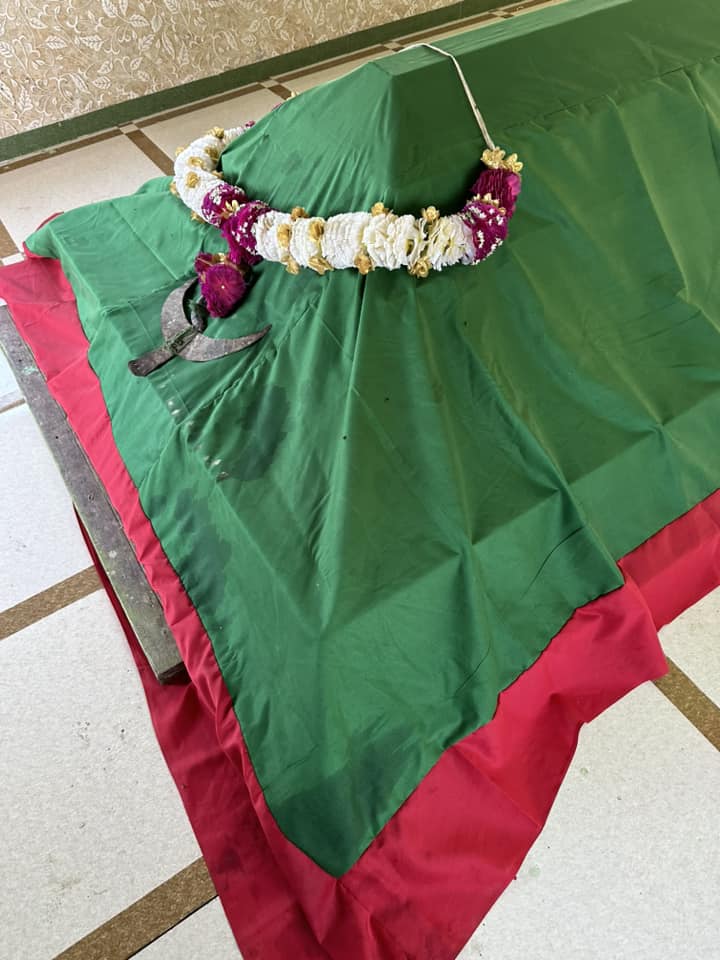 Floral tributes by Uzair Younus at the village shrine

He said looking at the well-maintained dargah in his ancestral village, which is visited primarily by Hindus, he said that Pakistanis are being fed the "lies of hate for the sake of politics."
Uzair was also surprised to know that the shrine attracted Muslims from neighbouring villages and the local Hindus held the shrine in high esteem.
The villagers were not so well off in the modern sense yet he was surprised to see that the most elegant and beautiful building was a school. "I was surprised to know that the village has a 90 percent literary rate."
He also told Pakistani bloggers that he was yet again shocked to know that Indians did not have to pay to access their data from AADHAR while in Pakistan where National identification cards for citizens were introduced much earlier, citizens had to pay to NADRA to access its data.
On India's digital footprints, he said in Mumbai he watched in awe as people had kachoris at roadside eateries and seem to leave just like that. He wondered why people were not asked to pay and it was cool. Later he was told that they are paying by scanning the QR codes of digital wallets and the sellers can hear the announcement from the speakers about the payment.
He said, "What I learned from my friend is that fin-techs have started selling smart speakers to the merchant's wallet. While the merchant is busy tending to his customers, smart speakers will make him know who all have paid."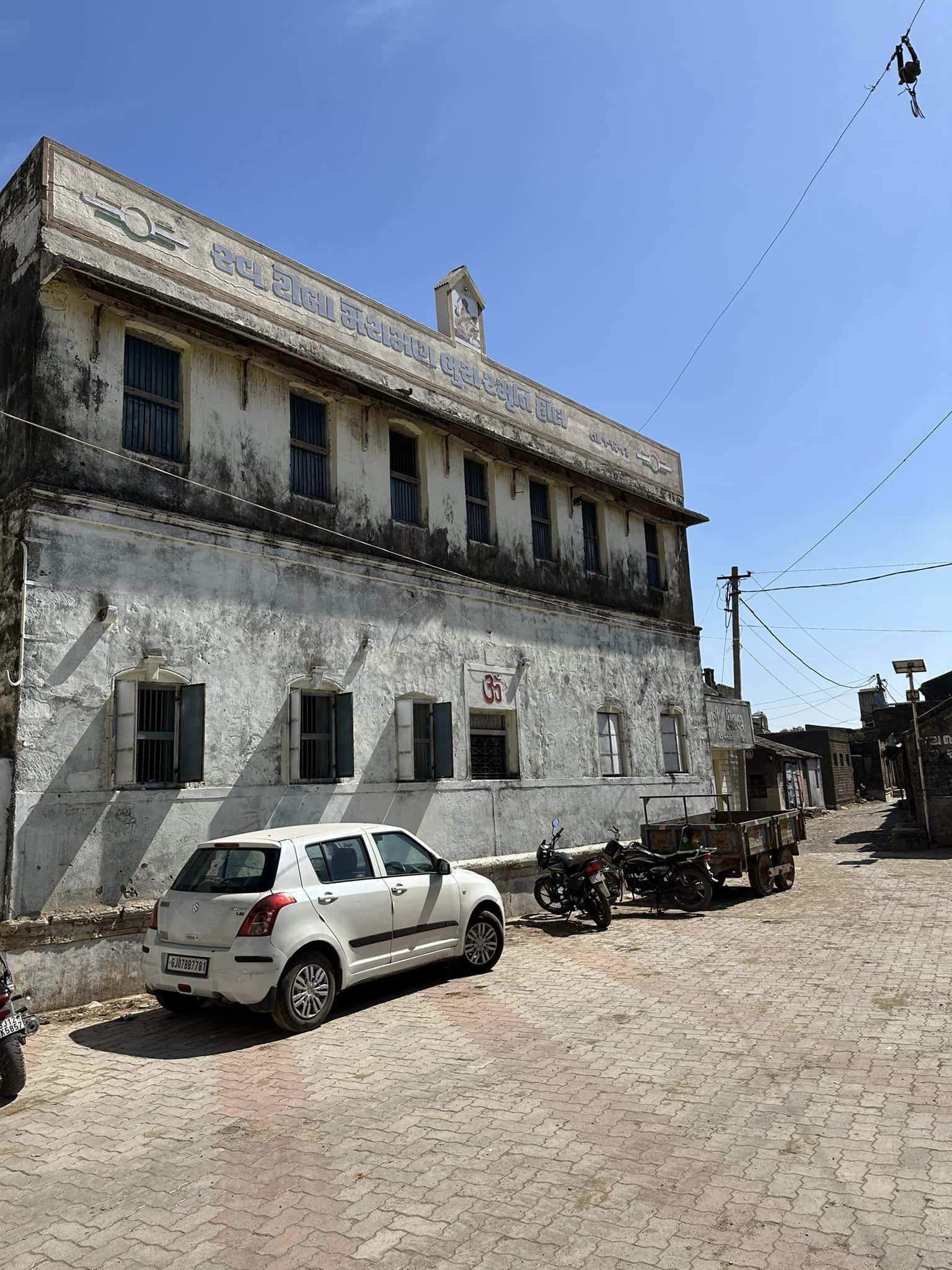 The school building in village

The Pakistani foreign policy expert said he was also impressed how everyone in India has zero balance accounts, UPI, and mobile phone access and the rule that every citizen with an Aadhar card should have the right to zero balance, zero cost bank account.
He said it was like something new for him that people living in remote Indian villages have Aadhar, as well as zero-balance bank accounts."This is what the Modi government has done in India. He was criticized at that time and was blamed for wasting government money. People said that opening bank accounts with zero balance, with subsidies from banks, would result in nothing. But it has transformed lives," he said.
ALSO READ: Wajahat's journey from a stone-pelter to change-maker of Kashmir
"Government subsidies made digital wallets more popular, encouraged the delivery of services through digital means, reduced corruption, and enabled more digital payments. Because now, you can not only open a bank account on an e-wallet but also avail insurance as well as credit," he said.