Ehsan Fazili/Srinagar
"Seeing my keen interest and potential in cycling, my father gave me Rs 6,000 for purchasing a racing cycle during the Covid pandemic. He had saved this money for my school fee," Adil Altaf, the winner of the 70-km cycling in the first Khelo India Youth Games, said.
Son of a small-time tailor from Srinagar downtown, Adil, 17, told Awaz-the Voice that with that amount he managed to buy a used bicycle and started racing along with some other school friends for six months. The group would regularly race for at least five to 10 km every day.
"The beginning was difficult; I met with an accident," he said. The accident left him bed-ridden with a minor fracture and broken teeth. He had to take a rest and stay away from cycling for a month.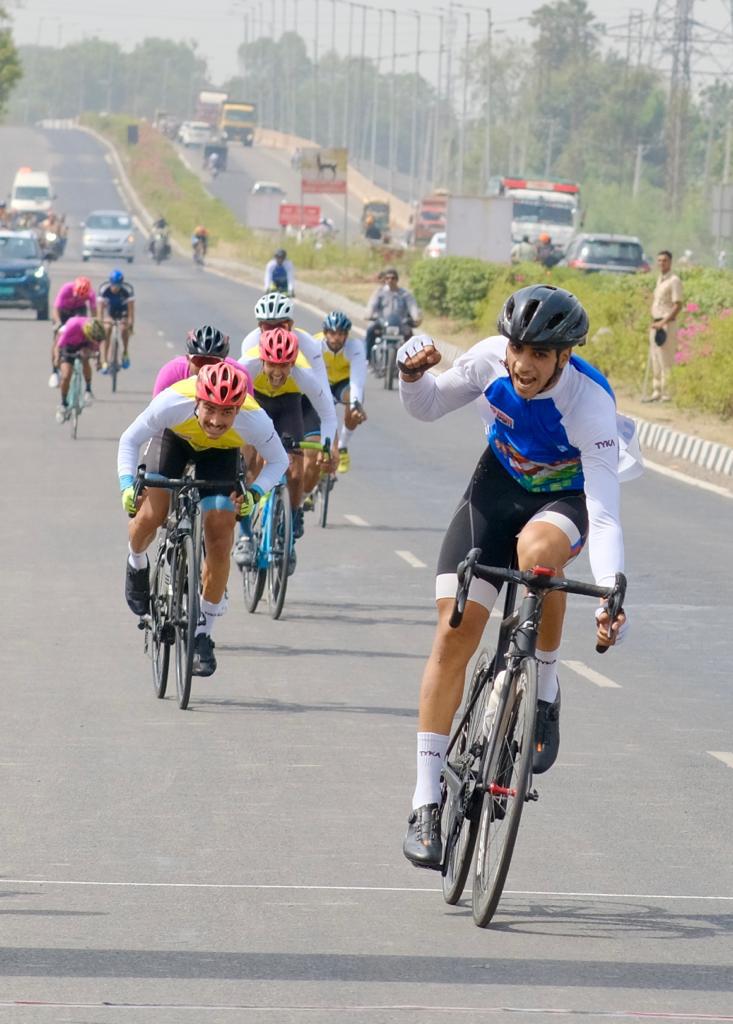 Adil Altaf in the final leg of his race in Panchkula
"This was discouraging as everybody would advise me against my zeal for cycling…..I felt miserable at everyone trying to demotivate mw. This was the most challenging phase of my journey as a cyclist," he said.
Braving all odds due to financial constraints – as his father Shah Altaf Hussain worked in double shifts at his small trailing shop in one of the narrow lanes of downtown - to buy the sports wherewithal for his son - Adil finally brought glory to his family and Jammu and Kashmir by winning the gold at the mass start event among 30 participants and also a silver in the Under-18 cycling competition in another category at the Khelo India Youth games held at Panchkula, Haryana, in the second week of June.
Adil Altaf, a 12th grader at the Kashmir Harvard Educational Institute, Habak, was attracted to cycling from his early school days. He started by competing with his elder brother. His father somehow managed to buy some basic things needed for his son to become a professional cyclist.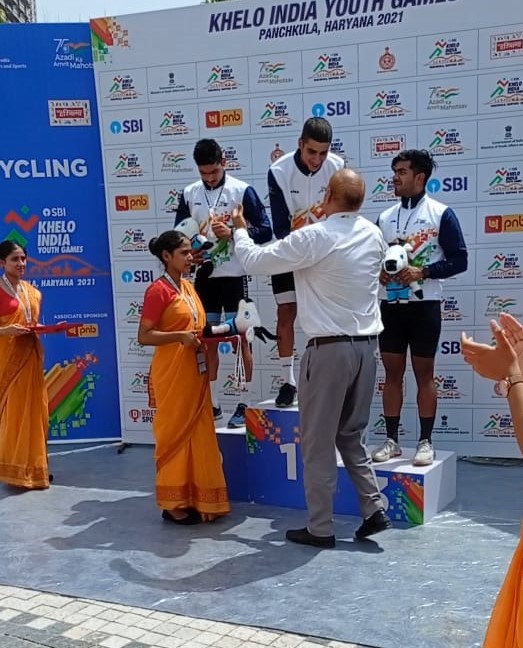 Adil Altaf receiving his gold medal at the Khelo India youth games
Adil was mentored and groomed by his school's Physical Education Teacher Ashiq Hussain Bhat, His first medal – a bronze – in a racing competition happened in September 2018 under his teacher's guidance.
The young and zealous cyclist got a boost when the father of one of his friends gifted him a racing cycle worth Rs 25,000. " This was very encouraging and with the new bicycle I could participate in the Police cycling race in 2020," Adil told Awaz-the voice.



He won a gold medal and a cash prize of Rs 20,000 in the Under 19 category. He remembers peddling away to glory along the picturesque Boulevard along the Dal Lake, Srinagar, as Lt Governor Manoj Sinha, the chief guest, watched.
His school felicitated Adil with a cash prize of Rs 20,000. With these award monies, he managed to purchase a second-hand high-quality imported bicycle for upgrading his skills and the game.
At the national level, Adil participated in the National Cycling competition held in Mumbai in 2020 and stood at the 5th position. Next year at the national event at Kurukshetra, Haryana, Adil, stood in the fourth position. "It had lost the medal by 10 seconds; I did not give up," says Adil said. "I realized I had lost because of my not such a great health, poor nutrition."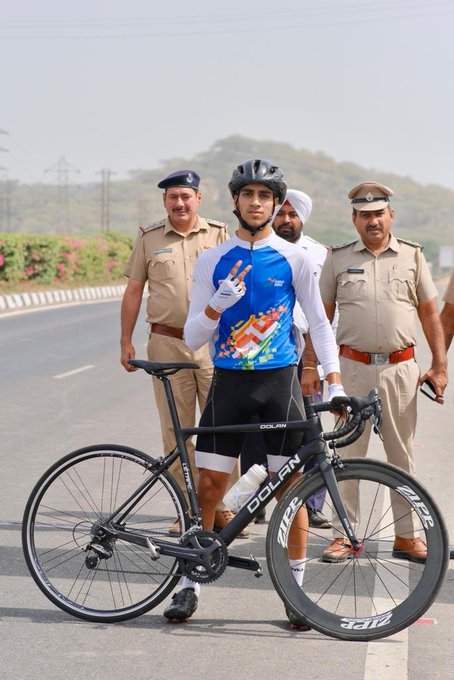 Adil Altaf posing with Security personnel after winning the gold medal
For the last six months, Adil has been training under the Sports Authority of India's (SAI) National Institute of Sports at Patiala in Punjab, and he is sponsored by the State Bank of India which paid him a scholarship of Rs 4.50 lakh last year.
Adil Altaf is at his home receiving accolades and wishes of the same people who had tried to dissuade him from the sports. ASs the news of his winning the national competition at Panchkula poured in the traders in Lal Bazar celebrated and thronged his father's shop to express their happiness.
He was felicitated by the Lt Governor, Manoj Sinha. Altaf would soon return to Patiala and continue working under his coach Joginder Singh, the head coach at the Institute, for there are many more medals to be won.
Altaf's target is to win medals for India.