Rakesh Chaurasia / New Delhi
'Work so hard that others think you are crazy.' Imaduddin Saeed, a final year student of computer sciences at Aligarh Muslim University (AMU), who sees industrial designer Elon Musk as his ideal, said.
Imaduddin is no ordinary dreamer; he has just been awarded the 'Young Scientist Award' at the Second International Conference held in Italy on 'Environment, Agriculture, Chemical and Biological Sciences'.
This young B. Tech student presented his research work on 'Machine learning and precipitation prediction using artificial neural networks' (Rainfall Prediction Using Machine Learning and Artificial Neural Networks).'
Explaining his work, Imaduddin says, "My research work is able to tell when, how much or no rainfall will happen. This is very useful, as it can prevent flood and drought disaster. And we can prepare ourselves mentally to withstand heavy rains and gather resources for rescue and relief in time."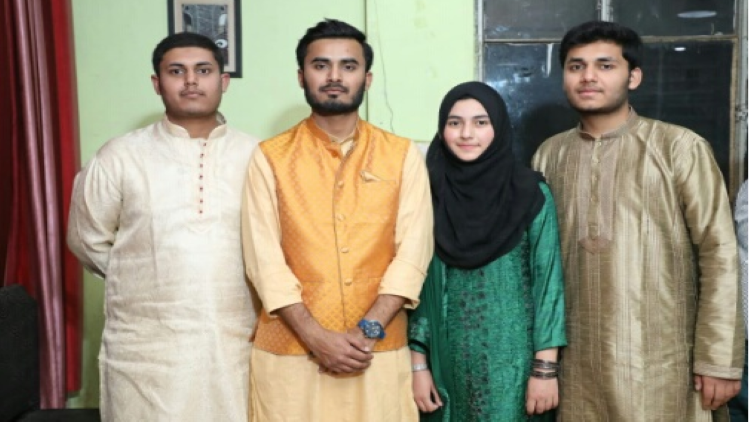 Imaduddin with his siblings
He was presented the award on 26 January by Dr. Michel Lenzetta, Director of the University of Pisa, Italy.
Youngest of them
The conference was organized by The Voice (Voice of the Indian Concern for the Environment) in collaboration with University of Pisa, Italy, Murray State University, Kentucky, USA, Department of Zoology of Mercy College, Kerala, and University of Wales, Chennai.
Immaduddin stood out among more than 250 participants who attended this international conference and 150 others who presented their research work as majority of them were professors and PhD scholars.
Dr. Lenzetta was very impressed by this research as Imaduddin dedicated the award to his parents.
His father Abu Saeed Faisal is a locksmith who trades in locks and mother Azmat is a home maker. They live with their four children in Ikra coloy of Aligarh, Uttar Pradesh.
Dedicating the award to his parents, Imaduddin says being illiterate they worked hard to give a golden future to him and his three siblings."They (parents) feel honored and they too dedicated this award to their parents, because it is the result of hard work and dedication towards their family."
Imaduddin's award sent a wave of thrill across the AMU; his family and friends have been celebrating since the announcement.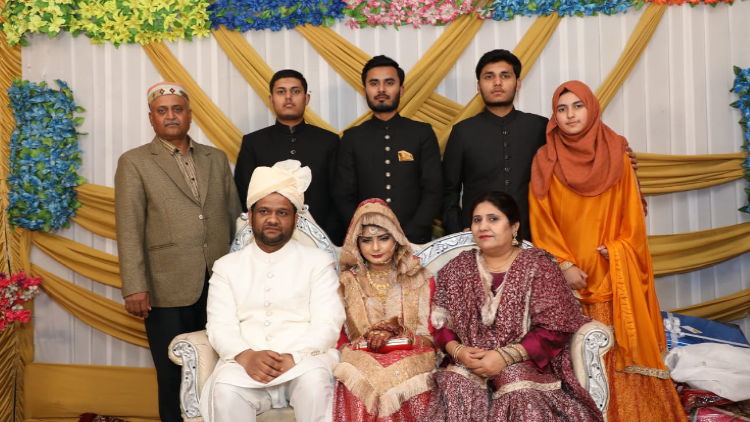 Imaduddin with his parents at a family wedding
The first person to call him was Prof. Asim Zafar, head of the department of Computer sciences, followed by Prof Dr. Faizal and Iliaz, head clerk of the department. "Their messages worked as sources of great encouragement," he told Awaz the Voice.
On the family's support, Imaduddin says that whatever he and his two brothers and a sister are today is due to the hard work and support of the family. "My mother always supports me. She is always keen to know about the progress of her children on the study front and father always motivates us to study hard and helps us."
The Family
A proud father Abu Saeed Faisal calls his son a 'pure diamond.' "Imaduddin has always made me proud with his hard work and achievements."
Imaduddin's siblings are also bright: elder brother Etmad-us-Saeed graduated from AMU in Mechanical Engineering, younger one Abdurrahman Saeed secured 92 per cent marks in 12th standard and is aiming to become a doctor. Sister, Bismah Saeed, recently passed tothe with high marks.
Imaduddin wats to do some creative and innovative work in the field of technology for the good of humanity'.
Elon Musk is my idol
He says Elon Musk, the CEO and industrial designer of Tesla, the US electric vehicle and clean energy company, is his role model. He is influenced by Elon Musk's innovation and creative work.
He said, "Elon Musk's untiring work in the field of computer science inspires him very much. I am always amazed to see their work. I want to be like Elon Musk. I am influenced by Elon Musk for the design and development of Tesla's electric motor vehicle. I am a big fan of his and always watch his interviews and talk shows. The idea of ​​his electric vehicle is a big step towards conservation and well-being of nature.
Imaduddin has asked the young Idians to, "Read, as much as you can; study and do more and more innovative and creative work. Study diligently, play hard and always read books to develop yourself.