Mansoorudin Faridi/New Delhi

As a child Awais Ahmed explored space with his telescope. He had a great curiosity to unravel the secrets of space.
At 23, Awais continues with his study of space and has taken a major initiative in 'space trade'. He has developed a platform for launching private satellites and given it the name 'Pixxel Space'.
Awais Ahmed hails from Aldur village in the Chikmagalur district of Karnataka. His aerospace manufacturer Pixxel is all set to launch the first private satellite from Indian soil in December.
Awais Ahmed recently informed Prime Minister Narendra Modi about his plans and commitment to a virtual program. He thanked Modi for showing the way to youth for startups.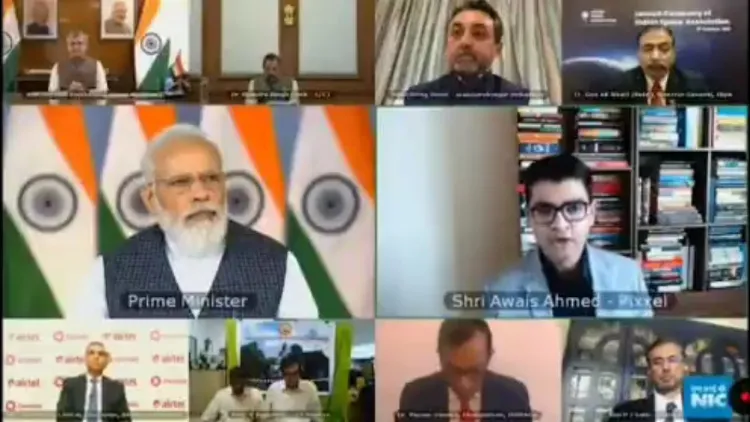 Awais Ahmed interacting with Prime Minister Narendra Modi virtually
Prime Minister Narendra Modi asked him what steps the government should take to give 'Pixel' a chance to grow rapidly. Awais made his points before the PM.
After Awais Ahmed informed the Prime Minister of his program he was excited about his experience Owais had plans to launch his satellite from Russia, but after developing his platform, it will be launched from India's soil.
The launch of his satellite was delayed due to the Covid-19.
Awais Ahmed was born and brought up in a small town in the Chikmagalur district of Karnataka. His family wanted him to study well. Get a good job, but like thousands of young Indians, Owais Ahmed was making efforts to do something different in his life.
While studying, he had decided to become an entrepreneur.
Awais Ahmed said his parents fully supported this effort through their fear of their son going in unconventional ways was writ large on their faces.
Two years later, Awais' venture 'Pixel Space' was ready with India's first Earth Imaging Satellite.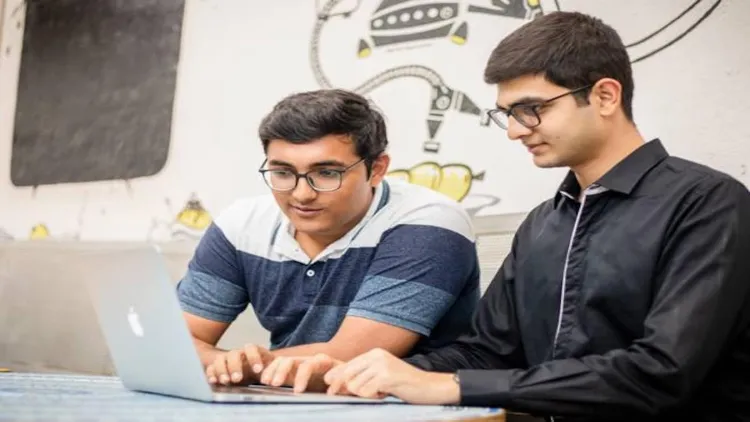 Awais Ahmed with his partner K Khandelwal
Awais says, "I think we have always been fascinated by the stars and the universe. Like every other kid, I read a lot about these things. I had my binoculars and an encyclopedia. But while living in BITS Pilani, I did some experiments which helped in establishing Pixels.
"My first experience was when I became a part of the satellite team in my first year of college. We were working with ISRO. At that time, ISRO had a student satellite program, where universities were helped to build very small amateur satellites. During that time I had the opportunity to learn how to make hardware for space. Making hardware for space is a completely different thing than making it on the Earth."
He said, "I was one of the founding team members in the engineering lead at Hyperloop India – it was the second experiment. It was a SpaceX competition." He built a mile-long vacuum tube near his headquarters. He challenged teams from around the world to build a vehicle that travels fast and the one who does the fastest will win.
Awais Ahmed says that Hyperloop India became the only Indian finalist to be selected. "In this team, I helped lead the engineering. We made the vehicle in Bangalore. Then it was taken to SpaceX Headquarters in Los Angeles and presented it to Elon Musk and his team. While we were there, he took us on a tour of the SpaceX factory."
Rocket engines were being made in this factory. Touching the rockets that went to space was like a dream come true for him. "When I came back, I read a lot about space. We decided that we would start with the analysis of satellite imaging," he said.
"That's when I realized there's probably a better way to do imaging. That's when I decided to start this project with my friend and partner Khandelwal."
Awais's father runs a small pharmacy and his mother is a homemaker. "I have had everything I required for my education. When I joined BITS, my parents were very happy," said Awais. His father told him, "Study, do a good job, be in a good company. Don't worry about anything while studying."
Awais Ahmed's father Nadeem Ahmed said, his son is very talented. "He was considered an intelligent student in BITS, Pilani," Ahmed says, the satellite will produce 50 times more data than other satellites. He claimed that his son's satellite would be the first private vehicle to be launched from Indian soil. Also it would receive 50 times more date from the satellites than normally received.