Faizan Khan/Dholpur
Even a somber occasion like Muharram brings out the syncretism of India in many parts of the country. In Rajkheda tehsil of Dholpur in Eastern Rajasthan, the procession of mourners carrying Taziyas (symbolic replica of the mausoleum of Imam Hussain, Prophet Mohammad's grandson who was killed in the battle of Karbala) is interrupted by the bouts of sword playing and lathbazi, interestingly, by an all Hindu youth group.
This ritual of youth fighting with lathis and swords to display their skills during the procession is meant to offer respect to the Taziya. This time the procession of Taziya of Noor Baigh, a locally influential Muslim, had all Hindu youth interrupt it with their lathmaar displays.



Another syncretic tradition was seen in an unidentified part of Uttar Pradesh where the Hindus offer water to the soil in front of the passing Ashura procession to commemorate the conditions of the battle of Karbala where many men of Imam Hussain's Army died for want of water.
The video of this tradition was shared by poet Danish Hussain on Twitter:
In Rajkheda, another interesting facet of the inclusive Indian life came to the fore when this time a Hindu maestro, Ustad Kevran Singh was in charge of the youth group who display lathbazi. Generally, martial arts like lathbazi and talvarbazi (fighting with swords) are taught by Muslim teachers.
Kevran Singh was duly honoured by the Taziya Committee. Pathan, Sadar Officer of the Tajia Committee, said that there can be no better picture of communal harmony than this one.
Ustad Shakur, another maestro, said "In my arena too more than the Muslims, the Hindu brothers are our lathbaaz. They show amazing feats. In the arena, the religion of the Ustad and the pupil is never a consideration for anything. We take part in each other's festivals."



Ustad Kevran Singh said his father Ustad Fateh Singh also used to play in this arena. His arena and artists were famous far and wide.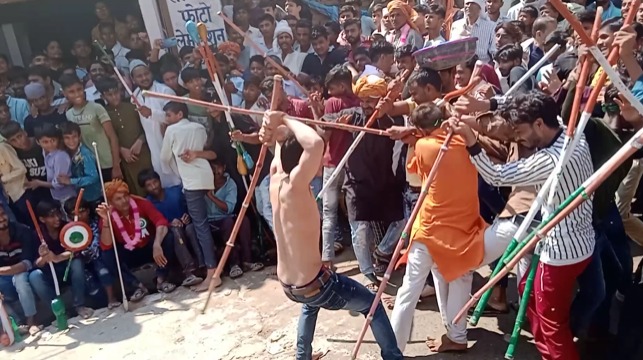 Lathmar display by the Hindu youth in Dholpur
"From the very beginning, we play lathbazi in the memory of Hazrat Imam Hussain and we will continue to do it... as we have been raising slogans as we will never leave the hand of Imam Hussain. "
He says in his arena the preparation for Muharram starts months in advance. "In my arena, the youth of both Hindu and Muslim religions come and learn feats for this day."
Municipal Councilor Lakhender Singh Chauhan said, "Our town is very peaceful. People here live in harmony with each other. Ustad Kevaran Singh of this arena is an example of this."
Also Read: Ashura processions taken out peace fully in Kashmir
Noor Baig said that Kevaran Singh's father Fateh Singh also used to play the arena. His arena was very famous."God should protect this brotherhood of Hindus and Muslims from evil eyes."