Shah Taj Khan/Pune
Mir Sarwar, who played a cameo in the blockbuster Bajrangi Baijaan starring Salman Khan, is excited over the improving relations between Kashmir and Bollywood and is hopeful that this will give a major boost to the local film industry.
As he plays a character in the Gaddar-2 which is running houseful across India, Sarwar says he hopes one day Kashmir will have its film industry. "Artists of Kashmir are very talented; they possess qualities and skills that they show even ever they get an opportunity."
Speaking over the phone, Mir Sarwar told Awaz-The Voice, "As far as I remember, I was shooting in Kashmir for some time in the 90s. It didn't happen at all, but after 97, the shooting of films started again. But it is also true that only a few films were being shot here. During that time, films like Bajrangi Bhaijaan, Rockstar, Fatoor, etc. were shot in different areas of Kashmir."
Expressing satisfaction, he says that due to the changes in the film policy in Kashmir, many people are making films here. "The connection that was broken for five to seven years is being restored; Bollywood is once again turning to Kashmir for filming."
The beautiful locales of Kashmir have turned many songs iconic. Like Shammi Kapoor's song "Yahoo! Chae koi me jangeli kahen" as the superstar slid down the snowy hills on Gulmarg is a dream shot of all budding film actors.
The song with Rajesh Khanna and Mumtaz "Jai Jai Shiv Shankar.." shot at Shankrachrya and Shiv temple of Gulmarg or the one starring Amitabh Bachchan "Yeh Kashmir Hai". etc. are etched in the minds of the cine buffs.
He says poets, musicians, singers, and actors involved in these iconic numbers contributed as much to the everlasting nature of these songs as did the beautiful scenery of the valleys of Kashmir selected by the location director.
Today, people travel to see these places, to feel their beauty of these areas. Mir Sarwar says that films also help promote tourism in the country. "If films are made here, employment opportunities will be created in various fields. No one can dispute that movies are not just a means of entertainment but they have an impact on various walks of life."
Mir Sarwar believes that every subject should be made into a movie and the rest should be left to the audience. Decide what they want to see.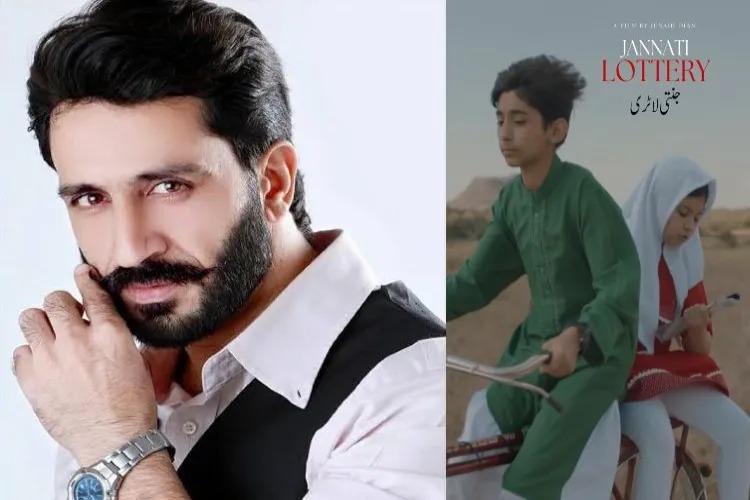 Poster of Jannati Lottery
​The relationship between the film industry and Kashmir is very old. The government's new film policy has paved the way for film shooting in the valley. Expressing his opinion on the opening of cinemas in Kashmir after a long time, Mir Sarwar said.
Films were being made continuously but the people of Kashmir could not watch them in cinemas, but now films will be shot here and local people will be able to watch them in cinemas. Expressing his desire, Mir Sarwar says that apart from Hindi and other languages, attention should be paid to making films in the local languages of Kashmir.
Regarding the films made in Kashmir, Mir Sarwar says that there are very few independent films made here. "Doordarshan has commissioned many films. Our team also made the film "Kashmir Daily" in 2018. The director was Hussain Khan. I was also the producer and I played the lead role. This film was released in theatres and on OTT platform as well."
He says the group also made a film in the Kashmiri language which was appreciated by people.
Mir Sarwar wants to do some challenging roles in films. He says that I also try to present my talent in different ways. Different and challenging roles like Sanjeev Kumar in "Nau Ras" and "Dus Avatar" and roles that Kamal Haasan played.
" I want to be recognized as a versatile actor in the film industry." He says since he is a Kashmir he is should not get typecast by being offered only certain kind of roles. He says people recognize him now and yet realizes his journey is very long."
ALSO READ: Mushal Malik's as Pak minister is meant to keep K-issue alive
Mir Sarwar is going to play the lead role in "Jannati Lottery" ready to go on floors. These days he is busy in the preparation of this film to be shot in Kashmir