Ram Kumar/Chennai
It was 1 am when Riyasdeen checked his email on his phone. He saw a message in his mailbox; it said he had been selected as the creator of world's lightest satellite that has been chosen for the launch by the space agency of the USA, NASA.
"I was so excited," says the 18-year-old engineering student from Thanjavur's Karanthai township, 360 km from Chennai. He rushed to his parents' room and woke them up to break the news. The sense of excitement and disbelief of having won an international competition wherein young students from 73 countries participated with their technology projects and innovations, is still fresh in his voice as he spoke with Awaz the Voice.
He had been eagerly awaiting this announcement since he failed to make it to the last round of the competition a year before. His model was rejected because it couldnt be shipped to the USA for the launch. "I had used growing material and seeds in my satellite. My model was rejected in the last round because the organizers said it can't be safely couriered the USA."
Both the Chennai student researchers had experimented with different materials in their satellites. While Rifat used carbon, Riyasdeen experimented with even lighter polyetherimide thermoplastic resins.
NASA uses the data collected during the short flight of these experimental satellites for its research and development projects.
APJ Kalam inspires young scientists
Both Riyasdeen and Rifat are inspired by the life of late President APJ Abdul Kalam. While Rifat named his satellite KALAMSAT that was launched by NASA two years ago after Kalam, Riyasdeen is simply overwhelmed to even speak about him.
"We all young people of the country are inspired by him: and to me, his life, his attitude towards things, his philosophy, style of working and dedication, everything about him inspires me. He was an extraordinary person," Riyasdeen says in a voice choked with emotion.
Kalam, the peoples' President was also nicknamed the Missile Man of India for his pioneering role in giving the country's missile program an edge over others. Common people simply loved him for his simplicity, altruism and love for his country. His qualities and sincere communication to the youth made him an icon for the young achievers. He too hailed from Tamil Nadu.
Riyasdeen hails from a middle-class family; his father Samsudeen, an air conditioning engineer, was into different jobs till he started his own business. He did his schooling from Chennai where his father worked for 20 years before the family moved back to their roots.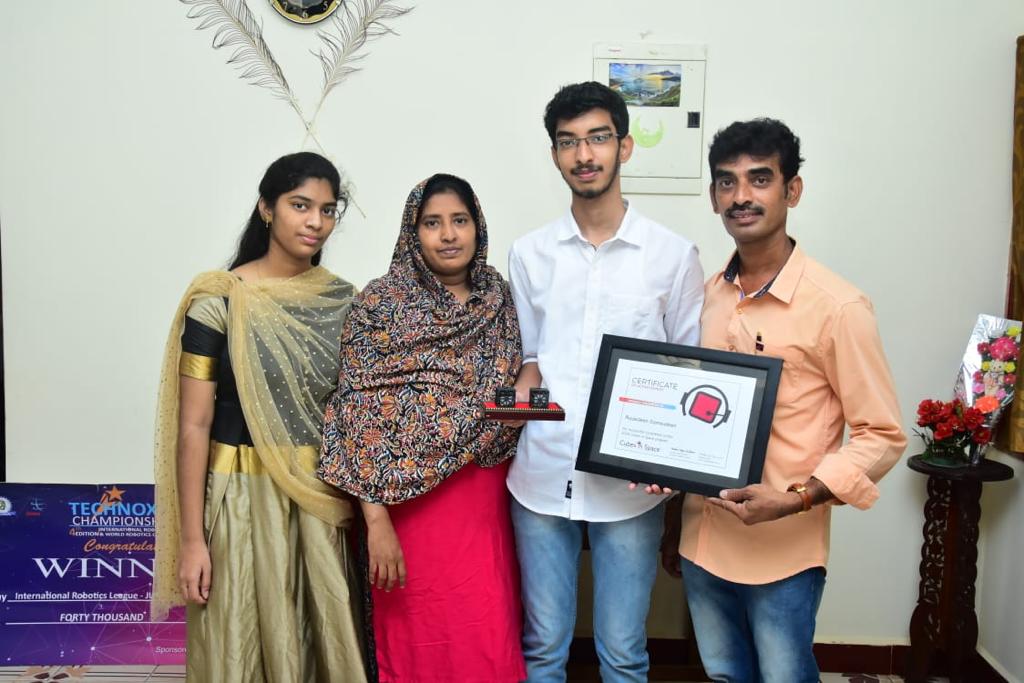 Riyasdeen
---
Proud of his son's achievements, Samsudeen says, "I noticed his passion towards science in the primary classes. He participated in school level science competitions and often won prizes," He says though it was unaffordable, he got his son admitted to the private training classes of Robotics to hon his innate interests.
Riyasdeen, studying in the Second-year of Mechatronics at the Sashtra University, Chennai, has not idea of his first innovation. "I can't remember anything specific because I always remain immersed in the thoughts of science and innovations."
The tech-savvy musician
In the meanwhile, the only time Riyasdeen is not thinking of technology is when he plays Piano. So much like his plutonic mentor Dr A P J Abdul Kalam who also played Rudra veena whenever he was off his duty to the nation.
Riyasdeen has named his two award winning satellites as Vision-1 and Vision-2 (V-I and V- 2) that he is sending to NASA through international courier service. He too is invited for the launch and would love to go provided the international flights start operating by then.
His experiment involves usage of Polyetherimide thermoplastic resins in space technology. The NASA selected his satellites along with a few others for launch to see the impact the forces of space have on these materials during the short flight of these tiny satellites. These are called sub-orbital satellites and are meant to go up in the space to a short distance and fall off. The data collected in this duration is useful for research and development in the fields space, aviation and industrial robotics. His cube like devices will give data on 11 parameters to the NASA.
His satellites were selected in two categories based on the launch system called - sounding rocket and zero-pressure scientific balloon. These fall in the category of satellites weighing less than 100 grams and are composed of commonly available components.
In its quest for innovations, each year the NASA organizes a global competition, Cubes in Space, though idoodleEduinc for school students in the age group 11-18.
Chennai link of young satellite designers
Is it a mere coincidence that both the young Indian achievers in satellite design hail from Chennai? Riyasdeen says Chennai has many institutions that hold workshops and allow students to experiment and innovate in fields like Robotics and space technologies. "Chennai offers best environment for young scientists," he says.
For him the Chennai-based INRO Labs proved to be his mentor and a guide. He says the INRO Lab works with industrial robotics and being associated with them has given him and other students a great exposure to technology and its applications.
True to the values he imbibed from his idol, Riyasdeen is not dreaming of leaving for greener pastures in the USA or Europe for a career; he has plans of a startup that would give access to all young students to innovations in science and technology.
The Sastra University, TBI in 3D printing and Internet of Things (IoT) have offered an incubation grant of Rs. 5 Lakhs to Riyasdeen for his startup to give wings to his dreams.