Ghaus Siwani/New Delhi
Roti Kapda aur Makkan; (Bread, Cloth, and house) are considered the basic needs of human beings. Just as many people in the world today do not have enough food, many do not have proper clothing to protect them during extreme winter.
This reality triggered the idea of a cloth bank that is run by the Society for Bright Future. The project executive of the campaign Mohammad Marghub says they are working in Madhya Pradesh, Uttar Pradesh, Bihar, Jharkhand, and Delhi.
He however says the need for proper clothing is everywhere and for this reason, his NGO is planning to open Cloth banks all over the country.
"We appeal to people to donate new and used clothes or money. We do not accept torn and unusable clothes, says Mohammad Marghoub.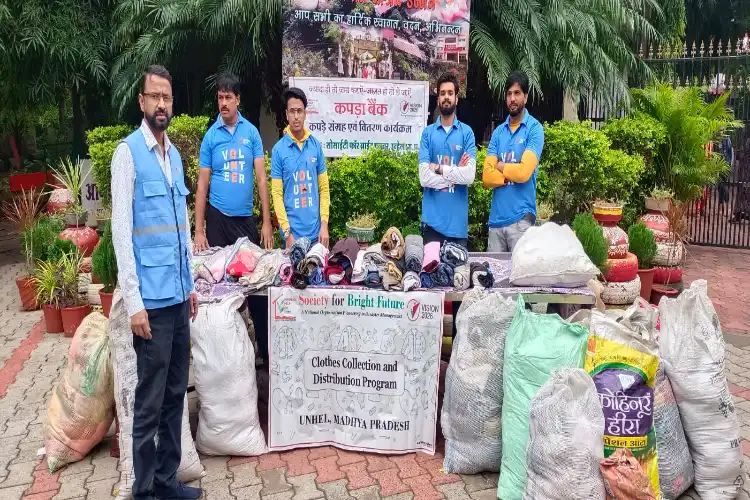 Society for Bright Future organised Cloth Bank

Only clothes that are in wearable condition are accepted. "We wash, iron, and pack these clothes well and distribute them at the camps set up for the purpose."
He says each cloth has a token price. "We don't give away these clothes for free, the prices are nominal says – Rs 5 to 10."
Marghoub says it is done to give people dignity and make them feel these are not donated or bought by them with their money. Accepting free stuff has a psychological effect. One tends to misuse and mistreat a thing that has come free but takes care of it when it is purchased."
The NGO thus also recovers a small cost that goes into waching, ironing, and packing the donated clothes.
He said the poor people feel the loss of prestige while accepting free stuff. They are also embarrassed to know that others know about accepting or wearing donated clothes.
The NGO thus takes extreme care not to expose the people who are benefitted from this campaign. The activists are careful in clicking pictures for their documentation purposes, etc,
"This is the reason why even while taking photos of the users, we take care not to highlight their features. Marghoub says that we also try to make the beneficiaries realize that today they are the needy ones but tomorrow when they are fine, they must donate to others.
Mohammad Marghob says that just a few months ago, we conducted a cloth bank campaign at Milli Model School in Abul Fazl Enclave, New Delhi, from which thousands of people benefited. He said that hundreds of people donated clothes for this campaign and many people gave money so that we could buy clothes and deliver them to the needy. Now we are looking for a place where we can set up a permanent Cloth Bank.
According to Mohammad Marghob, setups have been readied for the launch of Cloth Banks in Jharkhand, Bengal, Bihar, and Assam.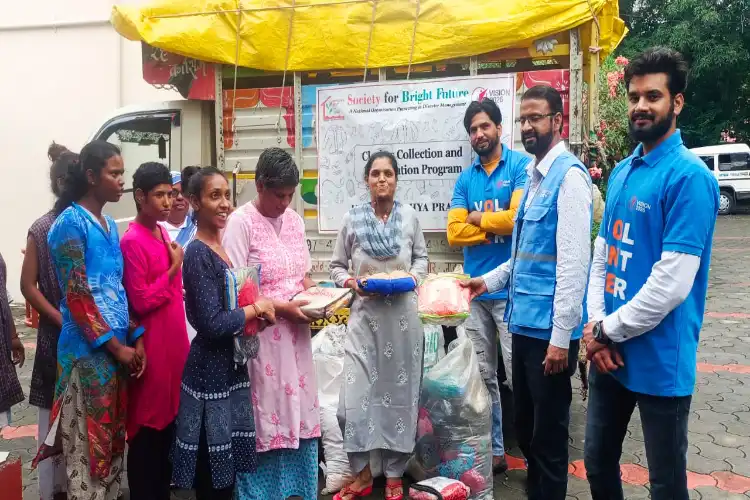 Clothes being gifted by Volunteers of Society for Bright Future

We try to get different beneficiaries each time we set up a camp," he says. Don't distribute things in the same place every time. There are needy people everywhere. Our job is simply to bridge the gap between givers and takers."
How do they find the area with the most in need of clothes? To this, Marghoub explained that the NGO first holds a survey on the ground, and a camp is set up after sifting through the facts and reports of the survey.
The first cloth bank was started two years ago. Last year they set up three cloth banks at different locations.
ALSO READ; Yusuf Khan to launch the first private university in Mewat for benefit of Meo community
So far this campaign has been launched in five states. The NGO has hundreds of trained volunteers in 16 states of India and Marghoub feels the cloth banks can be easily established in each state.
He says, the NGO is planning to raise a force of 5,000 volunteers by 2026 and then spread its work all over India.