Tripti Nath/New Delhi

All students in a village school in Uttarakhand are attending an entire academic session free of cost with the help of a retired Army man and a Delhi school girl.
Located in Dhauntiyal village near Jim Corbett National Park in Pauri Garhwal district, the Green Hills Modern school began as a small initative by a retired Hawaldar Manoj Negi who served in the Kargil war. Negi, 47, took voluntary retirement in 2009.
"I served in the Army for 16 years and my battalion -17 Garhwal Rifles took part in Kargil.'' Negi who was born and raised in this village with scattered habitation and a population of 350, was not happy with the state of education in Dhauntiyal.
" I was always concerned about the education being imparted in the village. I studied in Rajkiya Prathmik Vidyalaya Sidhpur near my village and completed my schooling from Rajkiya Inter College, Sidhpur. I joined the Army in 1993. I finished my graduation after joining the Army. After I took retirement from the Army, I worked in a private firm in Delhi till March, 2011.'' When he returned to his village, he felt that his sons should get better education.
''I thought that if I were to start a school, many children would benefit. I began teaching in 2012 in an informal setting under a tree. At that time, I had seven students including my own sons who were studying in Class IV and Upper K.G.''
It is not for nothing that this benevolent Hawaldar was praised in 2019 by the then Army Chief, General Bipin Singh Rawat. He had approached him for financial help for the school. He received a letter from South Block which said that the Indian Army is appreciative of the work he is doing to prevent migration, motivate former soldiers and make them self-reliant and wishes him the very best for his social work. They said that they could not help him due to policies.''
The school started under a tree with seven students- two girls and five boys. Today, it has 42 student, eight teachers including the Principal and three classrooms. In a decade long journey full of struggles, its strength has increased six-fold and all its students including girls have gone on to complete their graduation. What is remarkable is that despite hardships, not a single student dropped out. His own son who got his early education under the open sky, is now pursuing B.Com through correspondence from Delhi University. His younger son is studying in Class X in Kendriya Vidyalala in Lansdowne.
Hawaldar Negi recalls that he approached Vikas Memorial Public School in Sitapur, Kotdwar for accreditation in 2012.'' At that time, our monthly fee was only Rs 175. All they asked us in return for accreditation was Rs 10 for each student we enrolled. Since we had only seven students at that time, I would pay them Rs 70 per month.'' Looking back at the difficulties he faced, Negi says that although Ashok Jakhmola, the Gram Pradhan at that time spared the Panchayat Bhawan at the foothills for running the school, it was not suitable.
" It was too cold. Unable to bear the harsh weather, the children would start crying. In November, 2012, he moved the school to another premises in an old government building but that had only room. This was not enough for us. I mustered courage to buy a piece of land and constructed a school building. Today, we have three classrooms with desks and benches, an office and a meeting room. The library is in the meeting room.''
He said, "I am happy to tell you that we also hold annual festivals on December 11 to mark the World Mountaineering Day.'' Recognized by the Uttarakhand Board, the school enrolls students from nursery to Class V and offers English, Hindi, Mathematics, Social Science, Sanskrit, Computers and Physical education. While kindergarten students attend school for four hours every day, those from Classes I to V attend classes for five hours. All students get a 20- minute recess.
Manoj Negi with children in the village school
Negi who holds a two- year diploma course in Elementary Education, wants the school curriculum to include Science. " This may create a big knowledge gap,'' he said. He is also hopeful that the government takes note of the longstanding demand of villagers to construct a bridge on the Plain river.
"In order to reach any school in the village during rainy season (July to September), their fathers bring their children on their back to school. When the river is inundated with water, we can not hold classes.'' The retired Hawaldar says that he owes a lot to the Army. " I was a jawan in 1999 and our battalion were posted jn Kargil at an altitude of 18,000 feet. At that time, we were in peace tenure in Pithoragarh. On May 31, 1999, we set out by road for Batalik sector.''
He says that lessons he learnt in the Army will stay with him for life. " The Army taught me perfection, determination and the motivation to keep going and never look back. I know that my life is service. I don't feel that I am no longer in the Army. Were it not for the pension from the Army, I would have not been able to accomplish my goals.''
Hawaldar Negi says that he sought monetary help for his school from the then Army Chief, General Bipin Rawat. His staff called me up and told me that they had written a letter to Garhwal Rifles training centre to support me in any way. I requested for an Army band and Garhwal Rifles spared its Army band four our annual function in 2019. Likewise, on December 11 last year, he invited his fellow soldiers from 17 Garhwal Rifles, and their families as special guests for the school annual day. Hawaldar Negi says that the battalion was posted in Kargil two times- once from May to December, 1999 and another time from 2001 to 2003. ''At that time, he worked as an instructor in Kargil Battle School in Drass and taught skating and rope climbing. ''
He is all praise for 17 year old Zoyah who took the initiative to raise funds for underprivileged children. He says. " She is a young girl but the efforts she made to raise funds for our school, are remarkable and will benefit many students. Only a few months back, Zoyah approached me and expressed her wish to raise funds for the school. She sought some basic information and put out a small note on the website.
'' Zoyah, a Class XII student of Sanskriti, a prestigious school in Delhi who had known Negi from her visits to the village, also wanted to help school children. Like him, she also wanted to help village children and decided to raise funds through crowdfunding. Over four months, Zoyah succeeded in raising Rs 3,52,000. In her post on Milap crowdfunding platform on social media, she appealed, 'Help children study in the hills of Uttarakhand.'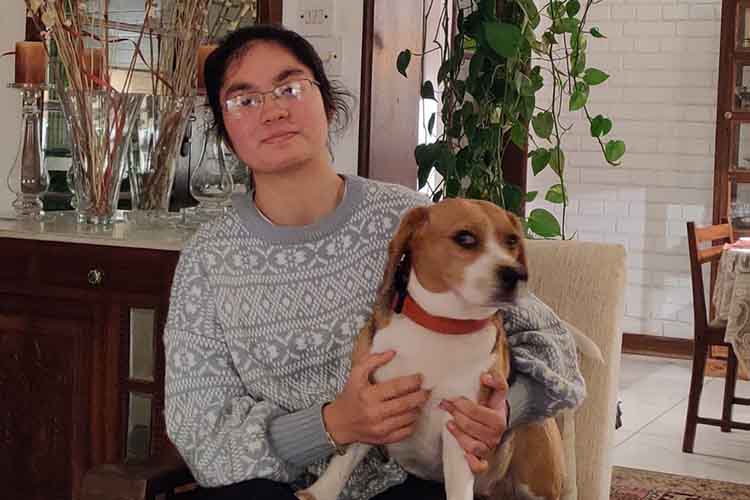 Zoyah with her pet Duffy in her home in Delhi
Zoyah's persuasive tone in the appeal, read, " For as little as 625 rupees a month, you can transform child's life. '' Determined to accomplish what she set out to do, Zoyah, the great grand-daughter of freedom fighter Urmila Shastri began talking to potential donors in india and overseas and single-handedly raised funds for the children.
Negi says. " Initially my nephew deposited Rs 1000. In less than a week, somebody else donated Rs 30,000. A foreigner offered to fund the education of all the 42 students for an entire academic year. Of course, he wanted to be sure that his money would reach the target beneficiaries. I sent the documents Zoyah sought and Rs 3.15 lakh was deposited in the account of the Jeevan Deep Samiti, the trust that The total amount raised through the Milap platform was Rs 3.52 lakh.
After income tax deduction, the Samiti, the trust that runs the school, received Rs 3,33 lakh. Soon after we received the amount in October, we called a meeting of parents and told them that their wards will get free education for an entire year.'' In the past, the school has got support occasionally from philanthropic individuals.
" In 2017, BJP legislator, Dileep Singh Rawat sponsored construction of a room. Besides, an Italian social worker, Idorsa who volunteered to teach for a week in our school in 2018, paid for uniform for the whole school. In 2019, my elder sister, Deepa Bisht who lives in Delhi, paid for uniform for the whole school. The same year, my younger brother, Deepak Negi who works in private firm in Delhi, got CCTV installed in the school premises. In June 2022, my nephew, Naveen Bisht paid Rs three lakh to renovate the school. With some more funds, we can do wonders.''
Asked how she hit upon this idea to raise funds for school children, Zoyah says, " I have been visiting this area from the time I was only two years old. My maternal grandfather built a house for us in the south end of Corbett national park when we were only two years old. Over the years, I made friends with the village children. We grew up with the children of our house caretaker. Negi ji grew up in this village. For me, it is a place where I spent all the time I could staying away from Delhi. I have such a strong connection with that village. I just wanted to give something back to that place and in some way, give something back to my grandfather. I felt that this was something I could do using technology. The idea had been brewing in my head for some time.'' Zoyah says that she got to know about the crowd fund sites in school.
" It took me some time to figure out how to go about it. I had to tell Negi ji what I wanted to do, get information from him, compile it and summarize it as a post on Milap." The children come from poor background and their parents eke out a living from daily wages. She says that once the post was put out last October, it was not that tricky. " Then, I sent it to as many people as possible. What astonished me was that I got donations from people I did not know.''
Zoyah who has opted for the humanitarian stream in school, says she got her early lessons in football and cricket, playing with village children and the house caretaker's boys, Suraj and Sujal. " Thanks to playing with them, I learnt all the tricks and went on to play football for my school team. In 2019, our school reached the CBSE National Girls Football. We lost in quarter-finals against Gujarat which is a very painful and sour object. This year, I got selected for the state camp. They attended the school set up by Mr Negi who himself had a hard time getting education."
ALSO READ: Why Khwaja Garib Nawaz outlived the fame and glory of emperors
Zoyah says that she is happy to learn that the school has Sports Day and Annual Day and sends its students to play cricket matches. She say that the school authorities are doing their best to make the environment friendly for the students.
She says that she feels very happy and content that she has been able to do this. "I plan to continue this initiative every year and carry on doing it for as long as I can. ''