Sultana Parveen/Purnia
A few years back, a difficult choice was given to Rizwana Khatoon; she had to choose between education, or marriage (with Dowry).
It was a strange discovery for Rizwana when the family members told Rizwana that they had kept a small piece of land for her that could either be sold to pay for her education or her weddings, including giving of dowry items.
Her parents were so clear on this that they asked her to sign a legally binding agreement on a stamp paper declaring that for her wedding she will not ask for dowry.
It was at a rather younger age that Rizwana took a big leap to sign the stamp paper and went to Kyrgyzstan, to do MBBS with the money she got from selling the land.
Rizwana, daughter of a small farmer in Latambari, a small village in the Purnia district of Bihar, had high hopes and was blunt enough to take the risk.
Due to Covid-19 lockdown, Rizwana got stranded in her home for more than a year. Instead of wasting her time, she used this time to campaign against dowry by visiting various schools, colleges, coaching institutions and making students aware of this social malaise.
Rizwana makes the students fill a form wherein they take a pledge not to accept or give dowry. Not only this, but she also makes everyone take an oath to plant a sapling and not to smoke.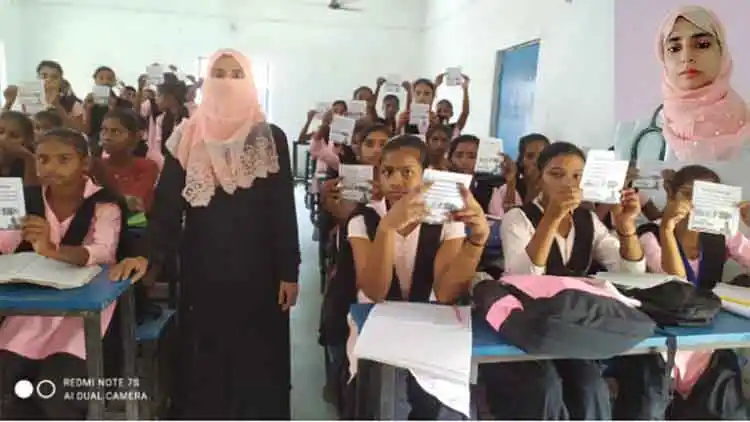 Rizwana with students who are displaying their signed pledge
Rizwana Khatoon says that she has been running a campaign against dowry for a year now. Meanwhile, she has linked hundreds to this campaign. The story of Rizwana studying and starting this campaign is full of courage.
Rizwana's father Mohd. Sajjad is a small farmer in the village and her mother Rashid Khatoon is a homemaker.
Rizwana says that in 2011, when she passed her matriculation, "Khala (mother's sister) got married at the same time and her in-laws were given a dowry of Rs 3 lakh that was raised by selling the family land.
Rizwana had accompanied the bride to her 'in-laws' house.
There she witnessed her aunt undergoing mental harassment and torture for the dowry was never sufficient for the family's greed. "They used to demand different types of goods along with land and money, it was then that I realise I could also meet the same fate," she said.
After returning home, she decided to carry forward her studies and passed her class 12th exams in the year 2014.
Seeing her aunt's condition, she always wanted to study further and do something worthwhile with her life. However, she knew there was no money at home.
On passing her matriculation, she received Rs 10,000 under the Chief Minister's incentive scheme. With that money, she finished her 12th standard. After clearing her 12th the same sum was received again. With this, she ordered material from a coaching institute and started preparing for her medical college entrance test, NEET.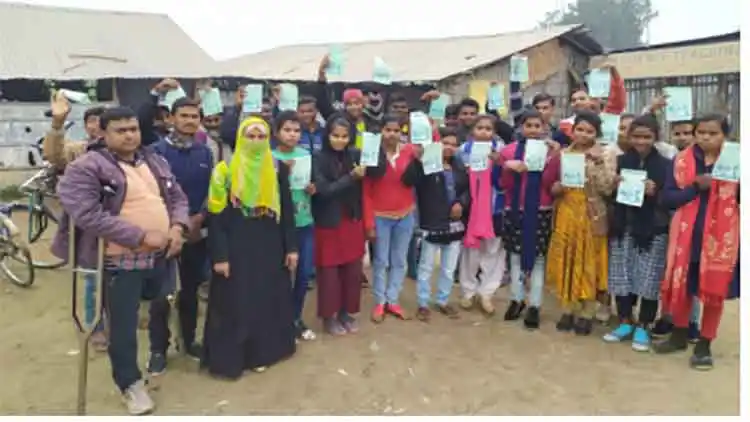 Rizwana during her campaign in Purnia
Interestingly, several families came with a proposal for marriage and all had a question for the family: How much dowry they are ready to give to the groom's family.
Rizwana was keen to study but her parents wanted her to get married.
She told her mother, "sell the land which you'll have kept for my dowry and give me money to study.."
Her parents were infuriated but when Rizwana
stayed put at her decision, they demanded a written letter on a stamp paper declaring that she won't ever ask for dowry if she decided to study.
She signed the stamp paper and left for Kyrgyzstan to take admission in MBBS course.
When she came home on winter break, the family continued to receive proposals from eligible men to marry her. However, this time she observed a change. "Those coming with proposals would talk about my studies not dowry," Rizwana said.
This made her realize that if a woman is educated ]
enough, she can get everything that she wants. It was during that time that she decided to educate every girl and started a campaign against dowry.
Rizwana says that it is more important for parents to educate their daughters than sons. Every girl should become self-dependent so that no one can harass her in her in-laws' house.
Rizwana consulted her uncle Murtaza and brother Mohd. Ehsan and make them agree to accompany her on campaign trails.
Besides Purnia, Rizwana also ran a campaign in Saharsa and Kishanganj. Her friend Ragini Kumari and aunt Rohana Bano are also involved in her campaign.
Rohana, a teacher, says after Rizwana leaves for Kazakhstan, she will continue her campaign.
As she packs her bags to return to Kyrgyzstan for completing her studies, she is determined to continue her campaign. "Many Indians study there, here in Purnia, only the locals are being made aware but in Russia, the spectrum would be bigger...", she said.