Shaista Fatima/New Delhi
Aafiyah had just entered her engineering college and full of enthusiasm as she was; her friend circle to be formed in due course of time was even more chirpy and bubbly.
NOSTALGIA
Altogether they were called the musketeers of the college and were "hostel maa's and grand maa's" to many juniors and super juniors shortly.
In her 4 years of studying engineering, every year at Janmashtami the weather unusually was pretty balmy, but the day that followed was jam-packed, as Aafiyah and friends were not only fasting but also had a ton of responsibilities to shoulder upon.
Right from doing mundane chores like waking up half-heartedly, going to college, attending the monotonous lectures, and waiting recklessly for the day to end was a normal regimen for them but it became a high-end priority on the day of Janmashtami as after the classes coming back and arranging the palki (a cradle where the idol of Lord Krishna rested), fruits, milk, sweets, dry fruits for the prasad (the potpourri presented to God/Goddess before distribution), was also on the to-do-list.
Hostellers believe in "divide and conquer", thus each team worked meticuously on their worked assigned.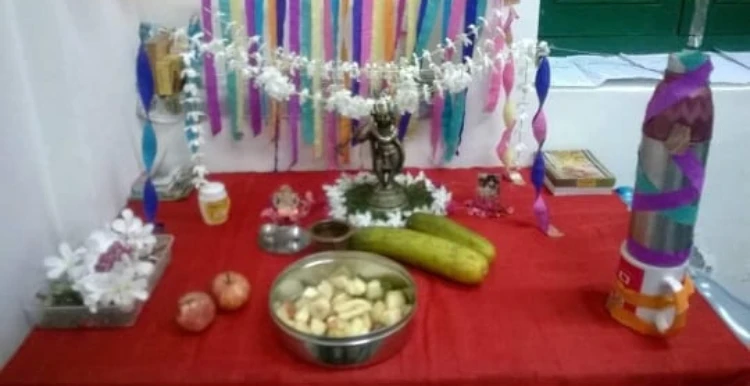 A still from Aafiyah and Anoushka's hostel room
Janmashtami was more or less like a small festival for the hostellers, who, away from home, had found a second home among peers, juniors, seniors and faculties.
Back in the year 2013, when I entered the Pranveer Singh Institute of Technology (PSIT) to pursue engineering, I knew I'd be creating memories for life and somewhere always had a desire to pen everything down.
As to how I became a journalist is yet another story, but I am thankful to those 4 years that broadened my perspective towards life and gave me reminiscence for an infinity.
PSIT, Kanpur situated on the outskirts of Panki is not only known for its red magnificent infrastructure but also the strict disciplinarian regime that includes cent percent attendance and no staying back at the hostel without prior information. But among these strict rules were the fearless musketeers.
Aafiyah and the group were not only good at academics but also self-proclaimed and democratically supported Robin Hood for many hostelites when it came to taking a stance. Come any festival - Janmashtami, Dussehra, Eid, Diwali, or Holi - they made sure to be the torchbearers in every form.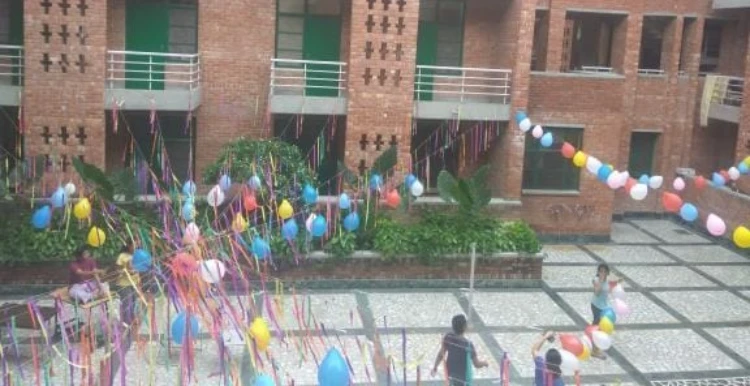 The verandah of the girl's hostel as decorated before any event
While during Ramadan the Sehri was arranged and Iftar parties were a must, the others had a grandeur Pooja ceremony.
A month before any event a list was meticulously prepared; it included different flowers in which Jasmine was a must, an idol of Kanha (Lord Krishna's pet name), fresh pieces of chunni (fresh cloth) to make the palki, milk packets, sweets fruits, roli, chandan haldi, kumkum,fresh peepal leaves and a few strings to hold all the decorations, were a staple.
Prasad in bulk was prepared with the help of mess incharge (fondly called "mess wale bhayya") and was diligently distributed after breaking of the fast.
The clock struck 12 and a 24-hour long fast began.
Fresh ethnic wear was taken out, kept separately; some even took bath at exactly midnight.
The hostel floors hustling with preparations came to life on every event but especially on the occasion of Lord Krishna's birthday (as according to mythological believes he was born at the stroke of midnight).
Usually, the day would see rains and therefore an umbrella was always kept handy.
The classes normally went on till 5 pm and by that time all were pretty much exhausted but since it was the birthday celebration, the adrenaline rush was huge and boosted the morale of all manifold.
Day scholars were sneaked in with utmost care, when it comes to unity, hostellers can manage everything.
I remember how my seniors looked gorgeous and we as the dotting juniors just looked at them with jaws dropped.
As life is a full circle, many years later while gathering instances from peers and juniors alike I came to know how my juniors looked at us with same amount of admiration.
The adulation we once gave our seniors came back to us when we ahieved that podium, a full circle indeed.
The clock struck 12, all gathered in the corridor and then songs were sung, fast was broken and prasad distributed.
Electronic items like kettle and fast food like Maggie weren't allowed.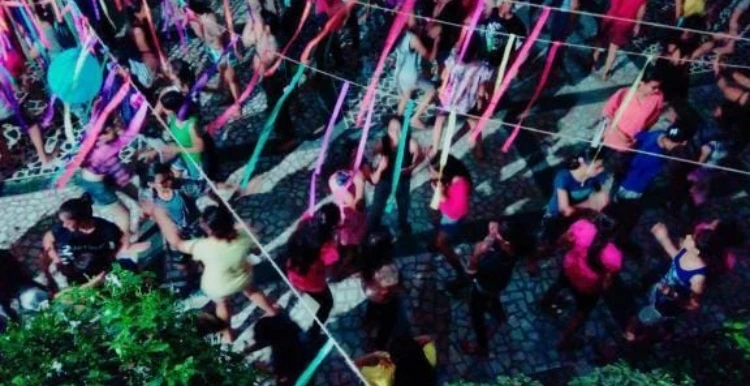 Hostelers dancing their heart out during the events
But since they were the Musketeers they kept everything.
From making Maggie to coffee to bhelpuri (a snack) all rules were broken, as after a day long fast it was nothing less than redemption.
Prior to that a DJ was installed in the verandah of girls hostel for a full-fledged party that normally happened till midnight and often went beyond after a tons of request from the chief warden.The hardest part was to collect the funds, and also giving a detailed budget was equally important, rather the most important aspect of the whole paraphernalia. But in the limited resources, everything came to a perfect finish.
Time was a standstill at that point as it felt like an eternity.
After almost eight years, I, a journalist, would report on the celebrations of Janmashtami across India.
My peers Anoushka, Aafiyah, juniors Avantika, Aditi all are well placed with MNC's; some batchmates are even married and settled with their families.
But the memories of making each religious festival inclusive and creating celebrations around these in our small niche will remain with us all our lives and shall always be penned down by yours truly from time to time, as promised to all of them during those 4 infinite years.