Sameer D Shaikh/Pune
Kashmiri children studying here in the care of Sarhad NGO were in for a cozy conversation with Union Home Minister Amit Shah as he extended his brief visit to their place into an hour-long session.
"Initially, children were quite nervous because of the Home minister's image as a tough person," said Sanjay Nahar founder of Sarhad which has currently 84 students from families that are victims of terrorism from across the undivided J&K under his care at Pune.
Amit Shah who was accompanied by Maharashtra Chief Minister Eknath Shinde, however, took children away for an exclusive conversation and suddenly the ambiance had changed. The children looked comfortable and relaxed, Nagar said.
During his interaction with children, he kept saying, "Seeing you has taken away my fatigue. I feel so relaxed."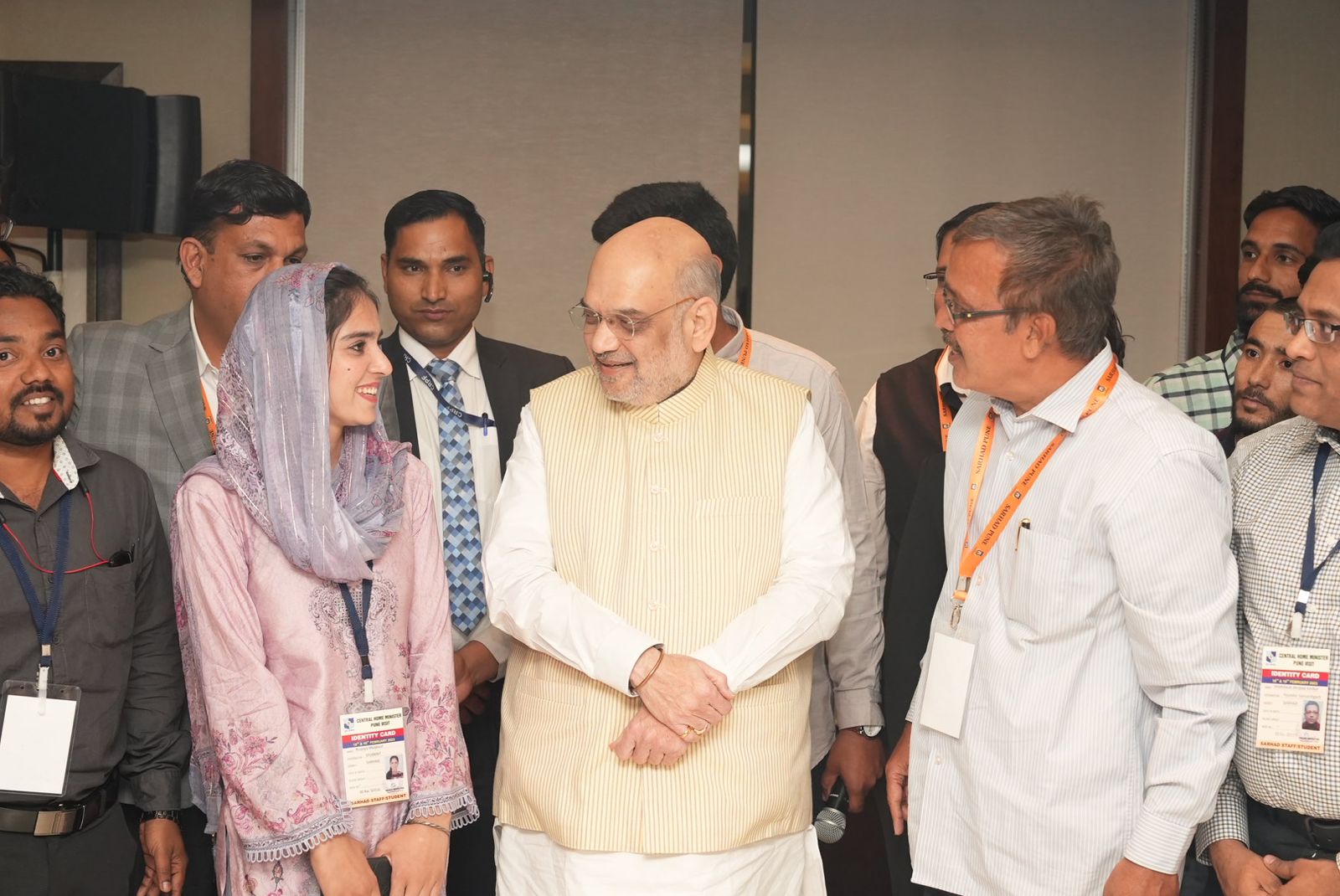 Amit Shah speaking to Ruqaiya Maqbool
As Ruqaya Maqbool from Kashmir rendered a soulful Navkar mantra in her mellifluous voice, Amit Shah and others closed their eyes and seemed to be enjoying it. Later Shah asked Ruqiya if she knew the meaning of the song.
She explained that it's a hymn from the Jain religion for world peace. Her song is already a big hit on social media and YouTube.
Joginder Singh who hailed from Lahota village in Doda district has survived a terrorist attack in which his family of 15 persons including his siblings, uncles, and cousins was wiped out. The elders in his family were members of the Village Defence committee. They died fighting terrorists who also killed all members of their families.
He had an interesting conversation with Amit Shah. Joginder Singh told Amit Shah he wants to join the army, and avenge the murder of his family.
At this stage, Home Minister interrupted Joginder and said, 'Kashmiri children should not develop hatred towards anyone. Revenge is not a good idea."
He told Joginder: "You should receive a good education, work hard in your favourite field to reach the top, and lead not only Kashmir and the country but the world."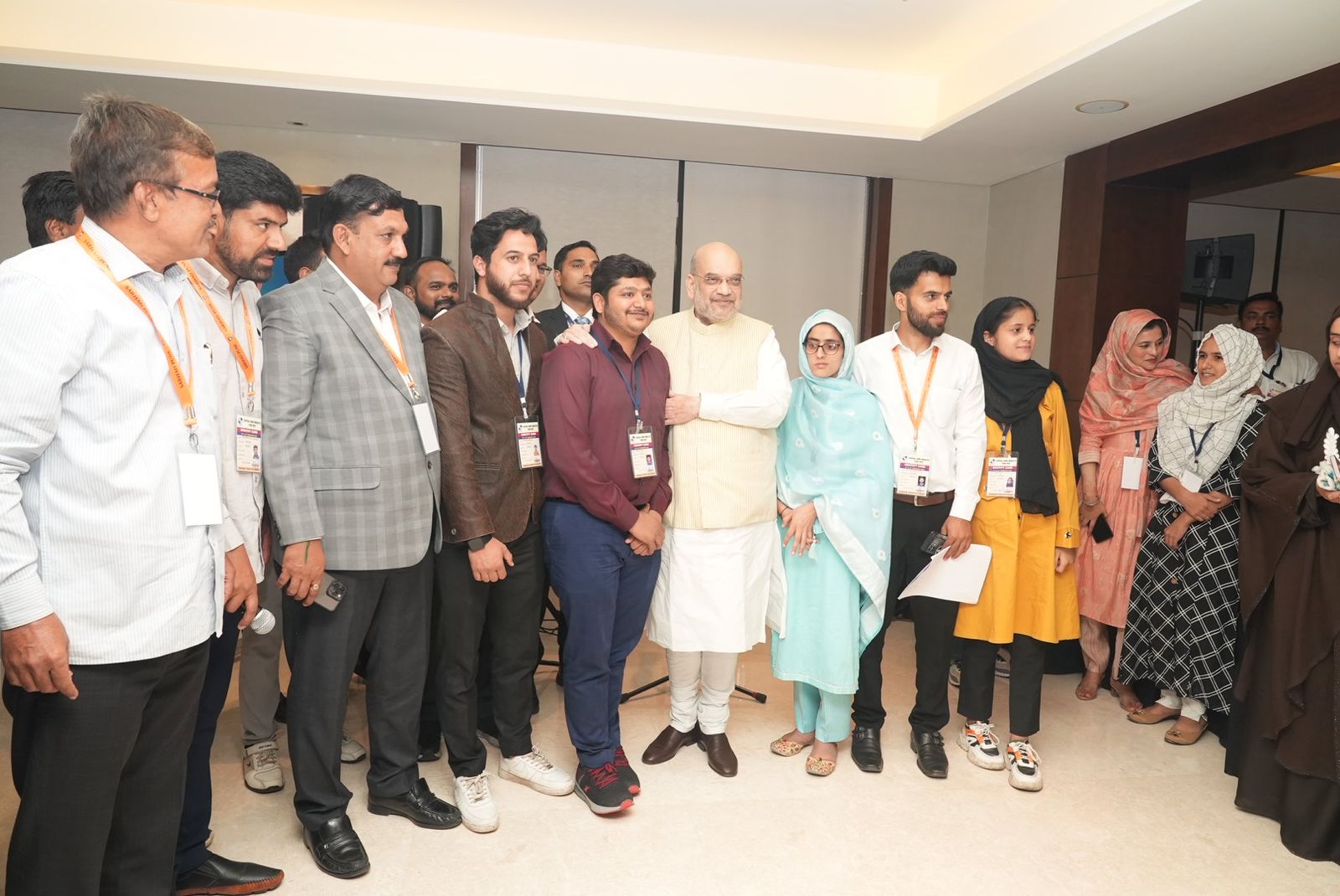 Amit Shah speaking with Joginder Singh
Joginder has completed his master's in commerce from the University of Pune.
ALSO READ: The mystery behind famed minarets of Rampur Raza Library
Nahar said his remarks added to the enthusiasm of some 60 students.
Shah told Nahar that the happiness on the faces of these children as they come from a place where everyone has seen violence and is familiar with the sound of gunfire is a great contribution of his NGO.
Many young girls and boys told Shah they missed home. One of the students told Shah,"You provided us employment in Kashmir, we would happily go back.'
Shah replied: "We are trying our best to employ Kashmiri youth. Soon you will see a good change."
He told them that special provision has been made in the budget for the development of Kashmir. Along with this, the efforts being made by the police and the army to maintain peace and order are also showing success.
"Soon its positive effect will be visible on the ground," Shah said.
'We want that Kashmir should develop in such a way that Kashmiris do not have to go outside for education and employment, but children from the other States should come to J&K for study and work."
Children clapped loudly as Home Minister said, 'Kashmiri citizens are very peace-loving. I am overwhelmed to see the happiness reflected on the faces of these people despite suffering and suffering in the past.'
Another Kashmiri girl Shamim Akhtar, whose video of the Marathi prayer Prarthana Pasaidan composed by Dnyaneshwar is a rage on YouTube also rendered the number before the minister.
Praising them, the Home Minister said, 'These Kashmiri youths are practicing Indian classical music in Pune, and through that, they are teaching peace and brotherhood to the whole world. Today our country and the world need this the most."
Many students told Amit Shah that they had come to Pune for studies and that the people here treated them very kindly.
Sanjay Nahar established Sarhad Pune in the year 1995 to give the message of peace in Jammu and Kashmir through social service. Children affected by terrorism are brought to this institution. The institution itself takes care of their education and food free of cost.