Tripti Nath/New Delhi
Mahira Khan, a winner in the recent National Youth Parliament debate, is getting international recognition for her grand oration. Her diplomat style speech on the theme 'Peacebuilding and Reconciliation: Ushering in an era of no war', earned her an invitation from a school in Saudi Arabia.
Her speech in the Central Hall of Parliament was an instant hit and was uploaded by Sansad TV and many Indian news channels. Mahira began her speech with Hindi poetry and concluded in Urdu.
Like 28 participants from different States, Mahira delivered her speech on two consecutive days - the competition speech on the first day and the winners' speech for dignitaries the following day. By the time she landed in Mecca with her family a couple of days later for Umrah, she was already a star on social media.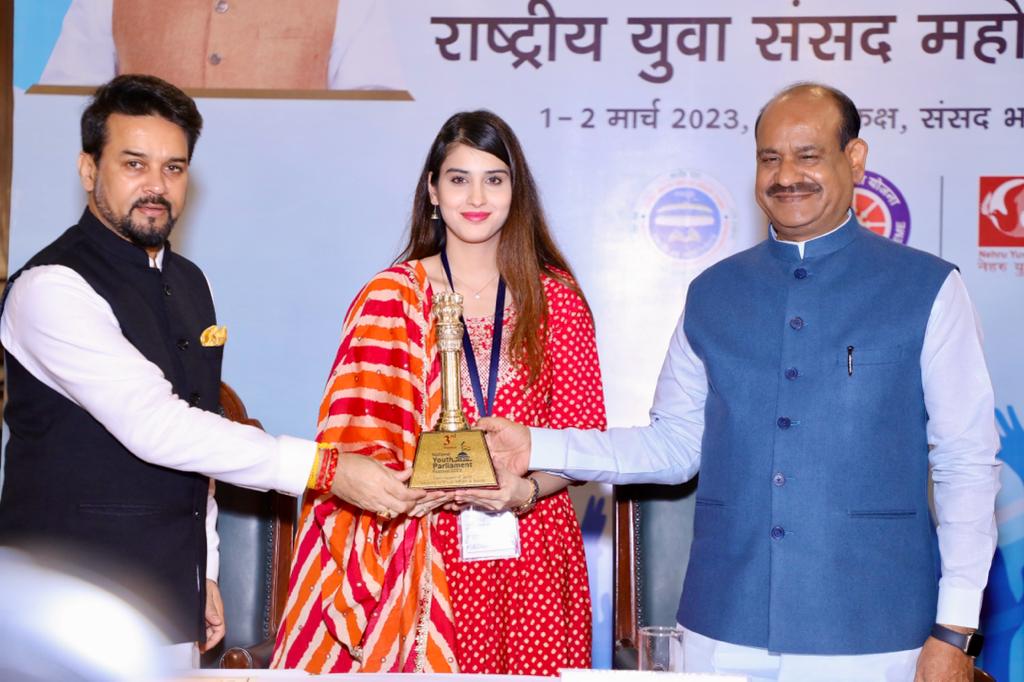 Mahira Khan receiving the trophy from Lok Sabha Speaker Om Birla and Union Minister Anurag Thakur
This soft-spoken 24-year-old lady from Chhattisgarh was pleasantly surprised when she received a call from Dr. Muzaffar Hassan, Principal of International Indian School, Jeddah to address a gathering of 1000 senior students. She addressed them on the theme 'How making mistakes can make you more confident.'
In Jeddah, her speech at the National Youth Parliament was replayed for the benefit of the students. She interacted with the students and it was followed by pre-Ramazan lunch. Dr.Hassan noticed Mahira on social media and decided to invite her and her family.
In conversations with Awaz-the Voice, from Raipur and later Dammam, she said, "Whatever I say now has more value. People listen to me very attentively.''
But what was an extraordinary experience was her visit with her parents and siblings to Kabah, Islam's holiest shrine in Mecca. "It was a surreal experience. I cannot describe it. I felt an extraordinary spiritual power. My family also felt that it was an experience of a lifetime. It was an invitation from Allah. So, we are very grateful. And I feel like giving back much more than I have got."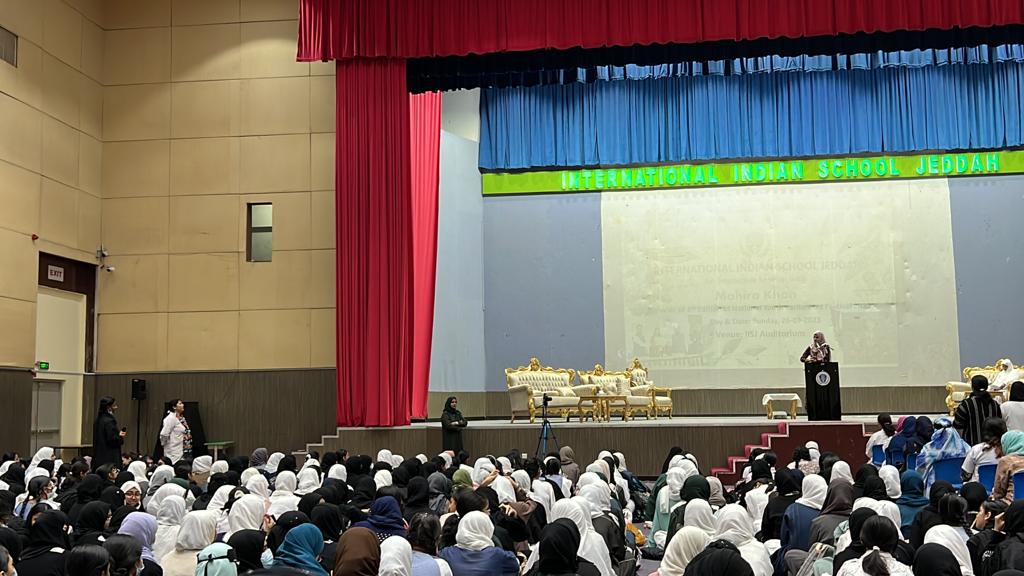 Mahira Khan addressing students in a Jeddah School
This star orator was overwhelmed by her visit to Kabah.She told this correspondent that she is feeling a sense of enlightenment and serenity.
A perfect example of beauty and brains, Mahira says that she wrote the speech in a single sitting but kept updating it. "I departed from the written script when I spoke. This is the second time I was contesting. Selection is not easy. One has to win at the district level. Only those participants who get the first and the second position make it to the State level. Then, at the state level, one has to get the first, second, or third position to get a chance to represent the state in the Central Hall of Parliament. The 29 speakers who assemble there are selected from two lakh speakers,''she explained.
When Mahira flew back to Raipur with a trophy, a certificate, and prize money of Rs one lakh, she was received at the airport by her parents and two school teachers.
She says, "I want to go to schools, colleges, and communities to teach them how to develop communication skills.''
In 2020, Mahira also secured a position in an inter-university festival.
Her participation in the National Youth Parliament in 2022 was a learning experience. "I understood that to produce good content for a short-duration speech, it is important to get perspective and research well. My speech was only five minutes and 45 seconds. Last time, I spoke on the topic' Patriotism and nation building. This year, the theme was 'Ideas for a better tomorrow- India for the world'. So, I decided to understand the viewpoint of some of my classmates from Jamia and also my friend, Barkha Soni in Bhillai.''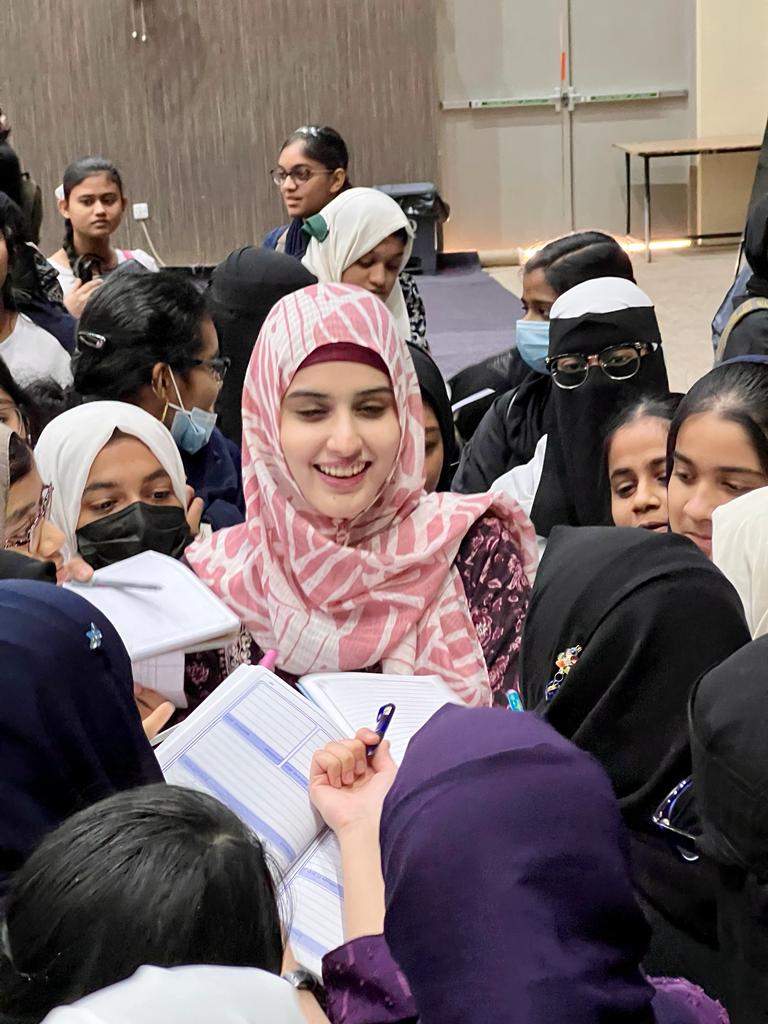 Mahira Khan interacting with students in Jeddah

Mahira who is awaiting the results of her postgraduate course in Mass Communication from Jamia Millia Islamia is grateful to her friend Barkha Soni who gave her meaningful lines of her poem, for her speech. Mahira used two lines of Barkha's poem as the opening line. "Jab jab dehla vishw hamaara aur jab jab bemaqsad khoon baha, Cheen, Roos, Japan sabhi ne, Bharat ko ek doot kaha'.
Mahira says, "After I got the prize, I went to meet Barkha in her father's office in Bhilai to thank her.''
Mahira has been offered a corporate communication job in a private company and her training is likely to start in May-June.
An avid reader, Mahira says, "I am very concerned about children and youth who are neither reading nor writing but just sitting with mobile phones.''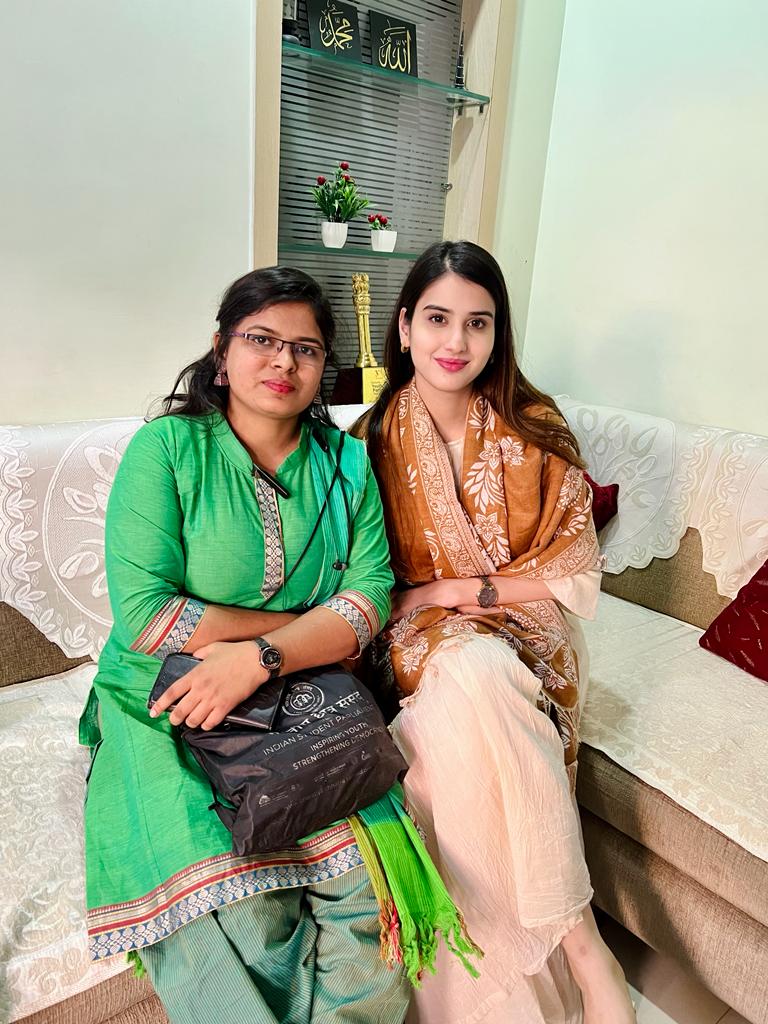 Mahira Khan with her friend Barkha Soni

Apart from Shah Rukh Khan's films, she likes watching fantasy and animated films. Her favourite film is 'The Lion King.'
Born and raised in Raipur, Mahira has clear views on nationalism. "We may make big statements but all we need to do is take small steps. Even clearing garbage or helping the poorest of the poor is nationalism. We can be responsible citizens and can try and pass on skills.''
Mahira studied in DPS, Raipur till Class XII.
In her hour of glory, Mahira misses her paternal grandmother who died of cancer. She remembers her bed-ridden grandmother telling her after she did not win last year: "Mahira is anyway a winner for me. I have won because of her blessings."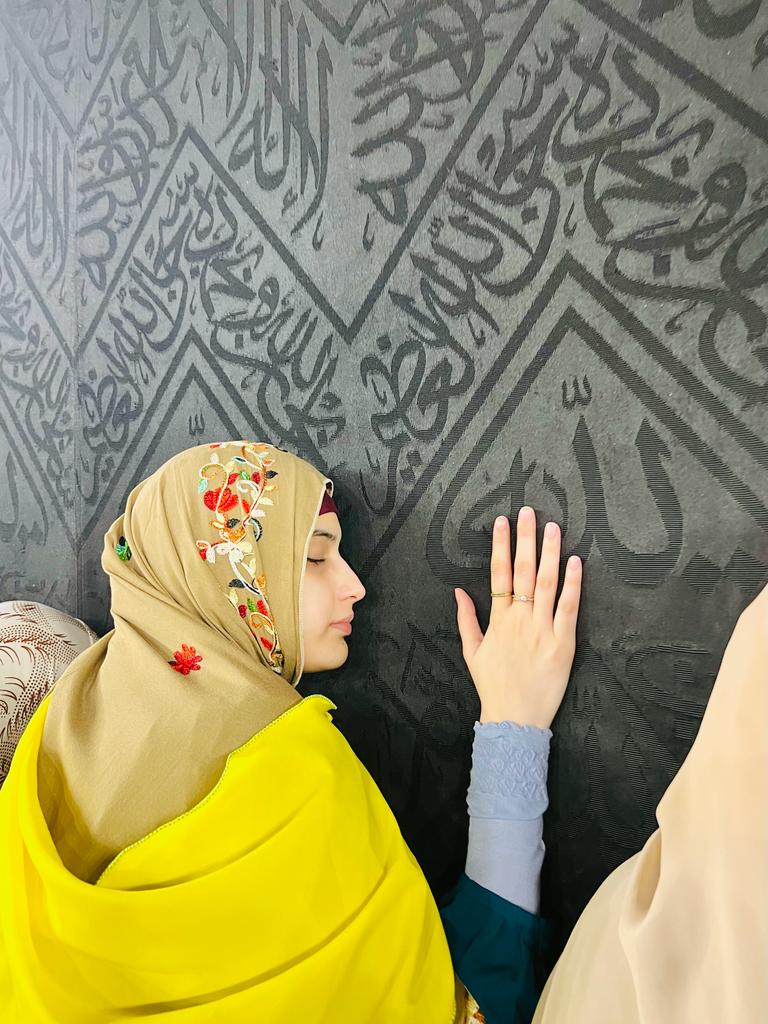 Mahira Khan in Kabba

Her father is in the construction business while her mother is a homemaker.
Mahira says her habit of jotting down important ideas and lines in a diary also helped her end her speech in Urdu which read, "Bade chalo, Bade chalo, Yahi nadai waqt hai, ye Kainath yeh zameen, yeh kehkahsa ka raasta, Issi pe gaamzaan raho''
Mahira adeed the line, 'aman ki raah par chalo."
She said that she chose to use Urdu as the language does not get the recognition it deserves.
She also likes to give credit to her maternal grandfather, Syed Mahfooz Ali Madni, a retired railway man who kindled her interest in Urdu. "He is the one who gave me my name Mahera from the word 'Maher' in Urdu. He lives in Raipur and he is always encouraging us to use Urdu. My siblings and I had a Maulana who would come to our house to teach us how to read the Quran. He taught us Arabic but my father also requested him to teach us Urdu. ''
Mahira says, "We did not have Urdu in school or college. My father would make sure that we wrote one page in Urdu from an Urdu book every day. This was the only way we can preserve our language. We are trying to save our legacy in our own way.''
ALSO READ: India-China relations: Khotan as a Sanskritic outpost
The family is now heading back to India after spending nearly three weeks in Saudi Arabia where they also have relatives.