Shaista Fatima/New Delhi

One may have heard about the famous Attar Jannatul Firdaus which has the base notes of rose, citrus and is mildly sweet but not many may know about Jannatul Darwaza, the door to 'heaven.'

Jannatul Darwaza (doorway to heaven), a silver-coated door is situated inside the Ajmer Sharif Dargah, Ajmer and it opens only on special occasions for the devotees. The door was opened recently after a hiatus of two years for public as the followers thronged the shrine of Khawaja Moinuddin Chishty, the leading Sufi Saint of South Asia.
After the Covid lockdown was lifted the congregational prayers were held for the first time in Dargah on Eid-ul Adah. Haji Syed Salman Chishty, the 26th generation Gaddanashin (successor) says, "Eid at Ajmer Dargah has always been the reflection and the celebration of all communities coming together praying together, and spreading the message of peace all over the world…"

About the Jannatul Darwaza, the Dargah authorities say, "According to the Islamic Doctrine when Khwaja Garib Nawaz had a vision of the Prophet Muhammed he saw them passing through a door which directly led to heaven. Thereafter, Khwaja Saheb sculpted an identical door in Masjid-e-Haram of Ajmer Sharif Dargah…"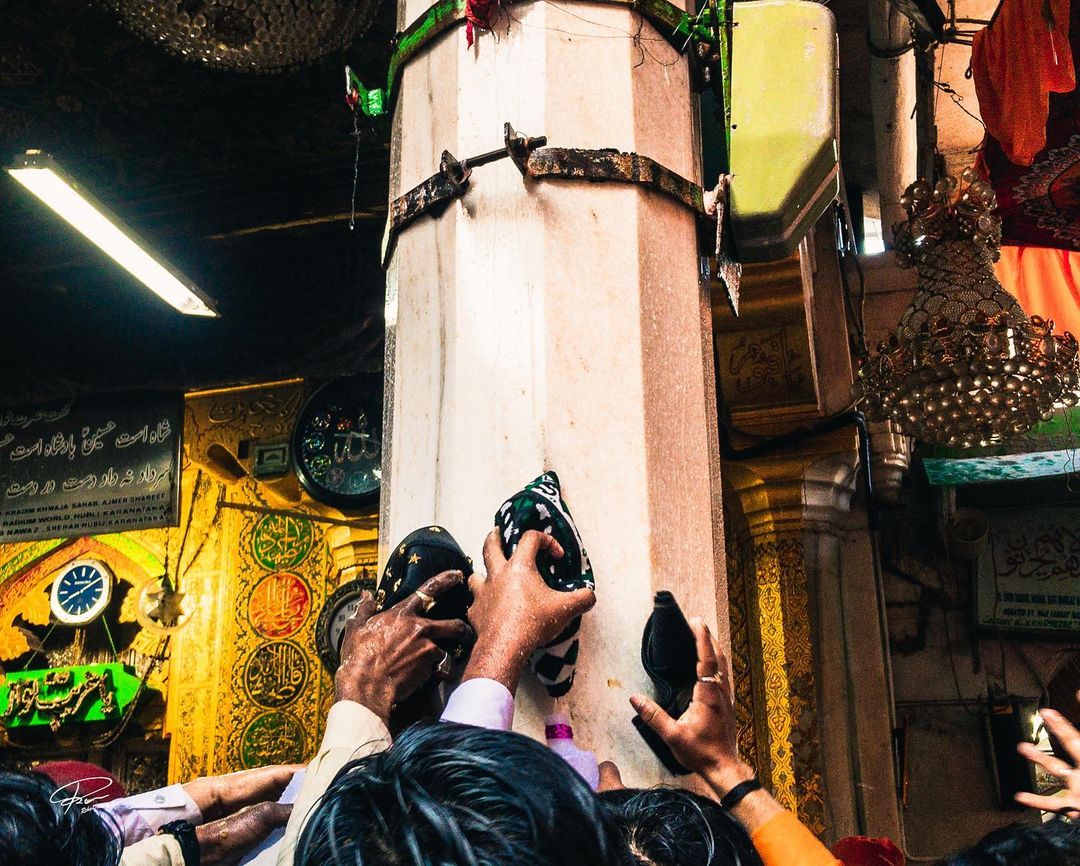 Devotees at the Dargah; Courtesy Rehan Nawaz (Instagram)
Till date, it is believed that the people who could not make a visit to Mecca for Hajj, an obligation for able-bodied Muslims, for some reason, can pass through this door, and their prayers and vows will be considered.
Jannatul Darwaza opens only four times a year – on the occasion of Eid Ul Fitr and Eid Ul Adah; on the sixth day of the Islamic month of Shawwal on which falls the Urs Of Sufi Saint Khawaja Usman Harooni, - the spiritual guide of Khwaja Moinuddin Chishty - and lastly for six days in the month of Rajab during the Urs of Khawaja Garib Nawaz.
Followers of the Sufi cult believe that if a devotee walks seven times on a designated path while crossing the Jannatul Darwaza and the holy tomb, it has immense importance. A person who performs this ritual reserves his place in heaven. On the days the Jannatul Darwaza is open, the believers can enter the mausoleum area through it. Thereafter they can walk on a designated path around the tomb and finally exit from the South. The same ritual has to be repeated six more times. Performing this ritual has the same importance as performing the Hajj for Muslims.

This year the morning prayers were congregated in the Dargah and the Jannatul Darwaza (door to heaven) was opened at 4 am for visitors. Salman says, "Children are excited about it, especially about the Jannati Darwaza…"
ALSO READ: Mistaken Identity: Real Haji Salman condemns hate speech row
A lot of people who were visiting the city were present at the Dargah. Salman says, "people come and they feel blessed to pass through the gate because that is a sacred place in the Dargah." Haji Salman told Awaz-the Voice that On Eid day after the morning prayers sweets were distributed and messages of peace and harmony were sent.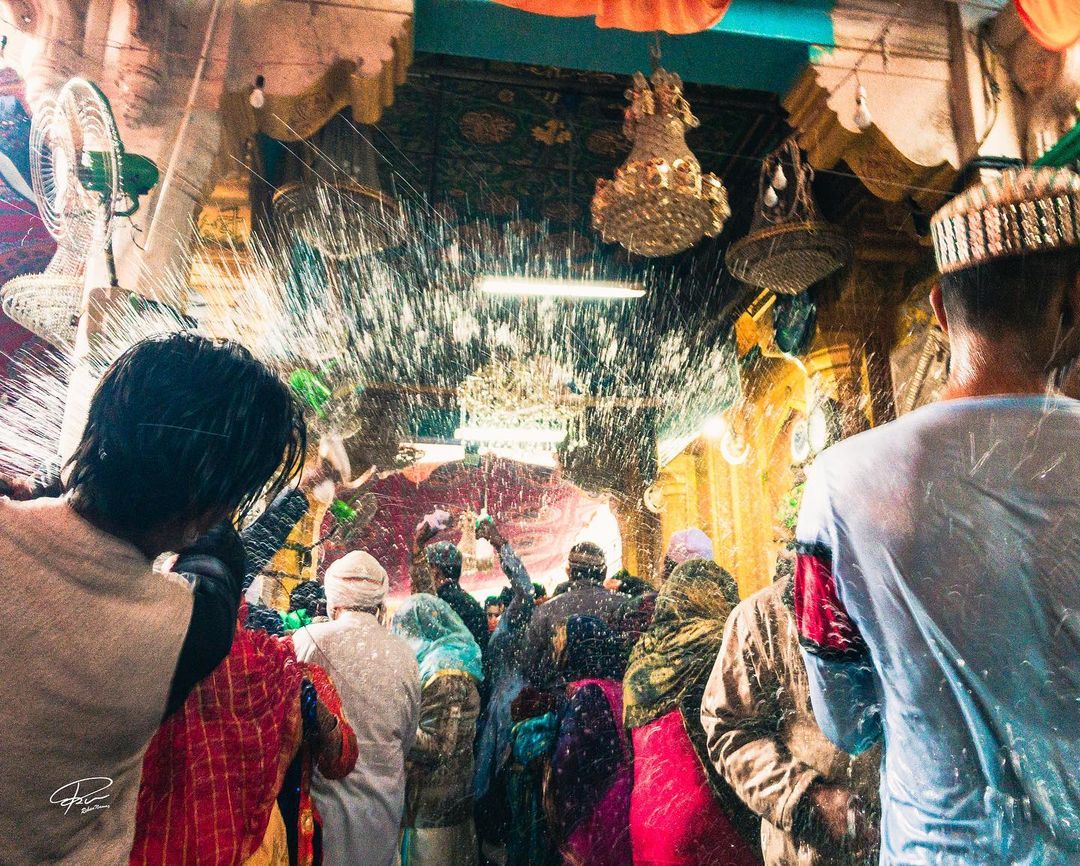 Devotees at the Dargah; Courtesy Rehan Nawaz (Instagram)
The office of the Gaddanashin recorded the video message of Haji Salman and forwarded it to all the Mureeds (followers) of the Dargah. He added, "It is a great occasion of sharing the message of inclusivity, peace, and universal brotherhood from the podium of Ajmer Dargah Sharif not only in India but around the world as everybody's connected to people from different countries, we send them the greetings of peace from Khwaja Ghareeb Nawaz's Gaddanashin family in Ajmer Dargah Sharif.."
When asked how the situation is different from the time during the lockdown, Haji Salman says, "Alhamdulillah (thank god) the situation is far much better; for two years we had no outside contact and due to the protocols no celebrations were done in fact, no congregational prayers were conducted…" He added that growing up in Dargah he had never witnessed an Eid where no devotees were allowed and just the caretakers were present in the Dargah, "This year we saw a good footfall, thus it was a sigh of relief…"
Reminiscing his childhood, Salman says, "As kids, we never had the exposure to mobiles or any gadgets, people were more human…after prayers, we used to go out in the lanes..I remember vendors were coming from the villages with mitti ke bartan (pottery utensils) and we kids were their loyal customers...Eidi was a huge charm those days, however nominal it was, it meant so much for us kids.." He added, "Today kids are hooked to the mobile, tablet screens playing games probably. People hardly visit their relatives now..e-greetings are exchanged on WhatsApp, social media, video calls and alike… things have changed...human to human interaction has reduced to bare minimum.. "

He says that these trends exist not only for Eid, and Bakr-Eid but also for other festivals like Holi, and Diwali, he added, "the human touch is missing these days...I guess I miss those pottery vendors and kids running around collecting eidis, buying toys, and eating delicacies."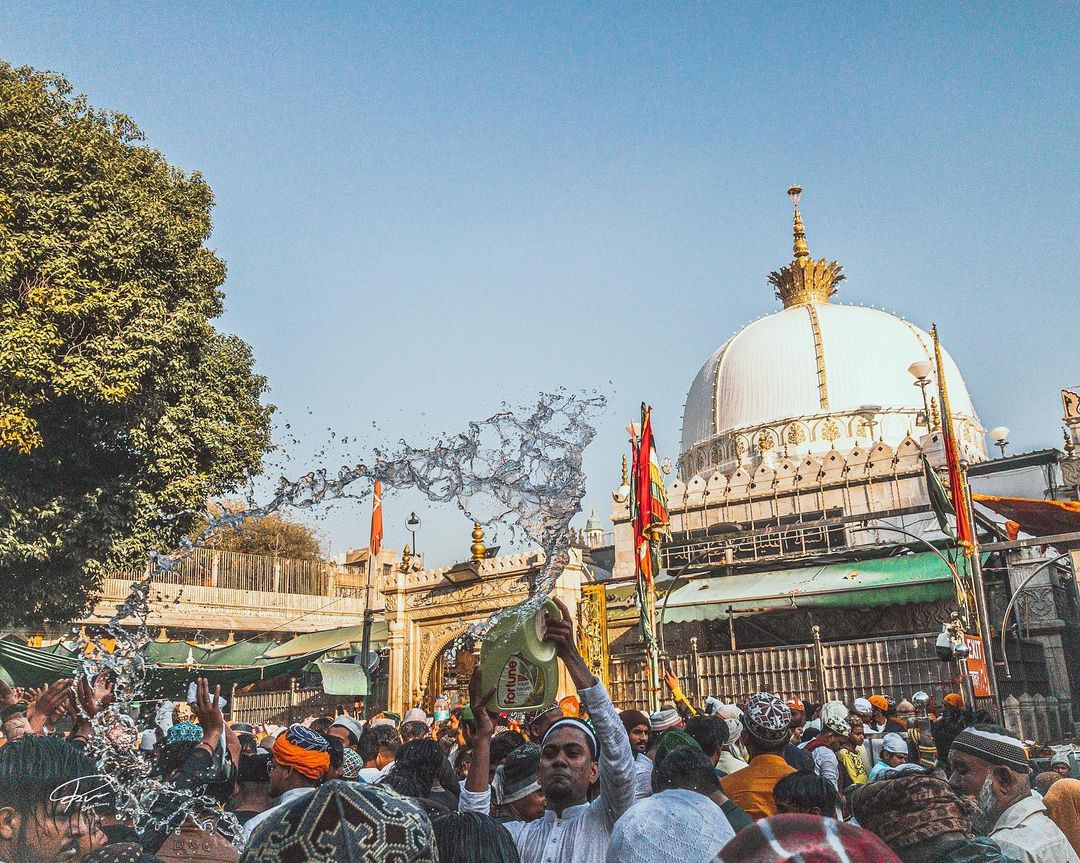 Devotees thronging the Dargah; Courtesy: Rehan Nawaz (Instagram)
Praying at Ajmer Dargah fulfills one's wishes. Did Salman witness any miracles there? To this, he said, "The greatest miracle that happens in Ajmer Dargah Sharif is the mending of the broken hearts; they find hope here, we have seen people getting the spark back in their eyes and that is the greatest miracle.."
Highlighting the importance of the place, he said, "At the entrance of the Dargah there is a couplet in Persian that reads as, "Kabatul Aushaq Bashad in Maqam, Har ke naghes amad in ja shod tamam" (This is the center of lovers ( aushaqs), whoever comes here incomplete, finds themselves complete..)
ALSO READ: "Flavours of food are same across the border...", home-chef Nighat