Saquib Salim
"One (Mustafa Kemal Ataturk) is a hero, the other (Mahatma Gandhi) is a Prophet (nabi)," wrote celebrated Egyptian journalist Abbas Mahmoud al-'Aqqad in Abtal al-Wataniyya (Nationalist Heroes), a book published in 1923. The book contained five nationalist heroes revered in Egypt and Mohandas Karamchand Gandhi was one of them.
Noor-Aiman Khan, who teaches history at Colgate University, believes, "the relationship of the Egyptian nationalist movement to the Indian would fit this description (Benedict Enderson's definition of a nation) in all aspects except the issue of sovereignty. What the two colonies shared was something akin to nationalism, a "deep horizontal comradeship" that is amply demonstrated in the language of brotherhood that dominates Egyptian descriptions of Indian nationalists."
The popular historiographies in India and Egypt have largely overlooked the connections between the nationalists of both countries during their struggles for freedom from British colonialism. In one of my previous articles, I pointed out how Savarkar and Shyamji Krishnavarma-led India House collaborated with Egyptians led by Mustafa Kamil Pasha and Mohammad Farid before the first World War.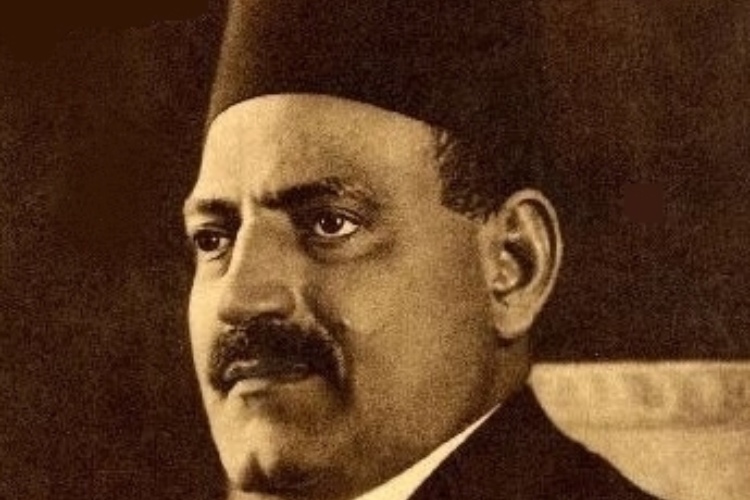 Mostafa Nahas

After the War, Egyptian nationalists developed close contacts with the Indian nationalists working with Congress. Often, colonial apologists try to portray these connections as a Pan-Islamic Movement in which Hindus had no role to play. But, closer scrutiny of the facts tells us that people like V. D. Savarkar, Bhikaji Cama, Chattopadhyay, etc. were instrumental in bringing these two nations closer. Later, Lala Hardayal took up the mantle during the War.
With the changed geo-political scenario in a post-World War world, Gandhi emerged as one of the tallest Indian political leaders. Professor Noor-Aiman writes, "No Indian excited the Egyptian imagination more than Gandhi". Egyptian nationalist newspapers freely referred to him as al-rooh al-azeem, an Arabic term for Mahatma. In 1929 and 1931 Wafd Party, a nationalist organisation in Egypt gave calls for boycott and passive resistance on the lines of Gandhi's Indian methods. Newspapers like al-Balagh al-Usbu'i carried several articles describing how Gandhi's methods had terrified the mighty British empire.
Mahatma Gandhi stayed for a few hours at Port Said while passing through Suez Canal on 7 September 1931 while going to attend the Round Table Conference in London. Rajputana, the ship on which Gandhi was traveling, was under heavy surveillance as the British were terrified at the prospect of Gandhi meeting the general public. Though the ship stopped for a few hours it created a stir in Egypt.
Mostafa Nahas, who was the President of the Wafd Party at that time, sent an invitation to visit Egypt on his return from London. Several journalists met Gandhi and wrote pieces eulogising him. Mahmud Abul-Fath of Al-Ahram wrote that he spent the most memorable hour of his life with Gandhi and wished that every Egyptian would get this chance. Abbas al-'Aqqad and several others claimed that Gandhi was a saint.
When Gandhi returned from London, the British authorities in Egypt were more than worried. The High Commissioner threatened Gandhi with action in case his visit created any internal political disturbance. Gandhi decide not to step out of the ship and spent a night on the ship at the port where several Egyptian leaders met him.
Fathy Radwan

Another group Misr al-Fataa (Young Egypt) was founded in the 1930s by Fathy Radwan. Radwan held an important position in Egyptian politics. In 1934, he wrote a book on Gandhi. In the book he wrote, "like many youths, I experienced anxiety which grew to depression. The more I read, the farther I felt from people. Both liberal and conservative thinkers failed to satisfy me. But God said He makes the difficult easy, and I found a biography of Gandhi. I found that Gandhi was writing to me personally and bringing my heart joy and peace. Then I found another book and then read his letters, and I read all I could find on him. When I stopped, I was no longer angry and lost."
Gandhi was celebrated in Egypt despite being a Hindu. He was a symbol of Eastern civilization. For the Egyptian nationalists, nation and not religion was the priority. In contrast, colonial officials stated it was "the tendency of Indian Muslims to not recognize that "Near Easterners" were far more interested in nationalist matters than religious."
Wafd, the Egyptian Nationalist party, stood up for a united secular India in 1939 when at the height of the Muslim League's demand for separate Muslim land they sent a delegation to Tripuri Congress Session presided over by Netaji Subhas Chandra Bose. The delegation consisted of Mahmoud al-Basyuni (President of the Senate), Ahmad Hamza, Ahmad Qasim Gouda, and Mahmud Abul-Fath. Muslim League initially tried that the delegation accepts their invitation as well but when declined Jinnah openly criticised the delegation.
Ahmad Qasim Gouda later recalled, "We saw at the Bombay train station, as at all stations, big signs carefully designed by the British to be noticeable in big letters 'Water for Muslims' and next to it for 'Water for Hindus'! And so were the British careful to promote difference between Muslims and Hindus by making notable these signs, which the British pretended were for no other reason than to prevent clashes they imagined would always take place between Hindus and Muslims."
The delegation was cautious enough not to help communal forces in any manner. Noor-Aiman writes, "the delegation was most impressed by Khan Abdul Ghaffar Khan, who they met in Lahore. Both Gouda's book and British reports confirm that the Redshirts of the "Frontier Gandhi" turned out in impressive numbers to greet them. Among the many invitations the visiting Egyptians received was one to attend a reception in their honor with the Muslim League. Supposedly, the Egyptians discussed the invitation and decided to send their regrets, as they were worried that it would be seen as supporting a communal cause."
Muhammad Lutfi Goma'a, another nationalist journalist, who worked closely with India House as well, wrote criticizing divisive communal Muslim politicians, "the Indian Muslims remain apart from the noble peaceful struggle for freedom. For India is not a nation only for Hindus but it is the nation of all". He praised Maulana Azad for being a true leader of Indians who doesn't nurse communal feelings.
Goma'a cautioned Indian Muslims, "The renaissance of the East is not a religious renaissance limited to the renaissance of the Muslim peoples, nor is it ethnic limited to the renaissance of the Arab countries or the renaissance of Hindus, rather it is a general human rebirth." About him, Noor-Aiman writes, "his defense of "his people" could easily have been written by Savarkar or Krishnavarma".
ALSO READ: Egypt and India fought against the British Raj together
Indian and Egyptian Nationalists worked closely since at least 1906, if not before. There are mentions that Azimullah Khan tried to establish contacts with Egypt in 1857 but those are unverified accounts of which we don't know much. The basis of these connections was not a common religion, Islam, but the oppressed nationalities and Eastern civilization. Egyptian nationalists stood with the Indian nationalists against the demand of the Muslim League, their co-religionists, based on a shared national struggle against a common enemy.