Nakul Shivani/ New Delhi
Jashn-e-Rekhta, the three-day cultural festival aimed at revival of Urdu language, is an island in a world where many good habits are dying. The event aims at not only reminding people about the beauty of Urdu but also about the need to keep your reading habits alive.
"There is no better way to gain knowledge than read books," says Faizan, a college student who is here to explore the world of books Urdu and Hindi have to offer.
He is here along with his friends looking to buy books that will help him understand Urdu poetry better.
From the works of Firaq Gorakhpuri, Nida Fazli, Majaz to Pakistani poet Joun Elia, there is something for every lover of the art of Urdu and its renditions in the form of poetry, ghazals or just plain prose.
Mandeep who has come from Benares to attend the event, says "I have come here to experience the beauty of the Urdu language."
"Even while speaking Hindi, we use a lot of Urdu words. So, you can't keep the two languages separate. I want to take back books that will help me refine my language further," he adds.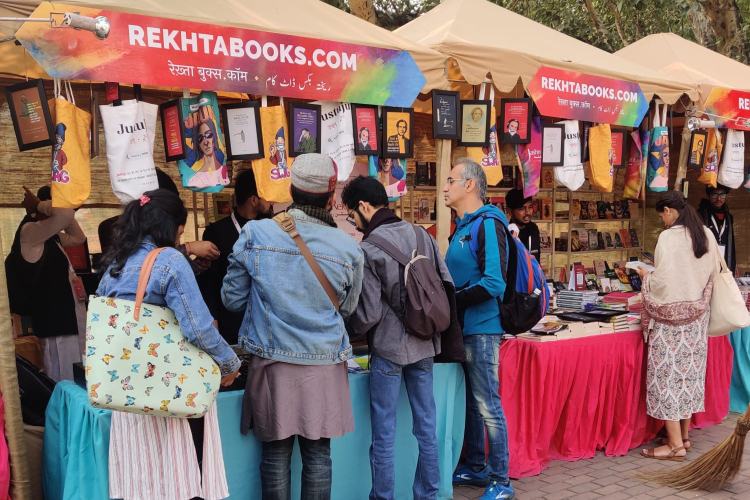 There are books by more than hundred authors available at Jashn-e-Rekhta
At the Rekhta foundation book stall, Tanvir has been selling books for close to a decade now. He says the event is a great platform to help revive the dying art of traditional languages and traditional habits.
"People come here to explore authors, poets. There is an interest among many, specially the young, but they do not know from where to source the books. This event is a great opportunity," he adds.
Brijesh of Rajkamal Publication who has been coming to the event since its inception, says many people have heard of Manto, Raag Darbari, Tamas, but had not read them. "Once they come here, the ambiance is such that you will be tempted to buy a few books and read them," he says.
Arihant, a working professional from Delhi is a keen film buff. He is here looking for Hindi translations of Urdu poetry. "I find the Urdu language very fascinating. I developed interest in the language after hearing them in film dialogues. It's the soothness of the language that attracted me towards reading the language," he says.
Among the many books available here is a collection of 800 years of ghazals, Ahmed Faraz's Khanabadosh,A treasury of Urdu Poetry from Mir to Faiz, Harivansh Rai Bachchan's Madhushala, Mirza Ghalib, and various other authors and poets.
Gaurav is here from Gurugram. He wants to buy books that will help him get hooked to reading. "What better way to do so than read Urdu poetry," he says.

Books by Javed Akhtar are very popular at the Jashn-e-Rekhta
"There is a misconception that Urdu is a language of the elite. Read prose and poetry in the language and you will realise that it has much in common with Hindi. The two languages cannot be separated," says Subhash manning the Rajpal and sons, which is selling among others, books written by Javed Akhtar.
Shoeb Shahid who has 12 titles of more than hundred authors on display at the Rekhta Foundation stall, says "we wouldn't be coming here with so many books if there was no interest. The problem is common people think reading is a difficult art. We want to change that misconception."
ALSO READ: Jashn-e-Rekhta: Binding people over language and food
At the Jashn-e-Rekhta, the young and old are trooping in to explore Urdu language and take back not just memories but also books to expand their horizon about it.