Daulat Rahman/Guwahati
Member of Parliament and Chief of All India United Democratic Front (AIUDF) Maulana Badruddin Ajmal has said his recent statement that the Muslims cut a sorry figure when it comes to committing crimes and illegal activities did not mean the entire community.
In a conversation with Awaz-The Voice, Ajmal has said at an event held recently in the Dalgoma Anchalik College, a private college in west Assam's Goalpara district he was speaking about the progress and development of Muslims in the field of education. He said even though many Muslim students from Assam have done extremely well in various all India competitive examinations the number is still dismal.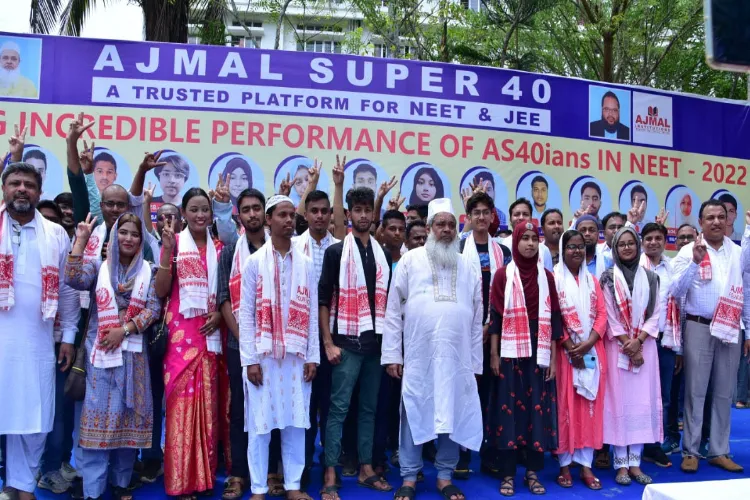 Maulana Badruddin Ajmal with Ajmal Super 40 students who cracked the 2022 NEET & JEE examination
"Out of 100 Muslims youths only less than 20 per cent of students are well educated. How many doctors and engineers we have produced so far. So, it is time for harsh introspection. We need to improve a lot in the field of education and we have to do it on our own," Maulana Ajmal told this journalist.
"Crimes like robbery, dacoity, rape, loot — we are No.1 in all. We are also No.1 in going to jail. Our children find no time to go to schools and colleges, but find enough time to gamble, to cheat others. For all such wrong things — ask who's involved? It's Muslims. And that's sad," Ajmal said at a meeting of alumni of Dalgoma Anchalik College in Goalpara district.
"People are going to the moon and the sun, and we are doing a Ph.D on how to go to jail. Walk into a police station and you would know who's in absolute majority — Abdur Rahman, Abdur Rahim, Abdul Majid, Badruddin, Sirajuddin, Fakruddin…Isn't it a sad thing?" Ajmal said.
Assam had the highest number (60.5 percent) of Muslims as convicted prisoners in the country in 2021, according to the National Crime Records Bureau (NCRB) data released last year. As many as 49.3 percent of jailed undertrials were Muslims in the state, it added.
Muslim population in Assam is 1.07 crore (34.22 percent) of the total 3.12 crore, according to the 2011 Census. Overall, the Muslim population stands at about 17.22 crore (14.2 percent) in India.
Ajmal focused much of his speech at the college function on his claim that Muslim youth have gone astray, and should be uplifted through rational thinking and the medium of education.
It may be mentioned that unlike many other Muslim politicians, Ajmal does not speak on issues like hijab or triple talaq. Instead, he has set up a line of modern educational institutions for Muslim women across Assam to help them undo their stereotypical image of homemakers mired in orthodox circumstances.
Badruddin Ajmal studied at the famous Darul Uloom, Deoband, Uttar Pradesh, from where he obtained a degree of Fazilat, equivalent to an M.A. in Arabic.
Very less percentage of Muslim girls go to schools and colleges for higher education in India and the situation in north-east India is even worse. Ajmal Foundation struck the chord by establishing its very first institution by the name Maryam Ajmal Women's College of Science and Technology in the year 2006 solely devoted to girls' education offering HS (+2 Level) Science. Later on, the college was upgraded to Degree level in the year 2012. Six years later, the college was upgraded and today it offers courses both in BA and B.Sc. in subjects like English, Assamese, Education, Political Science, Economics, Mathematics, Botany, Zoology, Chemistry, and Physics. The college is affiliated with Dibrugarh University.
When asked about his education mission Ajmal said very less number of Muslim students come to educational institutions set up by Ajmal Foundation.
"There's a single road to our development — education and only education. Once upon a time we were No. 1 in the world when it came to education, it's no longer the same," Ajmal said.