Syed Salman Chisty with other participants at the 16the edition of the international Sufi festival at Ajmer
New Delhi
Sufi exponents from 40 countries are participating in the 16th International Sufi Rang Festival which began on Thursday with a gala opening at the shrine of Sufi Saint Khwaja Moinuddin Chishty at Ajmer, Rajasthan.
The annual event is organized by Syed Salman Chishty, the Gaddinashin of the Dargah, and Chairman of the Chishty Foundation. It's curated by Mehmood Shaikh and Azeem Memon of Mumbai.
The Festival celebrates divine love with sacred art forms, Calligraphic Inscriptions, Spiritual Sufi Musical renditions, Poetry, Seminars on Sufism, and heart-to-heart dialogue for peace, unity, and harmony.
It's an inclusive event and meant to serve the entire creation with unconditional love in the true spirit of the teachings of Khawaja Moinuddin Hasan Chishty and the practices of the Chishty Sufi Order.
The followers of the Sufi Chishty order from across India, South Asia, and different countries around the world visit the place, though this time, the event is being organized virtually.
The International Sufi Rang Festival happens to be the biggest Sacred Spiritual Sufi Art Festival in India, a unique art exhibition which from the past 16 years have been bringing together noted Sufi artists, calligraphers, painters, curators, and visual artist from across the country and different continents of the World.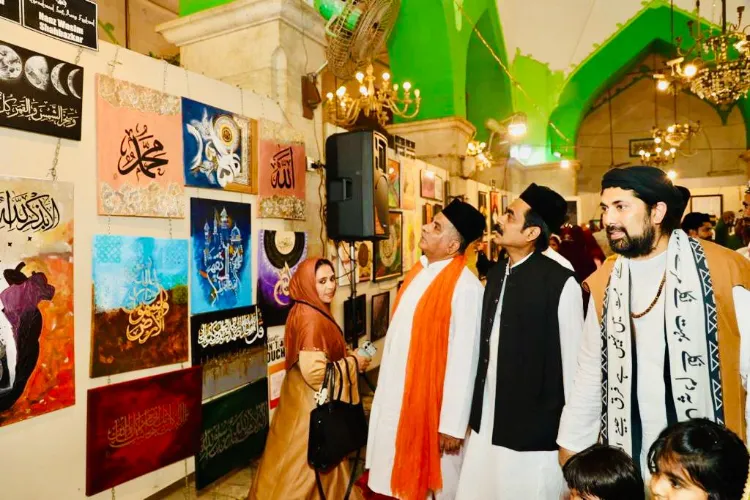 Salman Chisty and others seeing the displayed artworks at the Sufi art exhibition

The Chishty Foundation seeks to celebrate the festival inside the 800-year-old majestic Sufi Courtyard - Mehfil e SemaKhana (Spiritual Audition Hall) - of the shrine.
Artists from 40 countries are showcasing their Artworks in the week-long exhibition of Sufi art of calligraphy, poetry, and music (Sema and Qawwali).
The guests to the international Sufi Rang Festival included Anjuman SyedZadghan Members and Officials from the Dargah Committee, renowned business leaders and philanthropists from different cities.
At the inaugural function, speakers highlighted the significance of the Sufi Rang Festival in strengthening national integration and socio-religious and communal harmony. "We need to make concerted efforts to keep alive the collective spirit of the nation through great art exhibitions such as the International Sufi Rang Festival." Salman Chisty said.
Chishty Foundation Ajmer Sharif also conferred the Global Peace Award upon all Guest of Honor dignitaries for guidance, Leadership, and Unconditional Commitment towards Serving Humanity.
ALSO READ: Trudeau pushes Canada to the brink by making it nursery for terrorists
Several senior members of the Anjuman Syedzadgan, Shaikhzadghan, Khuddam-e-Khwaja Saheb including Syed Ahtesham Chishty, Syed Fazle Hasan Chishty and members of Khuddam e Khawaja Community Syed Mehraj Chishty, Syed Anas Chishty, Syed Serhan Ali Chishty, Syeda Samar Chishty, Shaikh Ziauddin Chishty, Syed Nawaz Chishty, Syed Afshan Chishty, along with Chishty Sufi Community members were also among the eminent guests from civil society, Ajmer District Officials, Dargah Committee Representatives, Radha Soami Satsang Ajmer District officials and Interfaith leaders of Ajmer City as well as Chishty Foundation members including Rehan Nawaz, Padam Bachani, Adheem Shaikh, Rameez Shaikh also attended in this opening ceremony of the 16th International Sufi Rang Festival.