Dayaram Vashishtha/Faridabad
Feroz Bahrupiya, whose second name comes from his art of impersonation - one of the oldest modes of entertainment for humans - can dress up and play at least 52 characters drawn from Hindu scriptures and social milieu. These days he is entertaining visitors to the Diwali mela at Surajkund, Haryana, on the outskirts of New Delhi
He impersonates Bear, Monkey, King Ravana, Narad, and Shravan, - characters from Hindu scriptures and mythological tales – and Guru-Chela(Teacher and Pupil), Lohar-Lohari (Blacksmith and his wife), Gujar-Gujari (Gujar couple), Sabjiwali (female vegetable vendor), Pagal (madman), etc.
Feroz hails from the village Bandibui, District Dausa, of Rajasthan givin. He says, besides entertaining the public, his art also gives the message of unity. He asays not only entertaiuns the public by dressing up as the characters from Holy books like Bhagwad Gita, Ramayana, and Mahabharatahe and members of his family have the mssage of these books embedded in their minds.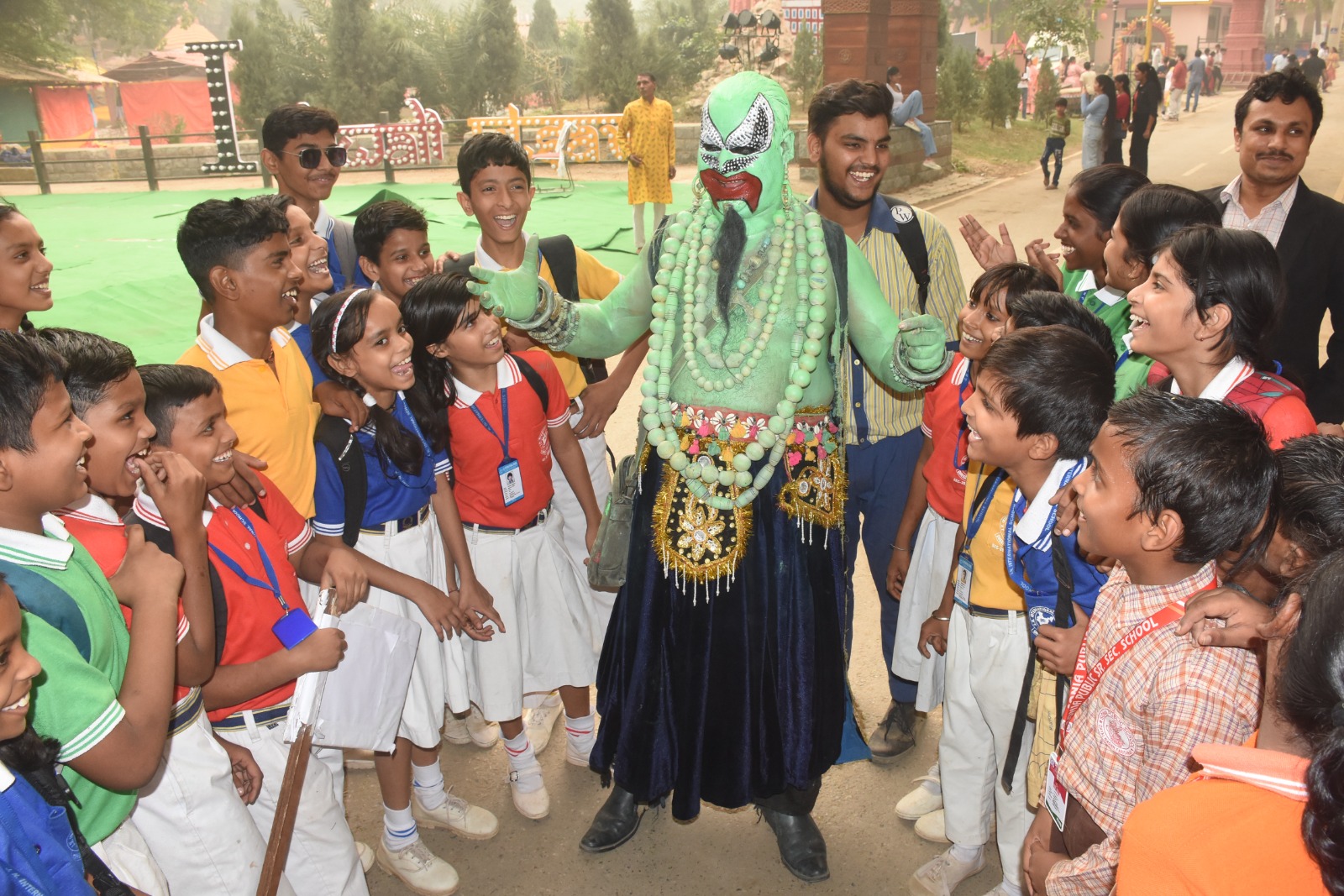 Feroz entertaining children at Surajkund

His family follows Islam as a religion.
Feroz says an artist has no caste. His father Shivram used to recite the Ramayana and also memorized Bhagwad Gita. He also used to play characters in the annual drama of Ramlila staged during the Navratri.
He says, "Everything has changed since the time of (Mughal Emperor) Aurangzeb. Earlier, everyone was a Hindu. The region of Mewat belonged to the Meena community; they worshipped on Dussehra and celebrated other festivals too."
He says members of his community - Meena - have been entertaining people since the time of Raja Mansingh and Madho Singh. At that time, there was no other means of entertainment. People were crazy about the art of impersonation on the occasion of weddings, and other social programs. "There was no difference between Hindu and Muslim. This art has been going on my family for generations".
He visited France to perform and also toured the length and breadth of India to showcase his art to the people.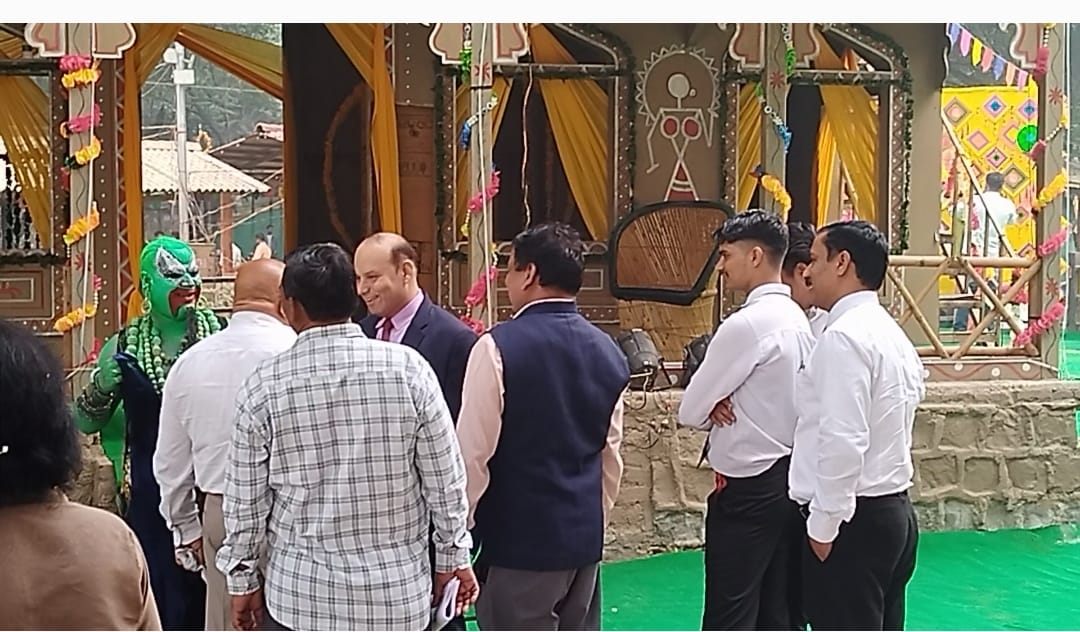 Feroz with officials at the Surajkund Mela

Apart from impersonating Gods, goddesses, historical figures, and great men of history, the bahurupiyas also imitate the rich people of the village. Hindu Kings and Mughal emperors patronized them.
The impersonators change their appearance according to the character and also do acting. With the help of their make-up and costumes, they often start looking like the character whose appearance they imitate. Many times the audience is not able to differentiate between real and fake and people get confused.
Feroze was born on the day Feroze Gandhi, a politician and husband of Indira Gandhi died. He was named after him. His great-grandfather was named Shravan, his grandfather Gopi, his father Shivraj, and his uncle Ramjilal. Most of these Muslim men in the family were given Hindu-sounding names.
Women too followed the trend. His mother's name was Chutki and his grandmother's name was Malloh. Feroze has two sons - the elder one, Manoj studies in 5th class and the younger son Rahul is in 3rd standard. His daughter's daughter is named Pinky and his wife is Hasida.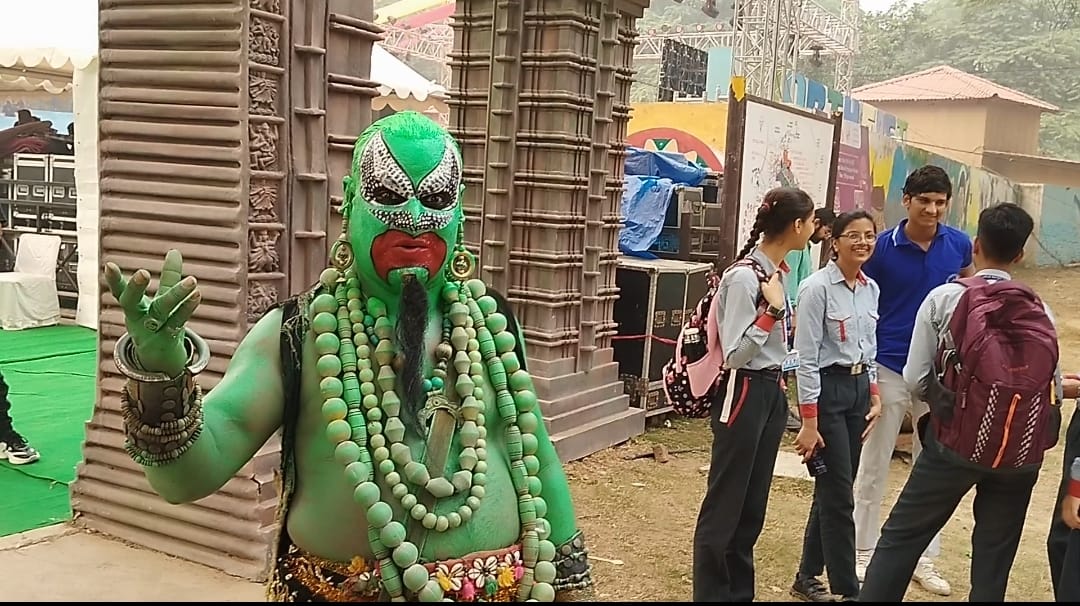 Feroz Bahurupiya entertaining people at Surajkund Mela

He alleges that the kings and emperors never allowed their community to make progress. Many impersonators died while performing, and yet they and the community were never accorded respect.
He says that his art has been there since ancient times when there was no trend of drama or cinema.
Though Feroze is happily entertaining the people in Surajkund mela deep inside he harbours an of being neglected by society.
Feroz can mask his pain and personal sufferings behind his made-up face.
Feroz says impersonating is an ancient art. He regrets that while Nut, jugglers, and puppeteers have got respect, the art of impersonation has been neglected.
He says in Rajasthan alone there are 10,000 impersonators. They are in every state
"Everyone is getting Padma Shri, someone is getting some award. Because we do not have any organization. The government does not take care of us. My father was an international artist. He had traveled to 56 countries on behalf of the Culture Department of the Government of India. But he also never got any respect. It is a request to the government that everyone gets respect."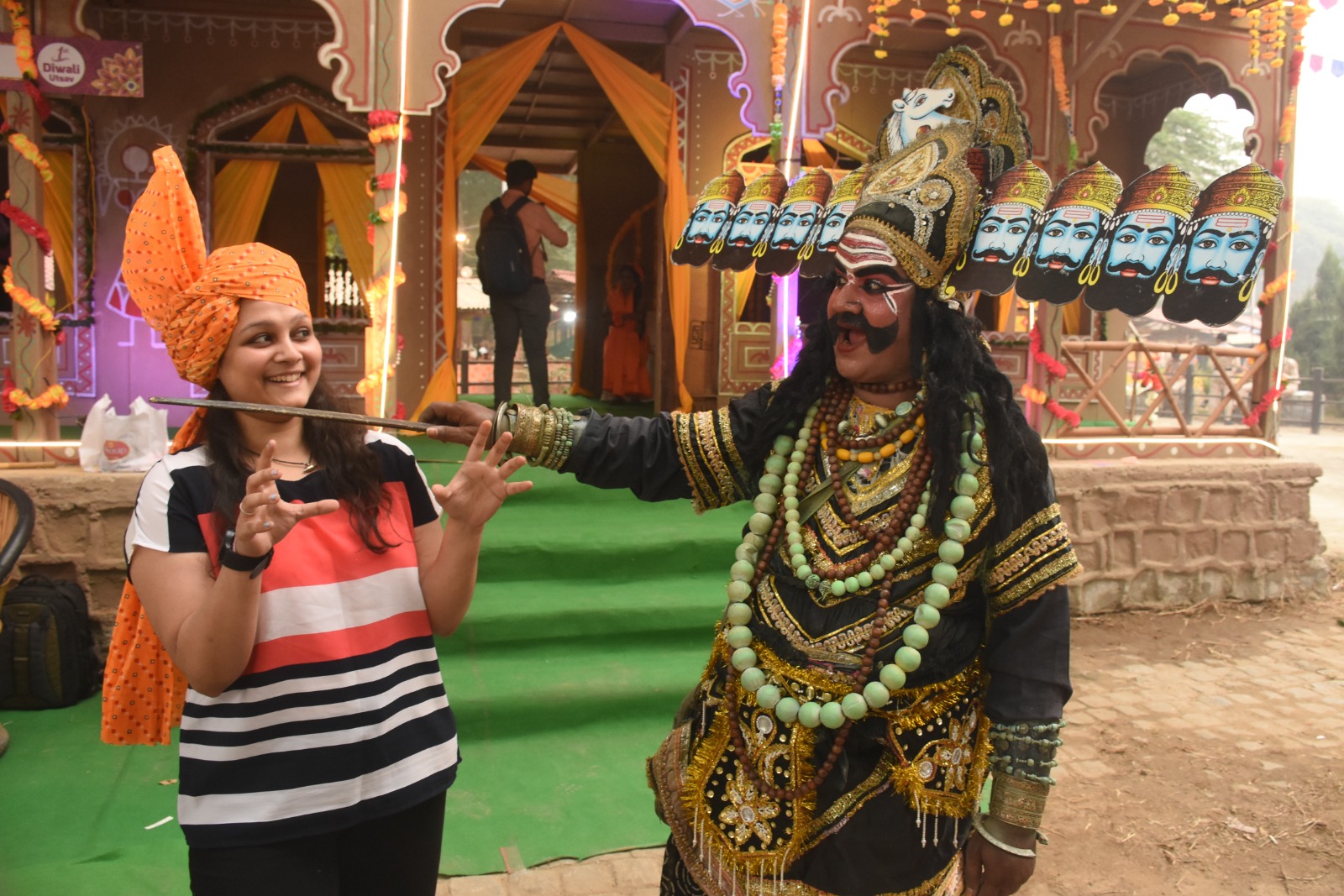 Feroz as King Ravana at the fair

Artists like Feroz wear their art on their sleeves but they have to struggle for two square meals. Feroz says that despite these problems he continues to do shows in India and even abroad.
We have to change our get-up for every role. Everything including makeIn this era of inflation, there is a lot of expenditure in changing the costumes, only then they feed themselves and their children by entertaining the public. There has now been a change in the society.
In the era of modernity, no steps have been taken towards saving folk artists and art. In such a situation, the government and social organizations should work towards promoting these impersonator artists.
ALSO READ: Diwali: The light that is, and will be
Feroz says since he is not educated he is unable to showcase and propagate his art on social media. However, his art continues to be showcased on YouTube.
His performance is so powerful that when he speaks as King Ravana of Ramayana, children run away in fear.