Ghaus Sivani/New Delhi
A 600-year-old temple of Goddess Durga located in a far-off hillock in a Rajasthan village is served by Jalaluddin Khan, who is the designated caretaker and priest of this Hindu temple.
This story of inclusive life at the grassroots in India's hinterland is of the Maa Durga temple in the small village of Bagoria in Bhopalgarh tehsil of Jodhpur in Rajasthan.
This Maa Durga temple is located atop a hillock and one can reach there by taking a flight of 500 steps.
Thousands of devotees flock here every day for the darshan of the Goddess.
Jalaluddin Khan says his ancestors came here from Sindh, now in Pakistan, hundreds of years ago and settled in the village and have been serving the Goddess generation after generation.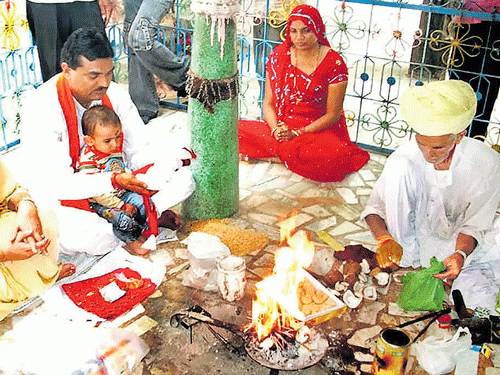 Jalaluddin performing Puja at Maa Durga temple

Jalajuddin not only takes care of the premises but also performs all rituals in the temple. He is the 13the generation person from his family to be serving the Goddess
This tradition of serving the temple and presiding over the rituals at the temple is passed down to the next generation.
How Jalaluddin's ancestors reached here is an interesting story. He says a group of Muslim traders from Sindh came here for business, and one of them was forced to stay back due to cirumstances.
The said ancestor of Jalauddin fell sick and there were good chances of his death due to hunger and thirst.
His life was saved at the site of this temple and he believed his life was saved due to the blessings of the Goddess.
ALSO READ: Kashmir's dark secret: How drugs are destroying a place once known as heaven on earth
He did not go back after seeing this miracle of Maa Durga and settled down and started worshiping Maa Durga.