New Delhi
Shehla Rashid, the former JNU student activist who was once a staunch critic of the Narendra Modi government has come out in open support of its "abrogation of the special status of Jammu and Kashmir as a first-ever political solution to deal with Kashmir's problem."
In a podcast interview with Smita Prakash of Asia News International (ANI), Shehla said the abrogation of articles 370 and 35A of the Constitution 'has served to end the psychological duality of the people of Kashmir'.
In a no-holds-barred interview, Shehla Rashid who belongs to Kashmir said that the government of India dealt with Kashmir for the first time not as a "security issue but as a political problem due to which there have been zero killing of civilians."
She praised PM Modi and Home Minister Amit Shah for taking this bold step even in the face of condemnation and criticism from within India and abroad. "They did do so in the national interests. They managed to correctly diagnose the problem that the special status, a separate flag, a separate constitution, etc. were giving a boost to the feeling of separatism (In Kashmir)... And If we (Kashmiris) have to live in India and live peacefully then it was necessary to end this identity crisis," she said in the interview.
Shehla said the move by the center has changed Kashmir in many ways: firstly, the killing of civilians during counter-terrorism operations has ended and the people are living normal lives; "children are playing and young students are attending the Republic Day and the Independence Day parades that people of my generation could not even think of."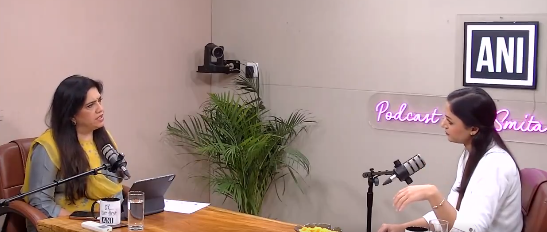 Smita Prakash interviewing Shehla Rashid

Asked how she changed her ideology and mind, Shehla said it was during her research work on the topic "Political experience of digitality in India" that the reality of India and what she believed came out as contrasting images and hit her hard.
"I started my research based on the Western model wherein digitalization is introduced by the governments and the systems as a political tool to empower some people and to exclude others."
She said she visited the Aadhar Seva Kendra and realized that Indian digitization was secular and non-discriminatory. "The UPI, which I had opposed (as a student leader), was meant not to favour big corporate but to make vendors, sabziwalla, rehriwalls - common people - creditworthy and bankable."
She said she was among the first to apply for and was issued the domicile certificate (mandatory in J&K residents after the Abrogation of Article 370). "I got it so easily through a fully all automated process. I didn't have to supplicate before anyone; nobody discriminated against me for my ideology. or religion".
She claims the ground realities made her change the course of her research. "I thought that India's digitalization should not be castigated but it should be celebrated."
She said that since she was using the (digital platforms) UPI, Digi Locker, Digi Yatra, and other applications and found them useful, she decided to give up her intellectual dishonesty of opposing the same.
All this and the seclusion imposed due to the Covid-19 pandemic across the world made her rethink her priorities in life. "Should I become part of the chaos or be part of a country that is the fifth largest economy in the world and where digitalization is helping people - I thought about it."
She chose to leave the "left-liberal echo chamber" where everything fresh happening in India was wrong and must to be criticized and opposed. With her research and through empirical data she realized that the Muslims or minorities were among the one-third of the beneficiaries of the schemes aimed at alleviating people from poverty across India.
"I realized there is no systematic discrimination against Muslims in India; surely there will be no special treatment anymore," she said.
She told Smita Prakash that the slogans raised in Delhi have no resonance in the hinterland where people have their mechanisms to deal with the problems be it communalism or discrimination. "We, the educated youth among Muslims should become the role models for our communities and motivate youth to become part of India's growth story."
On Kashmir, she says there is a big change on the ground post abrogation of article 370.
"There is a massive infrastructural boom, more than the tourist coming to Kashmir in hordes, for me the normalcy is because children can play in playground and go to cinema and above all there is transparency and integrity in the governance.'
"I topped many examinations (for jobs) and have also qualified for the post of Assistant Professor in Kashmir based on my merit. Today the system has become so transparent that when candidates appear for an interview after clearing a written test its result is out in six hours leaving no scope for manipulation."
Referring to the anti-India protests at the JNU where she was a student leader, Shehla said it had damaged the reputation of the JNU and top-notch professors had to face its consequences.
However, on that particular day, she was not present on the campus, she said.
Asked if she had changed her stance to escape from the legal cases she has landed herself due to her posts on X about the Indian Army, Shehla said the judicial process and political process are separate.
"I had said something against the Army based on the hearsay and I take the full responsibility for it and will apologize for it."
She further stated that there are a lot of narratives being peddled out just for the sake of it.
"There are congressional committee reports in the US that will still say restore internet in Kashmir whereas the internet is in full bloom, 5G is working. But a lot of these narratives whether they are motivated they know. It is a feature of our times. It is polarisation. People do not want to acknowledge their opponents for doing good work and that is not good for democracy," she said.
Shehla Rashid said she is a qualified computer science engineer and she left a good job offered during campus placements under the influence of the "power of narrative."
ALSO READ: The Shami moments at Wankhede when Indians rose as one to seek glory
She gained prominence in 2016 for advocating the release of then JNU President Kanhaiya Kumar, arrested on sedition charges. Recently, she made headlines for a notable shift, applauding the central government for the 'improved' situation in Jammu and Kashmir.