Imtiaz Ahmed
Assam – often called Sankar-Azanor desh (land of Vaishnavite saint- philosopher Srimanta Sankaradeva and Islamic Sufi preacher Azan Fakir) – is a land where people from different faiths and ethnicity have lived together in harmony for centuries. Muslims form an integral part of this land, with almost one-third of Assam's population being followers of Islam. After Jammu and Kashmir, Assam has the second highest Muslim population in India; over 34 percent of the total state population of 3.12 crore.
Muslims of Assam are different from the rest though. Most of the indigenous Assamese Muslims, such as Goriyas, Deshis, and Julhas, are converts from different indigenous communities such as Kacharis, Rajbongshis, Nagas, Manipuris, Garos, and Tea Tribes. The Syeds and Moriyas, who are also major sub-groups of Assamese Muslims, too have ancestral links to indigenous communities of the state.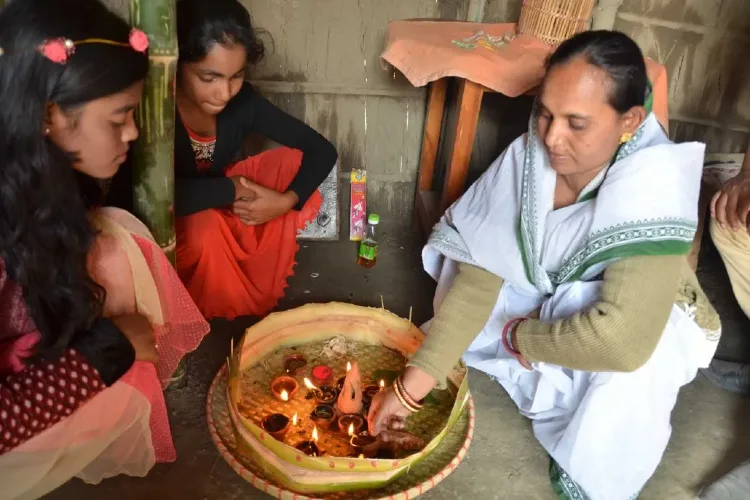 A Koch Rajbongshi ritual being performed at a Deshi Muslim weding
However, according to various Muslim organizations, of the 1.23 crore Muslims in the state, the indigenous Assamese-speaking Muslims comprise only 42 lakh (35 percent), while the rest are Bengali-speaking who differ culturally from not only the Assamese Muslims but also from the Muslims of rest of India. The Bengali-speaking Muslims are of two origins – the indigenous Bengali-speaking Muslims mostly inhabitants of the Barak Valley, and those of migrant origin who are mostly inhabitants of the Brahmaputra Valley.
Unlike the rest of India, Muslims of Assam, with roots in indigenous communities of the state, follow certain social customs on religious occasions akin to those of the non-Muslims of the state. For instance, Assamese Muslims follow the tradition of singing naam (hymns) during weddings which is unique to Assamese society.
The Deshis, who are stated to be converts from Koch Rajbongshis, perform rituals during weddings that are the legacy of their Hindu ancestors. Unlike the Muslims of other parts of India who prefer to avoid dancing except during weddings, the Deshis also have their unique folk dance while the Goriyas of eastern Assam (mostly converts from Kacharis and Ahoms) and Moriyas (descendants of captive Mughal soldiers) perform Bihu dance in tandem with their Hindu brethren. Similarly, the Julhas (converts from Tea Tribes) also participate in the tribe's folk dance form of jhumur.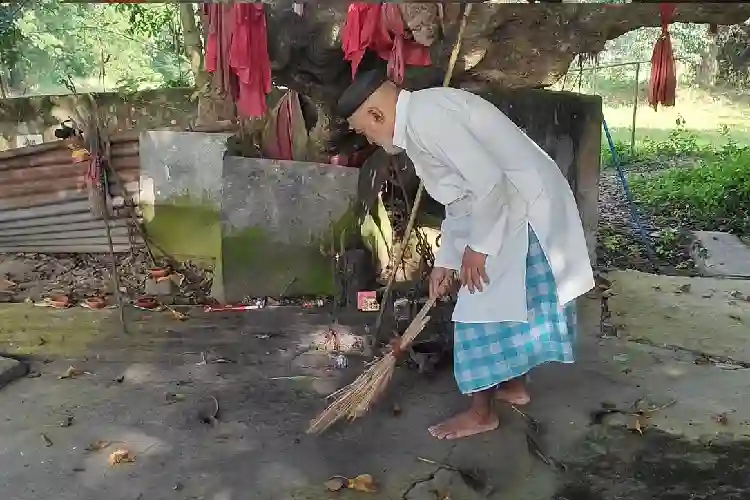 Matibur Rahman cleaning the Shiva Temple at Guwahati
The food habits of the Assamese-speaking Muslims are more or less similar to those of the non-Muslims of the state. With tribal roots most of the Assamese Muslims do not prefer spicy food and fish prepared with citrus leafy vegetables is a delicacy not common among the Muslims of other parts of the country. Similarly, the kurma pulao, a form of non-spicy biryani prepared with joha rice (fine variety of aromatic rice) and meat, is unique to the Assamese Muslims. Both veg and non-veg khar (a cuisine prepared using edible soda) is one recipe only the Assamese people eat and the Muslims of the state are no exception. While the Hindus prefer veg khar, the Muslims prefer to add fish or meat to the recipe to make it tastier.
As far as dressing is concerned, Muslims of Assam are mostly liberal. Unlike the rest of India, hijab and burqa are not much prevalent among women. The Assamese Muslim women prefer the Assamese traditional mekhela-chadar and the saree apart from salwar kameez. Unlike their counterparts in mainland India or elsewhere, it is not a taboo for Muslim women in Assam to be dressed in jeans/trousers and tops, and is socially accepted with equal respect. Similarly, the menfolk too used to be dressed in dhoti and kurta until a generation ago which is now replaced by the Punjabis for religious occasions and the modern shirts/T-shirts and trousers.
Assam is a land where Muslims celebrate Eid as well as Pujas alike. While even looking at an idol is forbidden in Islam, there are many Muslims in Assam who not only participate actively in organising various pujas but also pay obeisance to Goddess Kamakhya.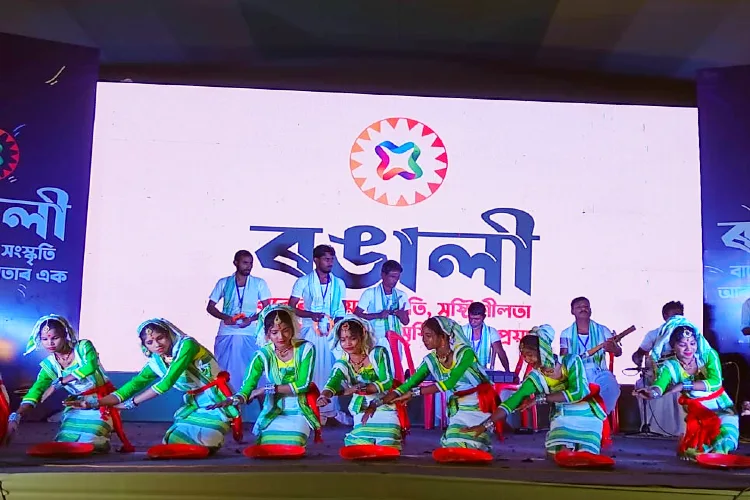 Stage performance of the Bihu dance by Muslim students
Most of the puja organizing communities in Assam comprise Muslim members and contributors taking an active part in celebrating Durga Puja, Saraswati Puja, Vishwakarma Puja, and others. Not only do Muslims of Assam chip in as organizers but also as sculptors such as award-winning artist Nuruddin Ahmed and the school dropout of Dalgaon in Darrang district Hasem Ali among others who have been making idols all through their lives. There are many other Muslims in Assam who have been donors and enthusiastically patronizing puja celebrations in the state over the ages. There are also many Muslims in Assam who have tremendous faith in Goddess Kamakhya and pay obeisance at the Shaktipeeth atop the Nilachal Hills of Guwahati. Celebrity swimmer Elvis Ali Hazarika is prominent among them.
Furthermore, the Assamese Muslims have always equally revered Neo-Vaishnavism along with Islam. Most believe that there is hardly any difference between the preaching of Azan Fakir and Srimanta Sankardeva – both of whom preached to believe in one Almighty and avoid worshiping idols. According to scholars, Azan Fakir is believed to have been inspired by the Neo-Vaishnavite devotional songs such as Borgeet and Dihanaam to compose Zikir and Zari – the unique devotional songs of the Assamese Muslims.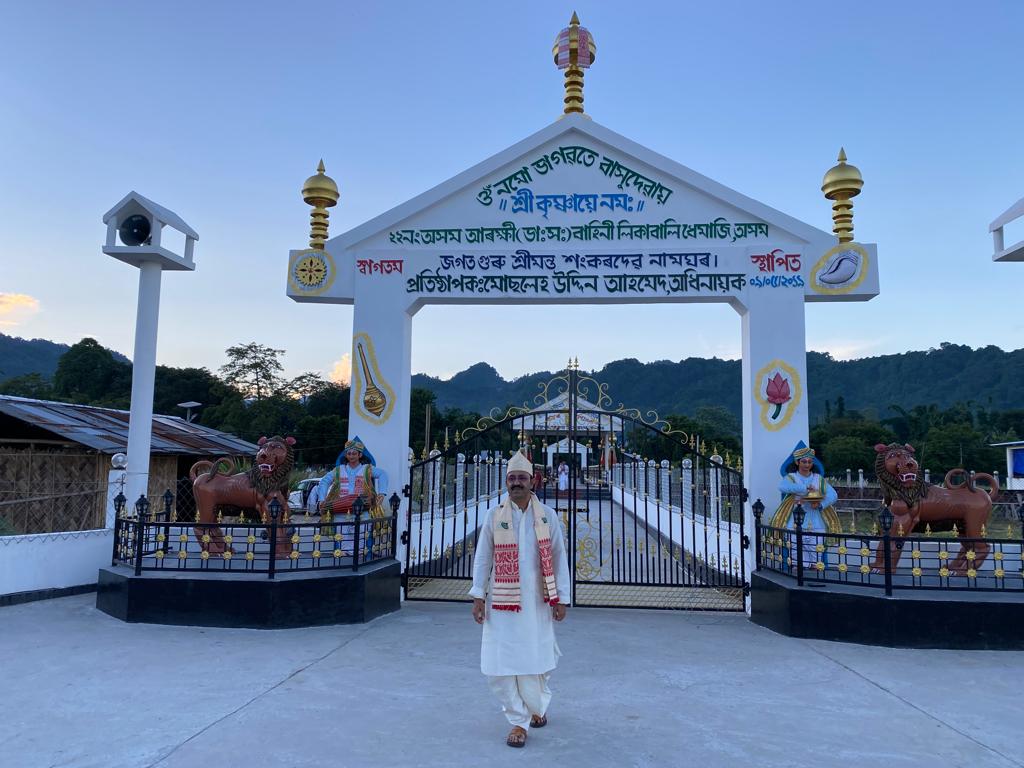 Assam Police Officer Mausleh Uddin Ahmed in front of a Naamgarh
Such is the level of reverence towards Neo-Vishnavism among the Assamese Muslims that a Muslim police officer Musleh Uddin Ahmed set up a naamghar (Neo-Vaishnavite prayer hall) at Likabali in Dhemaji district in eastern Assam a few years ago. Muslims and Hindus alike bow while crossing the Satras (Neo-Vaishnavite monasteries) in central Assam's Kaliabor area of the Nagaon district.
There are also examples of Muslim families donating land or funding the construction of naamghars in the state. Eastern Assam's Jorhat district couple Hemidur Rahman and Persia Sultana have not only funded the development of several temples and naamghars but also constructed a new building of Handique Gaon naamghar in Titabor subdivision.
Jorhat's adjoining Sivasagar district, the capital of the 600-year-long Ahom kingdom, is no less than an impersonation of Hindu-Muslim unity in the country. The main management of historic Shiva Dol (Lord Shiva's Shrine) in the heart of Sivasagar town is being managed by a Muslim family, popularly known as the Dowlas, over the ages. The district has recently seen a Muslim journalist Khalilur Rahman Hazarika donating his ancestral plot of land for the construction of a naamghar at Meteka Seuj Nagar.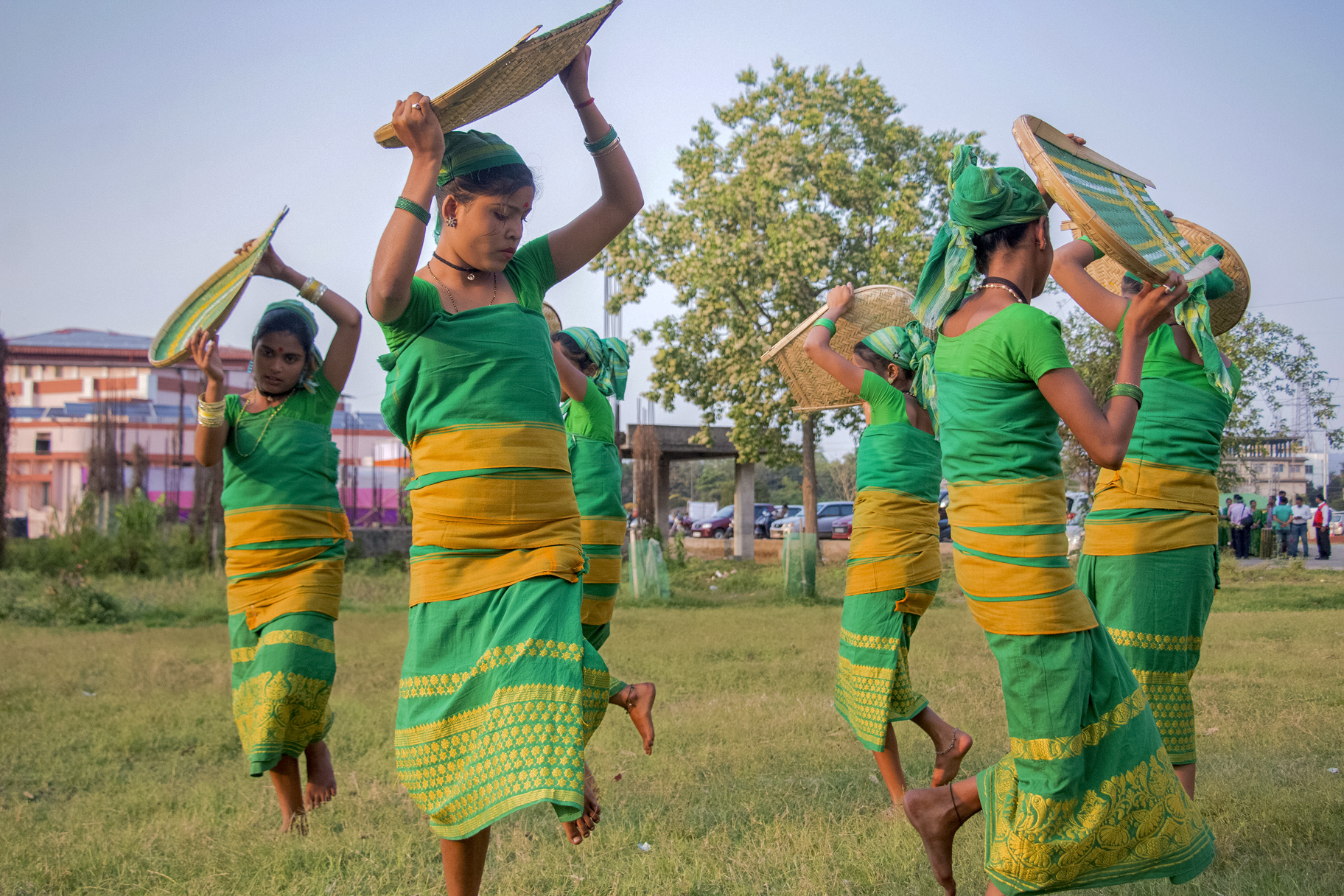 Deshi Muslims celebrate the Bihu festival with traditional dance
Reverence to Neo-Vaishnavism is not confined only to Muslims of eastern Assam. Farhad Ali, a devout Muslim in western Assam's Barpeta district donated sandalwood for the cremation of Burha Satriya (head monk) Basistha Dev Sarma of Barpeta Satra only last year. There is also the like of Matibar Rahman and his ancestors who have been taking care of a 500-year-old Lord Shiva temple at Rangmahal Gaon in Guwahati. The temple was set up behind their residence by none other than Rahman's ancestors. Hajo in Kamrup district on the outskirts of Guwahati is known across the world for its harmonious confluence and peaceful co-existence.
ALSO READ: India is my nation; Islam is my religion
Interfaith marriage and the spouse continuing with his/her own belief is not at all a taboo or social issue among the Muslims of Assam. Neither the Muslim society nor their Hindu counterparts object anymore to the age-old tradition which dates back to the times of Azan Fakir and his disciples. Although conversion was customary in the past, nowadays, many couples in Assam practice both Islam and the spouse's religion alike.