Ariful Islam/Guwahati
When people slept, Sumon Sahnaj of Dampur used to run in the darkness to realise her dream of joining an armed force. Her effort didn't go waste.
Sumon Sahnaj, daughter of Shafiqur Rahman and Manuza Begum of Dampur under Hajo constituency in Kamrup district of central Assam, has been selected Sub-Inspector of Assam Police in the recently announced result of the Police recruitment test.
Having joined the force, Sumon has become the first woman to join the Assam Police from Dampur, the largest indigenous Muslim-dominated village in Assam. Sumon Sahnaj's success has brought hope to the family of Shafiqur Rahman, who worked hard as a daily wager to support his family.
The day the result of the recruitment was out, it turned out to be a joyful day for her family and the village.
"I used to get up at around 3.30 am and run in the darkness. I ran in the dark so that people do not see me. I ran even before preparing for the physical examination by the police department," Sahnaj told Awaz - The Voice after the results of the Assam Police written examination were announced.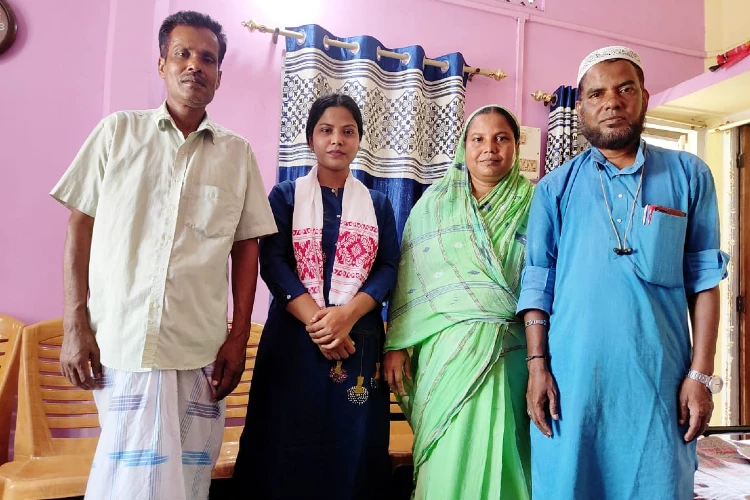 Sumon Sahnaj with her parents
"The place was flooded. I could not find a dry place to run. I ran in the mini stadium of Gopal Thana inaugurated by Chief Minister Himanta Biswa Sarma," she said.
Happy at joining the Assam Police, Sumon Sahnaj said she will, however, continue to work towards joining the Indian Air Force.
Sumon Sahnaj has a long cherished dreamed of joining the Indian Air Force. Sahnaj is an honors graduate in Physics from Pandu College, Guwahati. "When I was studying for my undergraduate degree, I thought I would prepare for my postgraduate degree in Physics and later do my Ph D degree.
"But after our college started online classes during the lockdown, Physics became a little difficult for me.
"It was difficult for me to understand Physics in online classes. At that time, I decided to prepare myself for a job. I thought that if I get a job, my family would be better off financially."
"I am very happy. I got the job without paying a single rupee. Not only me, but all the recruitments these days have been fair and transparent. Since I am a girl from a lower middle-class family, I am an asset to my family," she said.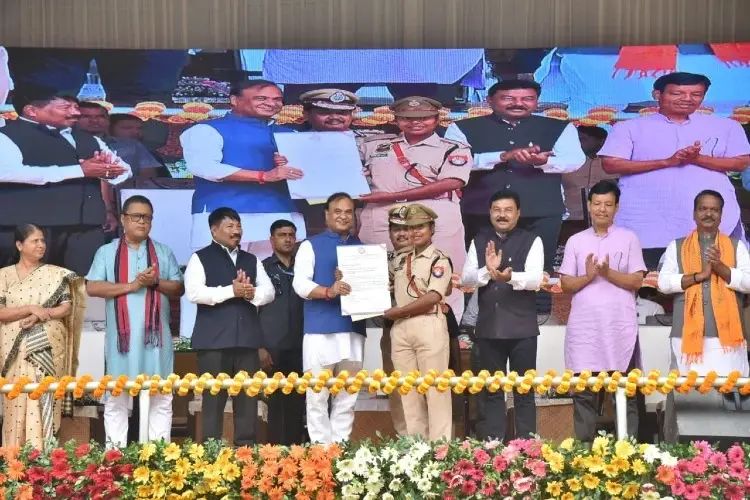 Himanta Biswa is giving away appointment letters to recently recruited Police officers
She thanked Chief Minister Himanta Biswa Sarma for the transparent recruitment where selection was based only on merit. "I will work with integrity," she said
Dampur in the Hajo circle of Kamrup district and is known for communal harmony and peaceful coexistence. The illustrious sons and daughters of the village include the former Chief Justice of Jammu and Kashmir High Court Aftab Hussain Saikia, former Assam Police officer Mohammad Hussain Talukdar, and former Registrar of Guwahati High Court Talmizur Rahman.
Dampur is the only village in central and western Assam with a 100 per cent indigenous Assamese Muslim population.
ALSO READ: Safina Baig has big plans as first woman head of J&K Haj Committee
It is generally believed that the communal harmony in Hajo is mainly due to the peaceful people of Dampur. Sports are very popular among the youth of the village.