Ladakh has shown the way to the rest of India how longstanding religious conflicts can be resolved first by accepting the existing realities and second provided there is a matured political leadership to negotiate peace. This was the basis on which the Buddhists and Shia Muslims resolved their six-decade-old dispute over the construction of a Gompa (Buddhist temple) in the Shia Muslim-dominated Kargil town.
Marking a happy ending and a new beginning, the Ladakh Autonomous Hill Development Council of Kargil has acquired a 2 Kanal land plot to be soon handed over to the Ladakh Buddhist Association (LBA) for the construction of a Buddhist temple in the New Kargil township.
The LBA also gets to keep another piece of land in the center of Kargil town that was allocated to the LBA in 1961 for an inn and commercial use.
"Over the years, we have realized that during the election, Ladakh gets divided into Buddhist Leh and Muslim Kargil, and polarization peaks," said Ashgar Ali Karbalai, leader of the Kargil Democratic Alliance. Karbalai, an influential Shia leader was a member of the team that held three rounds of groundbreaking talks with the Buddhist leaders from Leh to reach an agreement.
On the other hand, Chering Dorjey, Vice President, LBA' told Awaz-the voice that the matter gained urgency because we were realizing that "some political parties had started making inroads in Ladakh to use the division among Ladakhis as a prop for winning the election."
The dispute has origins in agitation in Leh (Buddhist dominated) in the late fifties for the construction of a Gompa in Kargil. The Buddhists contended that while there are many mosques for Muslims in Leh, not a single Gompa existed in the other town of Ladakh. The then Jammu and Kashmir government allotted a 2-Kanal land to LBA for the purpose.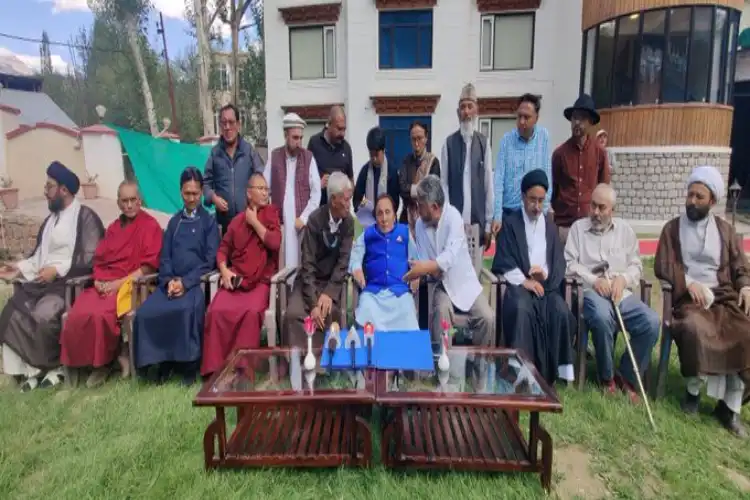 Leaders of Ladakh including Thupstan Chewwang (Fifth from left) and Asgar Ali Karbalai (seventh from left) announcing the agreement on Gompa
Soon, Kargil people were up in arms against this. Karbalai explains the reason for this anger. "Back then there was not a single Buddhist household in at least 40 km radius of Kargil and people didn't know why a temple should be built."
He said on another level there was a fear that this temple will become the target in a flare-up and therefore will remain a source of tension. The land has since been reduced to half with portions being incorporated in the road construction and a dilapidated two-room structure stands on it.
Karbalai said in 1969, the government amended the order to tell LBA the land was not meant for a temple.
When on August 5, 2019, Parliament ended article 370 and divided J&K State into two UTs, leaders of Kargil had rejected the region's new status. On the other hand, it evoked huge celebrations.
"Gradually, we have realized that we have to live as Ladakhis and as one people and also get our demands for more political rights, job and land security accepted by the government," said Karbalai. "Both Buddhists and Muslims realized that unless we are one Delhi will not listen to our genuine demand for statehood, the residential certificate as against domicile certificate as the basis for jobs in Ladakh, etc."
This realization after three years of a landmark decision on former J&K State, made the leaders sit and resolve this issue. "We knew that resolving the Gompa issue will create unity among Ladakhis," said Karbalai on phone from Kargil.
He says that LBA President Thupstan Chewwang played a key role in initiating a reconciliation between the Buddhists and Shias. However, Thupstan, who quit BJP and resigned from Lok Sabha before Ladakh was declared a UT, was injured in a road mishap while returning from Kargil after sealing the agreement. He is convalescing and hence not available to speak to the media.
However, LBA's Dorjey said it was the sudden rise of a Buddhist Lama Choskyong Palga Rinpoche, who has recently constructed a monastery at Chichoot, on Leh's outskirts, that rang alarm bells in Leh. Choskyong had started a march to Kargil in June to lay the foundation stone of the Gompa leading to tension.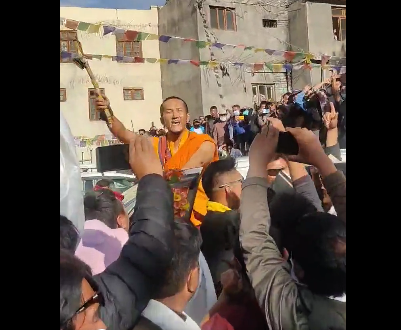 Buddhist Lama Choskyong Palga Rinpoche leading the procession
LBA leaders say Lama Choskyong remains an enigmatic character for them. He comes from a mixed parentage – his mother is a Ladakhi and his father is a Tibetan. They wondered who was supporting him.
"The Kargil unit of LBA approached the KDA for peace talks and it kicked off several rounds of formal And informal negotiations for four months in which leaders hopped between Kargil and Leh and also flew over to Delhi to meet the deputy Home Minister Nitish Pramanik with draft agreements.
The newfound bonhomie between Buddhists and Muslims is also because of the new status of Ladakh as UT. Earlier Kargil leadership would tend to link their aspirations with Kashmiri Muslims. It's for this reason that Kargil asked for a Hill Council ten years after it had been formed in Leh.
Karbalai also explains the changed realities after Ladakh becoming a UT. "Today we realise there are a lot of Buddhist emnployees and their families living in Kargil. Also we have a fullfleged Tibetan Buddhist market in Kargil." He admits today's Kargil can not remain exclusive in term of religious places and has to pave way for others.