NCC Girls at Independence day Parade in Srinagar's Bakshi Stadium ready for ceremonial Parade
Srinagar
Rayees Mattoo, the brother of an active Kashmiri terrorist has clarified that he had hoisted the national flag on the occasion of Independence Day out of choice and nobody forced him to do so.
Speaking with the ANI news agency Mattoo says, "I waved the Tiranga from my heart. There was no pressure from anyone...Saare jahaan se achha Hindustan hamara, hum bulbule hain iske ye gulistan hamara."
He added, "There is development. For the first time I am sitting at my shop on 14th August, it used to be shut for 2-3 days. The previous political parties were playing games."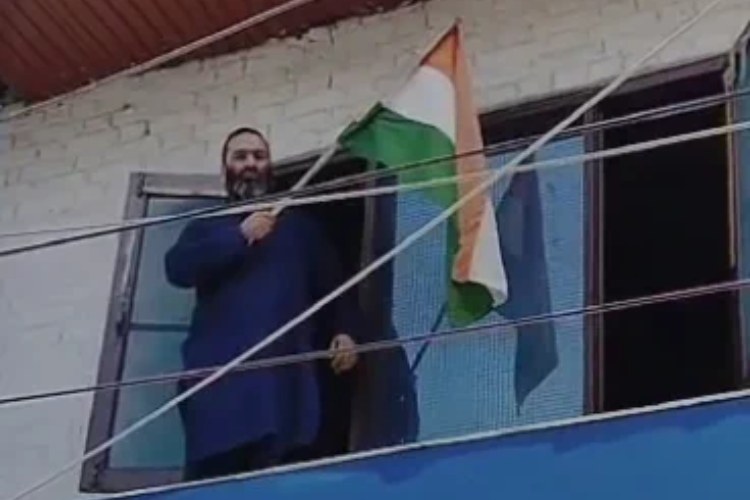 Rayees Mattoo of Sopore hoisting Tiranga

He said his brother became a terrorist in 2009 and the family has no idea about him.
Rayees Mattoo who lives in Sopore town of Baramulla district in north Kashmir had waved the tricolor rom the balcony of his house and the scene was captured by mediapersons. Rayees alias Saqib kept holding and waving the national flag for aquite sometime and was noticed.
He says the family doesn't even know if he is alive.
However, Mattoo, a shopkeeper, asked him brother to return. "I urge him to come back...The situation has changed, Pakistan can't do anything...Hum Hindustani theyy, hain aur rahenge."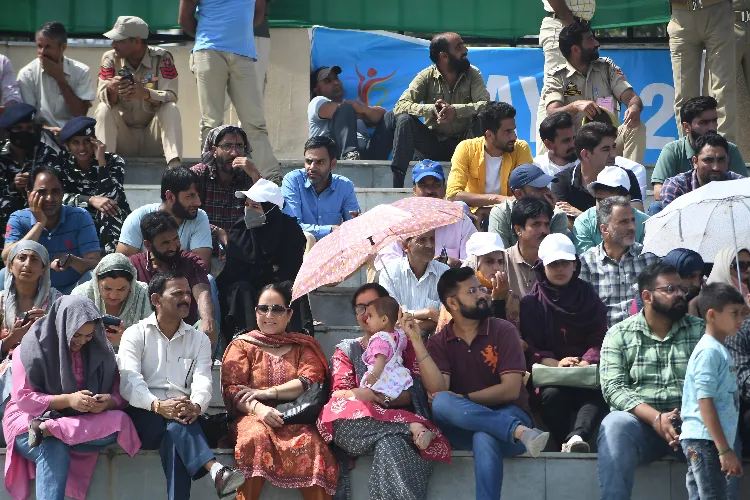 Speactators at the Bakshi Stadium where Independence Day Parade was held
Srinagar and many towns of Kashmir wore festive look on the 77th Independence Day that till a few years ago used to be declared a hartal Day by the pro-Pakistan separatists.
A senior IAS officer Athar Aamir Khan, Commissioner, Srinagar Municipal Corporation, posted the image of normacy on his X-handle:
#LalChowk #Srinagar right now! It is so heartening to see so many people in the evening here. This is our new #Srinagar. A city for people. #sringarsmartcity pic.twitter.com/mTn36Tx3Yg
— Athar Aamir Khan (@AtharAamirKhan) August 15, 2023
The Bakshi sports stadium where the ceremonial parade was held was thronged by people to see the Patade. There were long queues outside its entry gates.
In another development former JNU students leader Shahela Rashid praised the Narendra Modi government for improvement in situation in Kashmir.
On the Independence day, she posted on X (formerly Twitter): "However inconvenient it may be to admit this, the human rights record in Kashmir has improved under the @narendramodi government and @OfficeOfLGJandK administration. By a purely utilitarian calculus, the govt's clear stance has helped save lives overall. That's my angle."
More than the statements of former rebels, the scenes from Lal Chowk in Srinagar spoke volumes about the changed situation.
There were long queues of people seeking entry into the stadium where the official parade was held.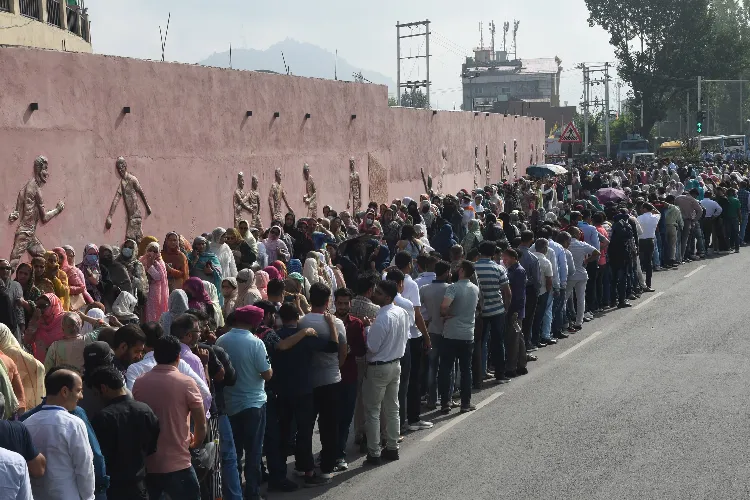 Long queues outside Bakshi Stadium where Independence day Parade was organised (Pics by Basit Zargar)
People across Kashmir held Tiranga rallies on the eve of the Independence day and also organised cultural shows to commemorate the day.