Tripti Nath/New Delhi
Professor Najma Akhtar, the first woman Vice Chancellor of Jamia Millia Islamia, says the University is like a mini-structure of India. "You will find here everything that is in India. You will find teachers, students, and researchers from all over the country."
Prof Akhtar who was decorated with the Padma Shri in 2022 for her sterling contribution to education and literature, says that the Central University which is one of the prominent minority institutions, has painstakingly preserved the diversity of India, "We hold admission tests across India to enable students from every nook and corner ot the country to get a chance to study in its campus in Delhi. We make sure that students who have left their region and come from far-flung areas don't feel lost."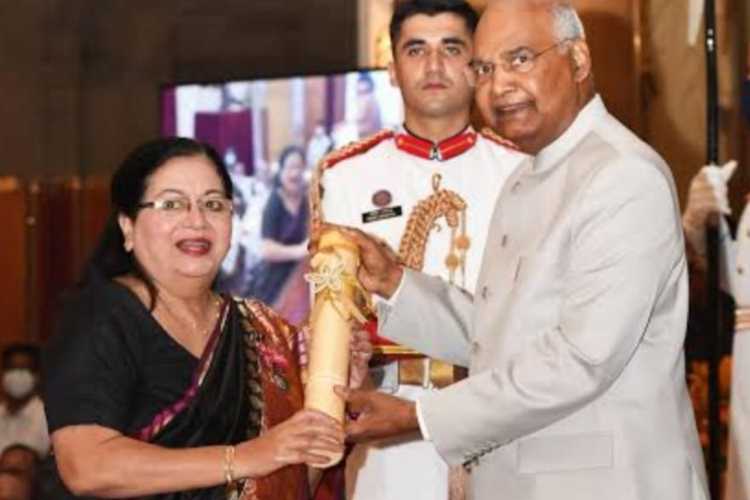 Prof Najma Akhtar receiving the Padma award from former President Ram Nath Kovind
A second-generation educationist, Professor Akhtar scripted history in 2019 by being chosen the first woman to become the Vice Chancellor of a central university. Professor Akhtar who was an NCC cadet in her student days says that the NCC enriched her imbibe the values of discipline and service to the nation. She is hopeful that the introduction of a course of 'Nation building and NCC'; for which she earned the rank of Colonel Commandant, NCC by the Ministry of Defence, will ensure that all Jamia students are patriotic and contribute to nation-building. This is in keeping with Jamia's mission to promote the philosophy of nationalism, pluralism, and the use of education in dealing with emerging challenges.
In a special conversation with Awaz-The Voice, Najma Akhtar said that girls from all sections of society have to struggle to attain higher education.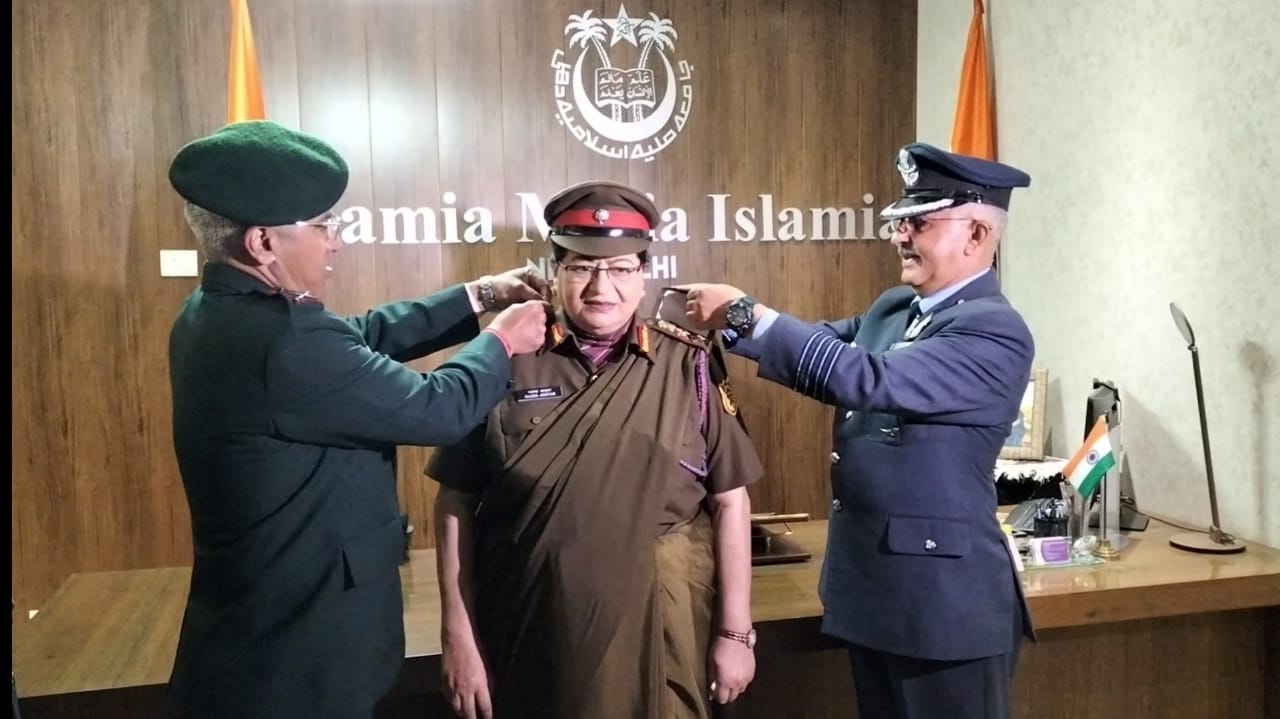 Prof Najma Akhtar being honoured with the honorary rank of Colonel Commandant, NCC
"I agree that girls have to tackle many hurdles in learning. Our university has a good academic environment, discipline, and hostel facilities and therefore it inspires enormous faith of Muslim families. So, parents have no fear of sending their daughters here to study."
The women enrolled here are also entitled to scholarships.
Prof Akhtar is widely recognised as a leading educationist for transforming the delivery of quality education in premier edicational institutions of the country. Her leadership has enabled Jamia attain A++ Grade in the NAAC assessment and third position in the universities category ranking by NIRF. In Global ranking by Times Higher Education (U.K) and QS Ranking, Jamia ranked between 60 -800.
On Jamia's contribution to the education of Muslims, Prof Akhtar said, "This is a national university and its doors are open to all citizens of India. A lot of Muslims living around Jamia are attracted to this university. Therefore, we have a good number of Muslim students here. This is a minority institution. So, we have reservation for Muslim students."
Akhtar holds a doctorate in Education from Kurukshetra University. Before taking over as Vice Chancellor, she was working at the National Institute of Educational Planning and Administration (NIEPA). She smiles when Jamia is referred to as a brand.
Replying to a question on the steps taken by Jamia for students from marginalized communities, Prof Akhtar, said, "The university is attracting a good number of students from marginalized communities not only because it is famous but also because it has low fee.''
She further explained, "We have started many job-oriented courses to attract these students. These will also empower them to initiate start-ups. Apart from some of the latest courses in Nation building and NCC, Design, Hospital Administration, we have many courses in foreign languages. We also offer Sanskrit and many Indian languages besides law and engineering.''
The Vice Chancellor further said,"It is important to sustain the interest of a student because only then will he complete the course, flourish, bring glory to his parents and the university, and become a good citizen. We try to ensure that every student who passes out from our university, contributes to nation-building, becomes a good citizen, and is loyal to the country. Our research topics are very relevant and chosen according to the needs of the country.''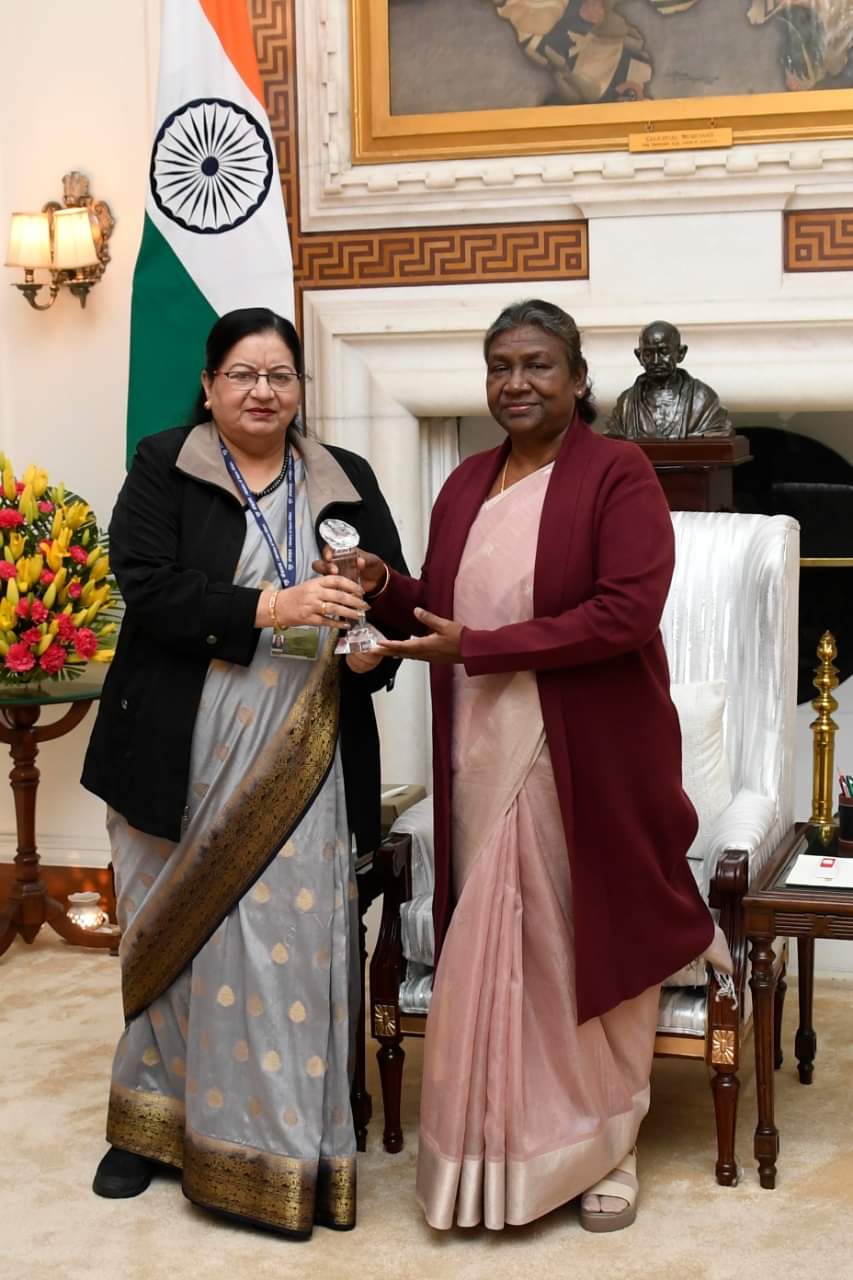 Prof Najma Akhtar with President Droupadi Murmu
The Vice-Chancellor said that Jamia has done well in the field of research and many of its students have received the Prime Minister's research fellowship. Several researchers of Jamia figure in the recent list of the world's top two percent scientists issued by Stanford University.
Prof Akhtar has studied in prestigious educational institutes such as the University of Warwick and Nottingham, U.K besides the International Institute of Educational Planning, Paris. She is known for her firm handling of situations and sensitive understanding of student issues. She has developed a culture of zero tolerance for indiscipline.
Asked how Jamia was keeping its tradition and values intact, she replied, "One must keep traditions and values alive- be they of a country or a university. This university was not founded by government funding but by those who followed the footsteps of Gandhi Ji. At the time of independence, spreading education was very important. On our Foundation Day, we remember the legacy of our founders and remind new entrants that they are not joining a university but a university that was founded by those who made a significant contribution to the struggle for Independence. We have set up a museum that traces the history of this university through archives.''
Asked how she is encouraging women in academic leadership in her capacity as a woman leader, "Women holding important positions these days are very fortunate. It was not easy for those from my generation or even the next generation to rise. I must guide and encourage students and women and tell them that they are second to none and they have to move ahead. There was a time when our Chancellor was Dr. Najma Heptulla, my Pro-Vice Chancellor was Tasleem, my Finance Officer was Dr. Batra and almost half of all Deans were ladies. If all these positions are being held by ladies, how can you not encourage girls and ladies?''
She takes great pride in mentioning that the 2021 Civil Services topper, Shruti Sharma had received coaching in Jamia's famous Residential Coaching Academy (RCA) which gives free coaching to civil service aspirants. She feels good that many students of RCA have brought glory to the university.
Prof Najma Akhtar
This Academy is for women and those belonging to the SC/ST and minority communities.After this academy was set up, more than 600 students who received coaching here cracked the civil services and other central and state services examinations.
"Initially, we got government funding for this. It has surpassed our expectations. Every year, 25 to 30 students from our academy make it to the IAS and State services."
A gold medallist from Aligarh Muslim University, Professor Akhtar has been credited with improving the ranking of Jamia Millia Islamia which was founded in 1920 in Aligarh in Uttar Pradesh. She has four decades of rich experience in educational leadership and is known for innovations in educational governance.
Prof Akhtar had her early education in Allahabad where her father, H.H. Usmani was an educationist. Her parents encouraged her and her siblings to study on scholarships. "Throughout my life, I studied on scholarships. I first got the National Science Talent scholarship and later the Commonwealth Fellowship.''
She did her M.Sc. in Botany and postgraduation in Education. Her late husband, Prof Akhtar Majid retired as Director of the Centre for Federal Studies at Hamdard University.
While her son is Vice President of a multi-national company in Delhi, her daughter is an engineer in the United States.
ALSO READ: Why did NSA Ajit Doval seek an end to takfiri terrorism during his recent visit to Iran?
Talking of infrastructure development in the 239-acres Jamia campus, the Jamia Vice Chancellor said, "This is a 100-year-old building. It was, therefore essential to ensure the upkeep of these buildings and build new departments, hostels, and teachers' residences. So, our university took a loan from the government to construct high-rise modern buildings. You will see these buildings very soon.''
Although Professor Akhtar has been decorated with the fourth highest civilian award, she is not resting on her laurels. " I want to dedicate this award to all my colleagues,'' she says with humility. At the same time, she is satisfied that the government took note of the rapid progress the univrersity made after she took charge as the Vice Chancellor.
While managing the herculean task of heading a central university, Professor Akhtar remains committed to Jamia's vision and mission to be a world class institution which embodies excellence in education and research.