Sheikh Muhammad Yunus/Hyderabad
It may sound unbelievable but is true. Mohammad Hafeez, who is blind in both eyes, is a much sought-after auto mechanic. He lives his life with dignity and is not paralyzed due to a lack of physical vision.
Muhammad Hafeez, a resident of Kashibagh, Warangal district, was not born blind; he lost his eyesight in two accidents and yet he never gave up on life.
Not to break under a spell of tragedies and misfortunes, Mohammad Hafeez is good at detecting the problem in a vehicle through its acoustics. The sound of its parts is what makes him understand the problem in a vehicle that has come for repair.
The 50-year-old Muhammad Hafeez was leading a happy life as an auto electrician when a heavy thing fell on his head in 2003. Due to the accident, he suffered a serious injury and ended up losing sight in his left eye. This badly affected his income.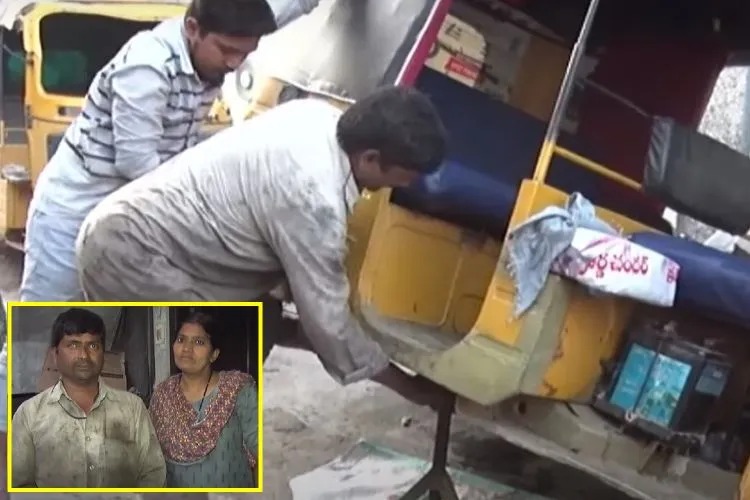 Mohammad Hafeez with his wife
However, he did not give up. With the support of his family and well-wishers, he bought an autorickshaw and started driving it to support his family. However, fate had something else in store for him.
Another tragedy rocked Mohammad Hafeez's life. In 2005, a burning firecracker hit his right eye and he again lost his vision for life.
Mohamad Hafeez comes from a poor background. His father MD Afzal Anu works as a private security guard in Mamula Bazaar, while his mother Meher Nisa is a housewife and suffers from heart disease.
Mohammad Hafeez started working as an electrician in 1994. His wife Nazima works as an Anganwadi worker.
After her husband lost his eyesight. Nazima was offered this job on a humanitarian basis.
They have a daughter, Afsana, and a son, Muhammad Muzamil. Afsana works in Hotel Gachibowli in Hyderabad, while Muhammad Muzamal is a first-year student of the ITI. The family lives in a rented house. Muhammad Hafeez earns five hundred rupees a day.
Speaking with Awaz The Voice, Mohammad Hafeez said that he is alive today because of top police officer B Somati. When he met with an accident in the year 2003, the then DSP B Somati reached the spot in time and shifted him to MGM Hospital, Warangal.
Muhammad Hafeez said that he is alive today because of Somati Madam's timely help and he thinks of her as a messiah.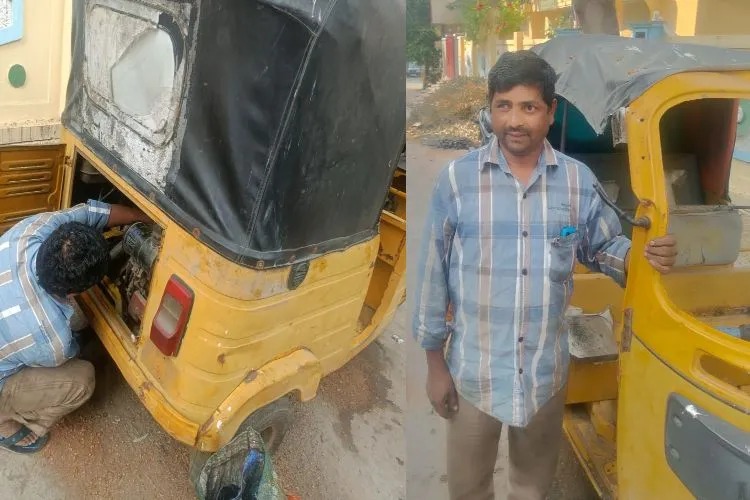 Mohammad Hafeez with an auto that he has repaired

He said that after the accident, the then member of the Legislative Assembly Biswa Raju Saria, Mayor Erabili Sorna, and a few corporators donated an autorickshaw to him. "I started the second innings of my life as an auto driver. My other eye was also damaged in the accident and I was permanently blind, although my eye was operated open I could never regain my vision."
Mohammad Hafeez did not give up and started learning auto repair work. He detects the engine malfunction by the sound of the car and repairs the car by touching the parts with his hands.
Muhammad Hafeez said that he learned the job for one and a half years. He was happy to support the family by paying for auto repairs and the education of his two children. He said his wife was very supportive.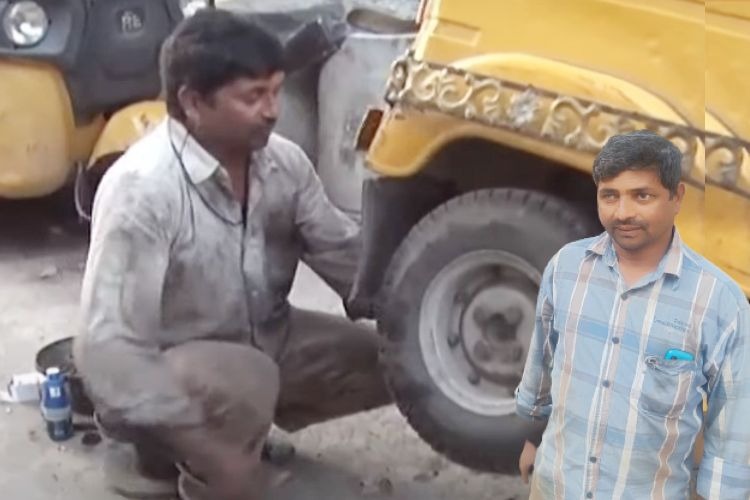 Mohammad Hafeez said that any work is difficult but not impossible. He said that the youth, especially the disabled, should look for ways to live a dignified life based on their strengths and abilities instead of depending on someone and extending a helping hand.
ALSO READ: How Dostji actors were selected from among 50K Madrassa students
He said he is supporting his family by working hard. He asked all the good-hearted humans and the rich to come to the help of others so that people like him get encouragement.".