Ehsan Fazili/Srinagar
More than four decades ago when I was studying at the University of Kashmir, I visited an old watch repairer Mohammad Yousuf in his small vend on the Jhelum Bund on the Residency Road in Srinagar. He had come to know that I belonged to Bandipore, a town in north Kashmir, and often asked me if I knew about Mohammad Ramzan Dar from Gamroo village close to my place.
Sufi Shrines Of India

Whenever I went to his shop with watches to be repaired, the 80-year-old Mohammad Yousuf spoke about Dar.
From his repetitive narratives, I could make out that whenever Dar visited Srinagar, he stayed at Yousuf's house IN downtown. One morning, when the family was waiting for him for breakfast, Dar was found missing from his room.
Yousuf said, "We thought he might have gone to some place and would return in some time. Finally, Dar returned at about 11 (am); he had a smile on his face. He told me that he had offered Fajr prayers at the shrine of Sheikh Nooruddin Wali in Charar-e-Sharief."
That was in the decade of the forties when there were no means of transportation. This meant that Dar had walked 60 km throughout the night to and from Charar-e-Sharif, Budgam district to pay his obeisance at the shrine.
Like Dar, devotees of Alamdar-e-Kashmir (Flag bearer of Kashmir), who are spread across the Valley continue to visit the shrine despite social and other changes in Kashmir, especially during the last three decades of turmoil. Come what may they never miss paying their obeisance at his shrine.
Hundreds of devotees from nearby areas throng the shrine daily, while thousands converge on Thursdays and Fridays. Lately, the trend of people visiting the shrine on Sundays has taken off.
Kashmiris have given many names to their patron saint. They call him Sheikh Nooruddin Noorani, Sheikh Nooruddin Wali, Sheikh-ul-Alam (spiritual guide of the world), Nund Reshi, Alamdar-e-Kashmir (flag bearer of Kashmir).
He is revered by both the Muslims and Hindus of Kashmir.
A mystic, poet, and Islamic preacher, Sheikh Noorudin Noorani was among the founders of the Rishi order, a Sufi tradition of the region. He lived from 1377 to 1438.
For the past six centuries, the devotees have been thronging the shrine to get his blessings and their wishes fulfilled. Many elders recall how the Sheikh's devotees and followers from Srinagar would walk up to Chrarar for the Urs. They also recall the weekly marches of many others to the shrine every Thursday for offering their Friday Namaz there.
Zareef Ahmad Zareef, a Kashmiri writer, critic, and orator on Kashmir's social, religious, cultural, and political atmosphere, recalls how the devotees from Srinagar would traverse the long distance to the shrine.

Zareef Ahmed Zareef
"The local Mujawirs (preachers and caretakers) from the shrine of Mir Syed Ali Hamadani at Khanquah-e-Mohalla (Srinagar) would go in the form of a procession; they were led by a preacher reciting Naat (praises for Prophet Mohammad)", on the occasion of annual Urs.
He narrates a scene of early 1954-55, when, as a child, he saw the devotees marching to Chrar-e-Sharief on foot every Thursday. This pilgrimage helped locals of Chrar-e-sharif as they were paid for homestays and food.
Zareef also recalls the processions of hose-driven carts (Tangaas) from Hazoori Bagh (now Iqbal Park) for the town of Chrar. There were different destinations en route, Srinagar to Kralapora, followed by another service from Kralapora to Nagam.
From Nagam, the last village on the wy, the devotees would start their journey on foot through the Karewas (Plateau where people have orchards) to the shrine. "This practice continued till about 50 years ago."
The motorable roads and means of transportation ended the long stays of pilgrims to Chrarar, followed by different means of transportation and a decline in homestays in the township.
In his writings, Sheikh Nooruddin Wali has touched upon varied spheres of life", said Zareef.
It's because of him that Kashmir is called 'Rysh Wae'r' (the abode of Rishis).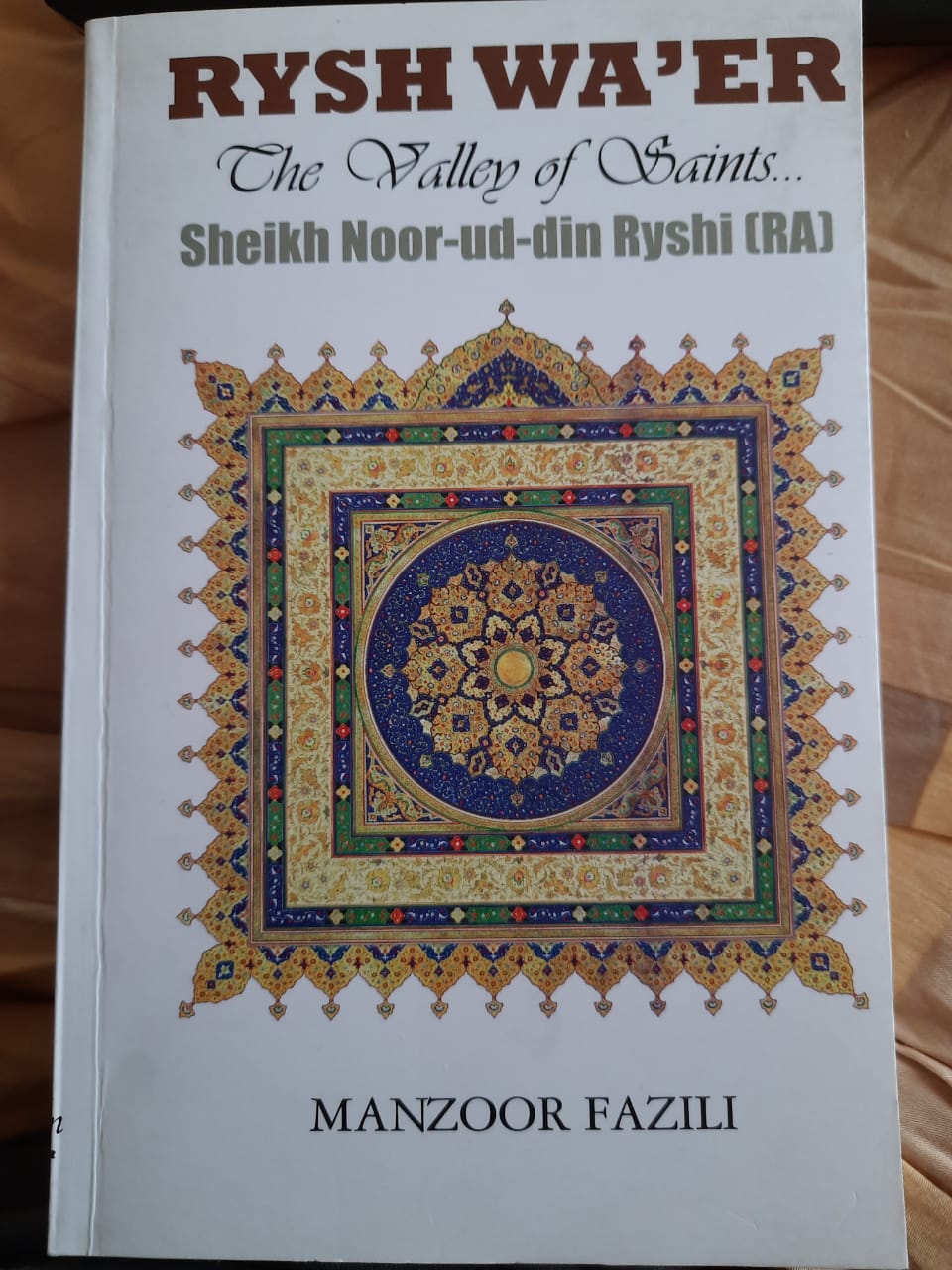 Dr Manzoor Fazili's book on Sheikh Noorudin Noorani
Kashmir's noted historian Dr Manzoor Fazili writes in his book Rysh Waér' The Valley of Saints … Sheikh Noor-ud-din Ryshi (RA): "The State of Sheikh Nor-ud-Din Ryshi is the symbolic 'Rysh Wa'ér. It is a State in the sense of a state in the discipline of Political Science. This State is an idealist State. It is more of an imagination than a scientific one in relation to modern State. The Sheikh's State is based on the religious, humanist State and in general attached to humanist Philosophy. The Sheikh is an idealist, a naturalist, and a pragmatist in his own right."
Sheikh-ul-Alam's sayings and verses, known as Shruks, describing his life are preserved. In 1998, The University of Kashmir established an institute called Markaz-e-Noor Centre for Sheikh-ul-Alam Studies to conduct scientific research on the Sufi saint.
In 2005 the University established a research center called Sheikh-ul-Alam Chair to commemorate his teachings. In 2005, the government of India renamed the Srinagar airport as Sheikh-ul-Alam International Airport.
ALSO READ: Kashmiris' tryst with Persian Sufi Dastgir sahib continues
The shrine is also known as the venue for many believers who have the ceremonial first haircut of their newborn children and offerings at the shrine. The believers converge at the shrine to get the Sheikh's blessings to address their wishes and fulfil their aspirations.