Shaista Fatima/ New Delhi
SY Quraishi, former Chief Election Commissioner of India who has authored the book "The Population Myth" on India's demographic changes says that the Muslims of India are catching up fast with family planning and debunked the theory and propaganda that "Muslims would take over India in terms of population as myths.
At an interactive discussion organized by the India Islamic cultural center, SY Quraishi showcased a presentation that mentioned five myths that are the gist of his book and an answer to the rampant propaganda according to which "Muslims would take over India by following the policy of "Hum Paanch Humare Pachchees" (we are five, ours would be twenty five). He refuted the popular myths floating around on the comparitive population growths of Hindus and Muslims in India through facts and figures which are also found in his book elaboratively.
SY Quraishi said that it has took him 25 years to write the book and the data mentioned in it is accurate and can be tallied with NFHS 4 survey, "This book started accidentally, the then United Nations Population Fund (UNFPA) country director was a Canadian, he came to see me and asked me to write a book on promotion of family planning among Muslims as our community is supposed to be the most resistant to the idea but after doing my research I realised that the gap between Muslim and Hindu population was never much.."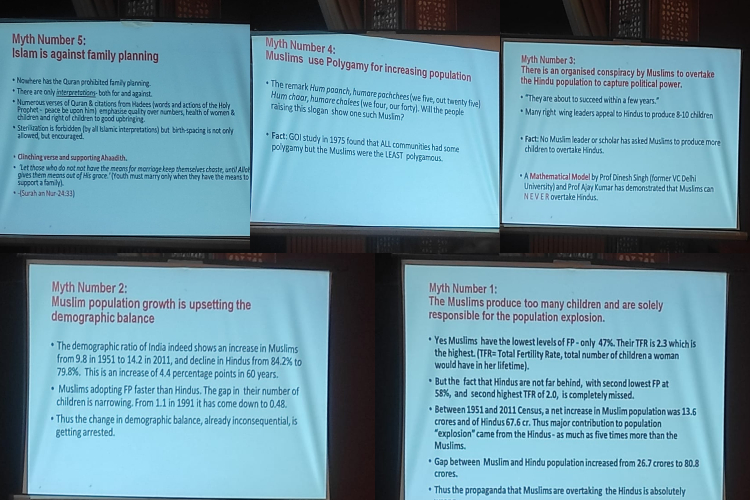 The slides presented by SY Quraishi
According to SY Quraishi's book the first myth states, "The Muslims produce too many children and are solely responsible for the population explosion.."...Quraishi answers this through facts and data of the census, he says, "between the 1951 and 2011 census, a net increase in the Muslim Polpulation was 13.6 crores and of Hindus 67.6 crores and that the gap between the Hindu and Muslim Population has increased from 26.7 crores to 80.8 crores.
He said for the next 600 years Muslim population stands nowhere, "the mathematics model by Prof Ajay Kumar and Prof Dinesh Singh of Delhi University says Muslims can never overtake Hindus…" He even suggested that Muslims should come forward and ask for a ban on polygamy, "Islam doesn't prohibit family planning, the acts that Quran has strictly prohibited are listed as "haraam"(not allowed), the Quran even mentions "marry only when you are able to take care of your family", this also gels with the Government of India age thresholds..".
SY Quraishi mentioned a Hadith (precedents from the Prophet's life), "One fine day a gentleman paid visit to the Prophet, he said to him that he doesn't have the means of livelihood thus he is not getting married but he has his biological needs, he asked the Prophet on how to control his sexual urges, to which the Prophet replied "keep fasts.."…"
Quraishi says that it is scientifically mentioned that fasting reduces the sexual urge in men and women both, "thus there is a solution to every problem…even the Prophet never opposed the idea of family planning…" the above statements broadly covered the 2nd, 3rd, 4th and 5th myth i.e "Muslim population growth is upsetting the demographic balance", "There is an organized conspiracy by Muslims to overtake Hindu population", "Muslims use polygamy for increasing population" and "Islam is against family planning".
He further stated that his book covers all the factual data refuting the misconceptions, "best family planning is done in Islamic countries like Iran, Bangladesh, Malaysia, Egypt and so on…we are scared to talk about reality due to politics and adjoining factors…"
The panelists for the discussion also included Poonam Muttreja, Executive Director, Population Foundation of India and Farah Naqvi, writer, consultant, and activist.
Farah Naqvi took the discussion further and said, "the questions as put up in Quraishi Sahab's book are grave and can be termed as politics and propaganda…".
She said that population control has always been an issue and will always be an issue, "It is a persistent blame game that has always been there in our society, from putting it on destitute for increasing the population some thirty years back, the scapegoats today are Muslims…"
She said that behavioural changes are tough, "The population discussion is also confined to a couple inside the bedroom…thus until we are aware of what we actually aspire for, we cannot attain desired results..from the representation of Muslims in films and cinema to portraying them on the national podium,it is a constant fight against the propaganda words like, "Muslims are against women, Islam forces women to wear burqa, polygamy, love jihad" an so on…". She concluded by saying, "As Muslims, we must respond intelligently against the propaganda..."
Poonam Muttereja said, "The book that we are talking about should have come many years ago but still it has come out at the right time. The myth is a global phenomenon and it is anti-women. If men had the capability of reproducing, the concept of family planning would have had a different meaning altogether…"
She said that the developed countries very conveniently spread the bomb of population explosion on the developing countries, "It is a question of neglecting the most marginalized, women across different communities and regions never had any knowledge about family planning or using contraceptives…"
She went on to say that in India only 1-3 percent of men are into sterilization whereas 75 percent of women are into it, "In India, women are expected to do sterilization as if a man does vasectomy his libido will decrease…population has been synonymous with misconceptions. She highlighted the fact that in the last few decades the Hindi media is spreading fear among the communities,
"One day my cook said to me "Madam, 2050 tak musalman zyada ho jayenge Hindus se aur won hum par raaj karenge (mam, by 2050 the population of Muslims will exceed that of Hindus and then they'll rule us..."), my son-in-law is a Muslim, he heard my cook and never bothered to reply…"
She said that Quraishi's book has given India facts, and figures, "The NFHS 5 data clearly shows that the Muslim population is decreasing at a fast pace, the book is a must-read as it eliminates many myths about population related to Muslims.."
ALSO READ: What is the relationship of King Charles with Islam?
The Chief guest Babur Durrezz Ahmad, former Chief Justice of J&K in his closing remarks said," the misconceptions are rampant and the Quraishi's book is breaking it. If an Indian-born Rishi Sunak can come very near to becoming the Prime Minister of an English-speaking majority then a Muslim can aim for becoming the PM in a Hindi-speaking majority.