Sabir Hussain/New Delhi
Fifty-one-year-old Mahantesh G Kivadasannar who lost sight when he was six months old turned his infirmity on its head to blaze a trail and become a guiding light for people with disabilities.
Born in a well-off family in Karnataka's Belgaum, Mahantesh attended school in Bengaluru where he fell in love with cricket.
"I used to be glued to a radio to listen to commentary of cricket matches," he told Awaz-The Voice.
The love of cricket led him and his friend and mentor, the late L Nagesh to establish the Cricket Association for Blind in India (CABI), under whose aegis the national team participated in global tournaments. With an indefatigable spirit to overcome every obstacle including raising funds, the CABI managed to host World Cups for the Blind in India.
Mahantesh says that cricket will always remain his passion. But the urge to do something more for people with disabilities became a driving force in his life. To realize that goal, he co-founded the Samarthanam Trust for the Disabled in 1997 with Nagesh.
"Not many people with disabilities are as fortunate as me and do not have the cushion of family support. Education and jobs have always been a challenging factor for the visually impaired. And when we set up Samarthanam we envisaged that it would give them a platform for higher education and finding employment," Mahantesh said.
While the initial thought behind setting up Samarthanam was to help people with impaired vision, it has ended up becoming an umbrella for people with different kinds of disabilities.
Late last year, Samarthanam started a series of job fairs to help people with disabilities find employment. The fairs have been held at various including one in Delhi in April. These job fairs will continue to be held till July. A total of 48 job fairs would be held by then.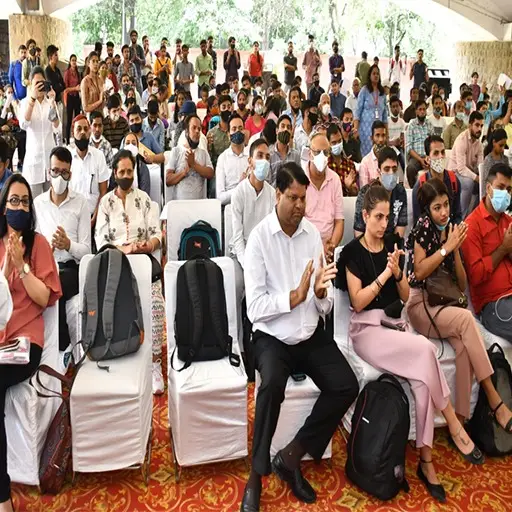 A scene from the job fair in Delhi organized by Samarthanam Trust.
"The response from corporates has been terrific," he said.
Virbhadra Patil, Placement Officer at Samarthanam Trust said most of those who get employment at these fairs are hired for the retail and BPO sectors. The job fairs are backed by Barclay's Life Skills.
"Corporates expect a high level of skills. Of course, some of the candidates who come for these job fairs do have those skills. One particular person has been hired on an annual package of Rs 9 lakh as a data analyst. Another person has been hired as an HR executive," Patil said.
He also said that Samarthanam mobilizes 400-500 candidates for the job fairs where walk-in interviews are the preferred format.
"The response from both candidates and corporates has been great. Many of the candidates who had lost jobs during the Covid-19 pandemic, got employment at these job fairs. They have thanked us profusely for facilitating their employment. In fact, there has never been this kind of response to the job fairs in the past 25 years," Patil said.
It takes about three weeks to a month to organize a job fair that now draws scores of corporates.
"Among the major corporates who have participated in these job fairs are HSBC, Flipkart, Landmark, Infosys and Accenture," Patil said.
Candidates at the job fair in Delhi for people with disabilities.
One of its Samarthanam's projects, Kirana, has secured jobs for hundreds of rural blind and disabled youth. Several of its alumni have gone on to get MBAs or become chartered accountants.
Twenty-five years since he set up the Samarthanam Trust, Mahantesh is happy at the way things have panned out in his quest to raise awareness about people with disabilities and resources for his organization but he is not resting on his laurels.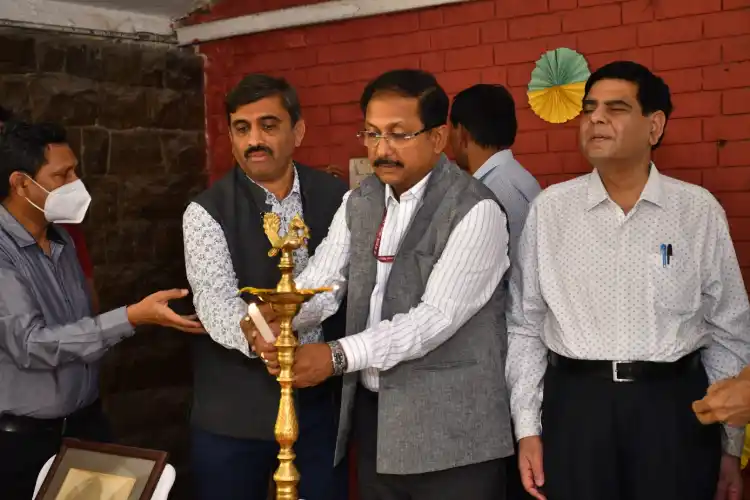 Mahantesh G Kivadasannar(second from left) and Ranjan Mukherjee, State Commissioner for Persons with Disabilities, Delhi, inaugurating the job fair
"I am happy but I would like to see more people with disabilities getting employment. Also, the organisation has to grow and should reach out to the last disabled person in the country," he said.
Samarthanam isn't just a platform for people with disabilities to find job and livelihoods. It also teaches them valuable life-lessons and instills in them a sense of self-confidence and self-esteem.
Samarthanam also organizes camps to hand out prosthetic limbs to beneficiaries who cannot otherwise afford them. The organisation's Art and Cultural Vertical called Sunandha organizes dance events to showcase the strength, confidence, talent, and passion for artistry of special challenged artistry.
Also Read: Varanasi commerce student develops solar cooling belt
Its larger vision is to bring dignity and joy to the lives of people with disabilities which includes empowering them to play competitive sports like cricket.