Aasha Khosa/New Delhi
For the first six-and-half-months of India's independence, Dalit Muslims were entitled to reservations under Article 341 of the Constitution. However, on August 10, 1950, the President removed Dalit Muslims from the list of disadvantaged communities who needed reservations.
This order impacted lakhs of Indian Muslims and sharpened the divisions within India's largest minority group.
"The move of the (Jawahar Lal) Nehru government was at the behest of the then education minister Maulana Abul Kalam Azad," says Shamim Ansari, President of the Uttar Pradesh unit of the All Indian Pasmanda Muslim Mahaj, an organization that speaks for 85 to 90 percent of Indian Muslims.
For Pasmanda Muslims, Azad had behaved the same way other "Ashraf" – Muslims whose ancestors came from other countries - and who, they allege, continue to dominate and manipulate politics and the system against the Pasmanda had behaved. The Pasmanda Muslims have a plethora of grudges against Ashraf.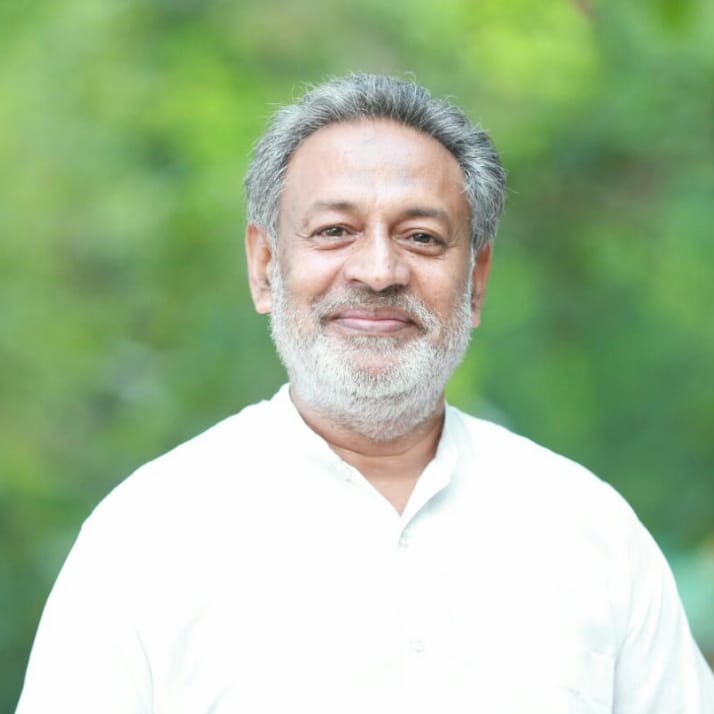 Shamim Ansari, President, All India Pasmanda Mahaz, UP State
In an exclusive interview with Awaz-the Voice, Shamim Ansari said the five Muslim members – Maulana Abul Kalam Azad, Hussain Bhai Lalji, Tajammul Hussain, Begum Aijaz Rasool, and Maulana Hifzur Rahman opposed the move to include Dalit Muslims in the list of scheduled Castes to be given reservations during the debate in the sub-committee on Protection of Minority Rights of the Constituent Assembly. Its chairman Sardar Vallabhai Patel and Dr B R Ambedkar had favoured the case of dalit Muslims, the (Ashraf) Muslim members opposed it tooth and nail.
The five leaders contended that Muslims are unlike other religious communities and there are no Dalits among them. They told Patel and Ambedkar that followers of Islam have no caste and nobody is discriminated against hence there was no need for their inclusion in the list for reservations, says Shamim Ansari, whose claims are backed by his research on history.
Ambedkar didn't create a wall between the Hindu and Muslim Dalits, says Shamim. He finally prevailed and the Dalits Muslims were included in the list of scheduled castes to be entitled to reservations under the said Article.
However, this empowerment to be short-lived. On August 10, 1950, Maulana Azad asked the Congress government led by Nehru to end reservations for Dalit Muslims. It closed the doors for Pasmanda. In hindsight, the August 10, 1950, Presidential order on Article 341 was akin to the Congress party's action on the Shah Bano case in the eighties!

Team Pasmanda in an upbeat meet during a Conference

Shamim Ansari, a political activist from Western UP's Bijnore says while researching on Pasmanda community, he met the only surviving member of the Minority protection sub-committee Begum Aijaz Rasool in the winter of 2000.
"I met her in the manicured lawns of her mansion located close to UP Vidhan Sabha in Lucknow. She was six feet tall and wore an Arab-type gown," Shamim told Awaz-the Voice.
He said Begum Rasool was 85 years old and didn't look to be in good health. She lived alone with a battery of servants in the big house and seemed to be financially well-off. "I asked her what was in her mind when she and others sought to deny the advantage of reservations to Pasmanda. Her reply left me speechless and I ended the conversation."
Begum replied, "It's for that sin of ours that Allah has inflicted punishment on me today and that is why we are suffering."
Shamim said she was probably perturbed over something in her personal life. She passed away after some time.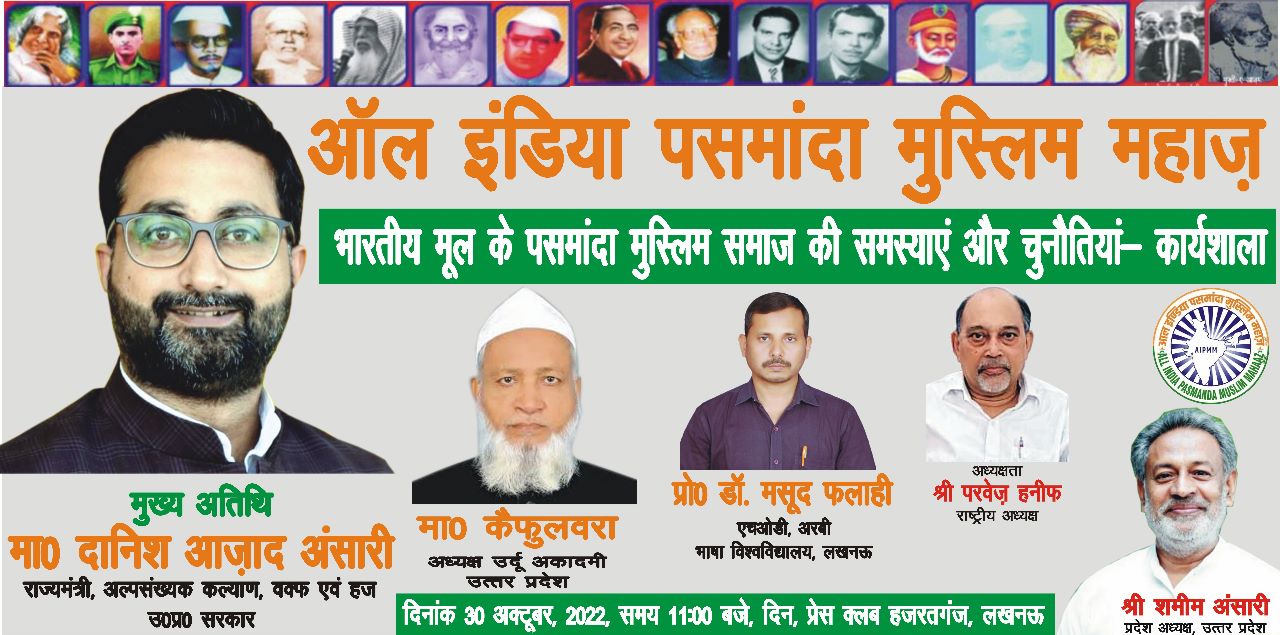 The latest poster of All India Muslim Mahaz with Minister Danish Ansari's image

He said today's educated Pasmanda youth are digging into the history to seek answers to the question of why a section of Muslims who supported the Muslim League and the idea of Pakistan as against the Pasmanda's fierce opposition to the division of India, continues to represent Muslims in India.
Citing instances, Shamim Ansari says that back in 1946 a person by the name of Choudhary Mokha Ansari of Village Chandpure pf tehsil Goyli in today's Western UP voted for Congress while most of the Muslim Landlords voted for the Jinnah's Muslim league. The rich landlords ordered "Hukka Panni band kar do" (social ostracism) of this Pasmanda voter for his audacity.
The India of 1946 was different; not everyone could vote – only rich landlords and feudal chiefs who paid an annual tax of Rs 64; those who paid "chowkidari fees" of Rs 1.25 or were matriculated were eligible to cast a vote. Also, there were separate Constituencies for Hindus and Muslims.
In this system, Pasmanda had no say and share in politics. "I (Pasmanda Muslim) was neither rich to pay annual tax nor educated; didn't own a piece of land as I lived in the open and on roadsides and the edges of villages and cities," Shamim said.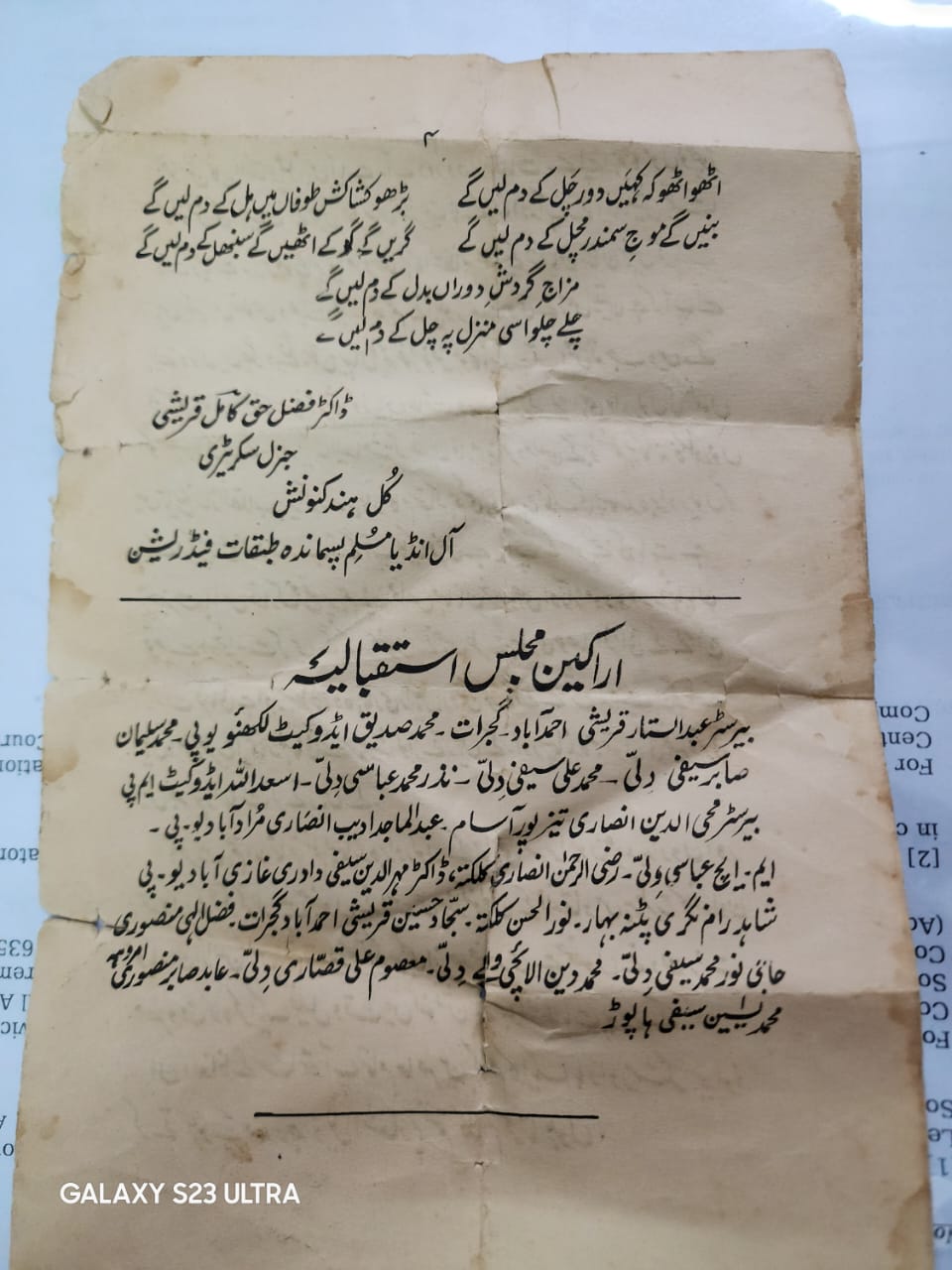 The 1979 resolution of the All India Pasmanda Muslim Mahaz
In the 1946 election in Bihar, the Momin Conference, a party of (Pasmanda) weavers, won six of the 40 seats of Muslims while Congress won one, and the Muslim League of Mohd Ali Jinnah won 33 seats. Congress was in a position to form the government in Bihar and wanted the support of the Abdul Qayum Ansari-led Momin Conference.
Maulana Azad came to Sadaqat Ashram to finalise the Bihar cabinet. Instead of picking a member from the Momin Conference, he picked one of his relatives Shah Umaira. Finally, it took Sardar Patel's intervention from Delhi to see Abdul Qayum Ansari become the minister of Jail in the Congress government led by Mohammad Yunus in Bihar.
Azad's behavior was despite Ansari merging his party with Congress at the request of Mahatma Gandhi.
This was the point from where we grew vary of the Congress. Now we realize that the party had included all Ashraf in the name of Muslim leadership. "They just needed our votes."
Shamim said taking lessons from history, Pasmanda leaders are today pragmatic in dealing with political parties. "We tell them that our votes are only for the party that given representation to Pasmanda candidates to contest elections."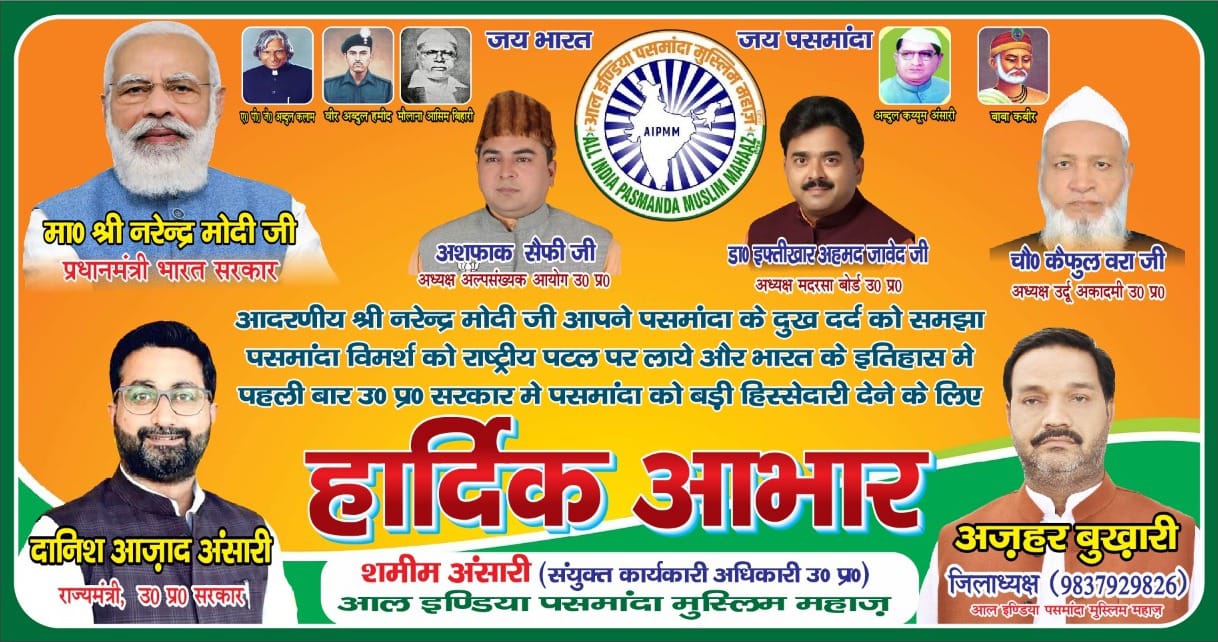 Pasmanda Mahaz posted thanking Prime Minister Narendra Modi

Isn't the BJP using Pasmanda to divide Muslims?
To this, Shamim said the Pasmanda Muslims are grateful to Prime Minister Narendra Modi for making their plight a national issue and initiating correction in his party BJP's usual practice of always picking an Ashraf as a Muslim face of the party.
To the critics, he says that though he says BJP was not there when the all-India Pasmanda Body passed a resolution in Delhi in 1979 for their rights yet Muslims see BJP-ruled Uttar Pradesh opening doors of empowerment for Pasmanda.
Shamim shared an interesting story of his first meeting with Prime Minister Modi, much before he become the PM. "He had become chief minister of Gujarat. I met him in Ahmedabad; Zaffar Sareshwalla had organized the meeting."
He says it was a candid conversation between a diehard activist and a leader. To his surprise, Modi admitted to him that he did not know the Pasmanda community and the fact that BJP too was giving space to Ashraf and not Pasmanda. "It was Ramazan time and there was no chair-pani offered to me in the meeting. I was been told that it's a rare occasion and I must make most of it."
Modi heard him patiently and asked for the file he carried for studying the subject.
This is because of such efforts that Modi made the Pasmada issue a national issue at the July 2, 2022, national executive meeting of the party at Hyderabad. He told BJP members that everyone wants votes of Pasmada but no party wants to give them their share in the power.
"Imagine a Prime Minister speaking for us; it has a tremendous impact on our struggle."
Shamim admits that till the 2022 Uttar Pradesh elections, Muslims (Pasmanda) voted for Samajwadi Party. "Then we realized that the SP did give tickets to Muslims but they were all Ashraaf.
After the PM's speech, the Yogi Aditya Nath-led BJP started empowering Pasmanda Muslims. The appointment of Danish Ansari as a minister in the Yogiji's cabinet was the first indicator. Yogiji has appointed Pasmanda community people as Chairmen of the Urdu academy, Madrasa board, Minorities commission, etc.
He says this was followed by BJP giving a record number of tickets to Pasmanda candidates in the just concluded Municipal elections in UP. Today there are 190 elected councilors and seven chairmen of the Municipal corporations from our community.
We have realized that secular parties want our votes but don't want to give us our share in power. "We are no longer interested in the politics of hate. Our politics is based on the tangibles of our inclusion and not the negative politics of "Modi hatao, BJP hatao."
"Our youth are not interested in pursuing the politics of hate and Hindu vs Muslim narrative."
Shamim says their task of spreading awareness about the injustices done to the community hasn't been an easy one.
"We had to debunk myths that were fed into our minds; one of them was about Sardar Patel (Independent India's first Home Minister) who was projected as the villain for the Muslim cause."
ALSO READ: Pasmanda are skilled and they also contribute to nation's GDP: Dr. Faiyaz Ahmad Fyzie
He says it was quite a task for the activists like him to tell people of his community that Patel had abolished 563 States of India including some ruled by Muslim Nawabs. "This didn't make him anti-Muslim. "We had to explain to our people that the Nawabs didn't belong to us and they taxed us Patel had ended their tyrannical rule.""