Shaista Fatima/ New Delhi
The 1981 Hindi movie Umrao Jaan featuring Rekha and Farooq Sheikh was iconic in all senses. The period musical is remembered for Farooq Sheikh's inimitable realistic acting and Rekha's beauty and classical looks and above all the costumes that were curated from different parts of India. Till date the movie remains Muzaffar Ali's magnum opus.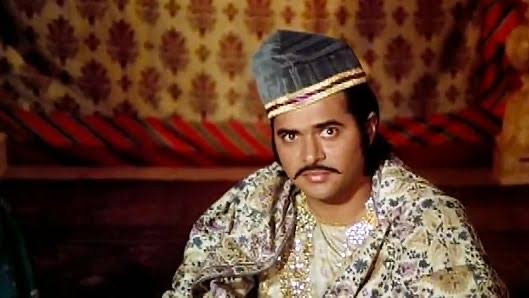 Farooq Sheikh in the movie Umrao Jaan

Not many know that the shawls worn by Farooq Sheikh, who played the role of a Nawab, the ruler. were hand woven by the master craftsman of Jaan Shawls of Lucknow.
Anas Jaan, the 6th generation of the Jann Shawls owner family told Awaz-the Voice, "My great grandfather used to weave shawls for the Nawab Najeebuddaula and the Nawab bestowed my great grand father with the title "Jaan Sahab"..."
Anas Jaan said, "Jaan Shawls is a heritage shawl looming company that was established in the year 1857 and currently their kiosk can be found at stall 4 at Major Dhyan Chand National Stadium where the 3-day Urdu festival Jashn-e-Rekhta is taking place.
Taking pride in his heritage, Anas, who has wrapped the shawls in his neck told Awaz-the Voice, "You know earlier the name of the movie was Umrao Bai as the protagonist was a courtesan but my great grandfather made a barter, he gave away all the shawls for free just to change the title of the movie to Jaan.."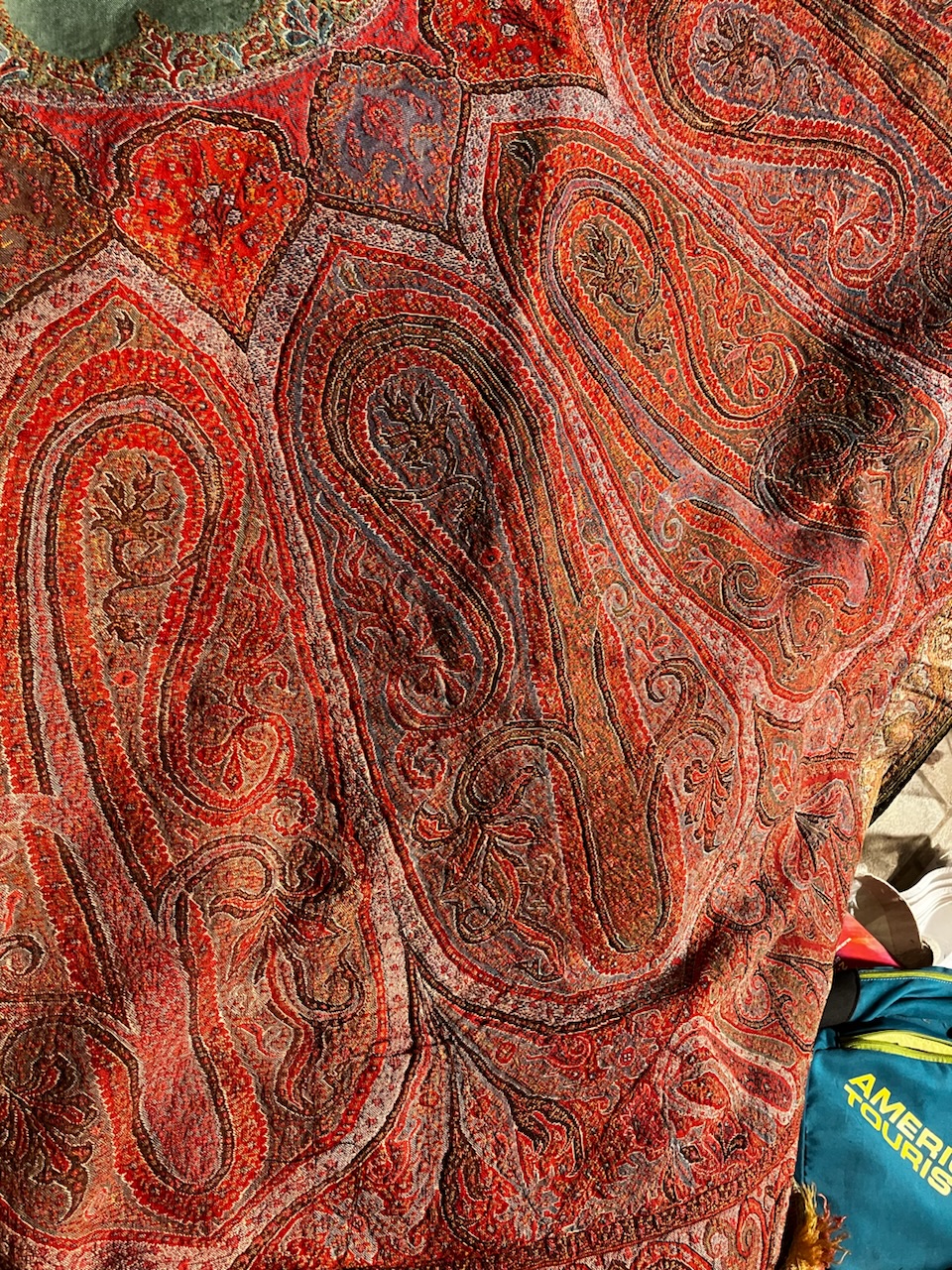 The hand woven piece by Jaan Sahab for Nawab Najeemuddaulah
With this he displayed for Awaz-the Voice a shawl from 17th century that is proudly their family's heirloom, "this shawl was weaved by my great grandfather for the Nawab Najeebuddaullah.."
Anas Jaan, is a Corporate Manager at an IT company and is at the kiosk as an extended helping hand for the family, he says, "from Kashmiri Kaani to Najeemabadi, Needle work, Pashmina, Baisilee, Aslee, Jamawar we have everything..."
He adds, "Aslee are dated back to 17th century, Paisley is from the Napoleon era. There aren't any machines right now to prepare Paisley as they got destroyed in the Second World War..."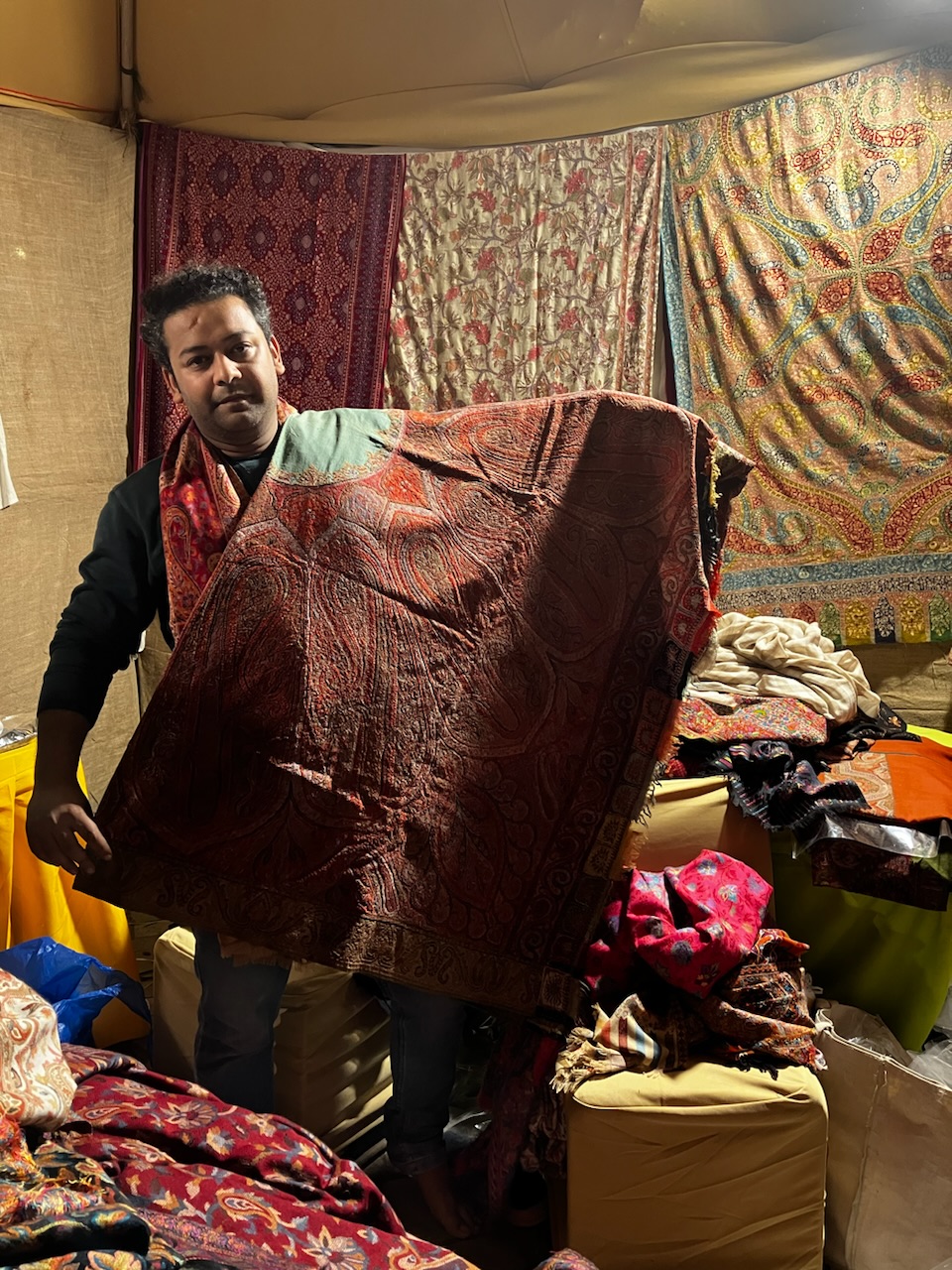 Anas showcasing the heirloom from 1857
He says how they being the 6th generation of Jaan family they are preserving the art and craft of the Jaan family.
ALSO READ: Jashn-e-Rekhta: Reviving the art of reading
While their kiosks can be found at many cultural festivals, their shop can be found in Old Delhi's Ballimaran and Najibabad and their social media handle can be found under "Jaan_Shawls" on Instagram.