Shaista Fatima/New Delhi
Come Ramazan and Iftar tables are most sought after. While many prefer a traditional layout with onion fritters, fruit salads and lemonades some are brave enough to alter the layout.
The prominent Indian author, literary historian, Urdu-Hindi literature critic Rakshanda Jalil falls in the latter category. She recently took to Facebook and Instagram to share her not so quintessential platter that was filled with sandwich, pizza, beetroot salad and so on.
She writes, " A far, far cry from typical Iftaar food and very inappropriate for this wet, wet weather but this is what I was planning for my Iftaar treat today …."
Her platter was a colourful mix of a three cheese, thin crust, sourdough pizza, a beet and blue cheese salad with a colourful bowl of red and yellow peppers, lettuce, cherry tomatoes, yellow slicer tomatoes in a vinaigrette dressing served with a helping of multigrain cucumber sandwich.
She however is a big time roasted cumin powder fan and believes, "Crushed, roasted zeera is a pantry staple at the best of times. But come Ramzan it acquires extraordinary talents to tempt and tease the palate."
She says, "A mere sprinkling on chana dal or fruit chaat works wonderfully but it works a special magic with the dahi ki phulki (gram flour fritters) which — in my opinion — is leagues ahead of its more flamboyant cousin — the dahi vada or dahi barey (red lentils fritters) as we say it in Uttar Pradesh."
She suggests a generous seasoning of crushed garlic (she strictly advices against chopping or puréeing the same), added to lightly beaten yoghurt along with salt and red chilly flakes with a generous sprinkling of crushed, bhuna zeera.
Lastly she directs mixing the, "Fluffy besan pakodis (gram flour fritters) dunked in water and wrung out so they can soak in all the creamy garlicky goodness of the dahi (the above prepped yogurt)!". The above recipe is a cult favourite of thee households across eastern and western parts of Uttar Pradesh.
ALSO READ: "Flavours of food are same across the border...", home-chef Nighat
But as the saying goes, "Old is Gold", Rakshanda can't stop and share the Iftar staple soaked gram lentils salad, she writes, "Oddly enough this is a dish seldom made outside Ramzan. I wonder why… given its simplicity and nutritious value it ought to appear all through the year on our tables agd yet it doesn't."
As for the recipe she says, "Chana dal (gram lentils) soaked and lightly boiled (should not get mushy) mixed with finely chopped onion, tomato, green chilies, coriander and spiked with salt and lemon juice."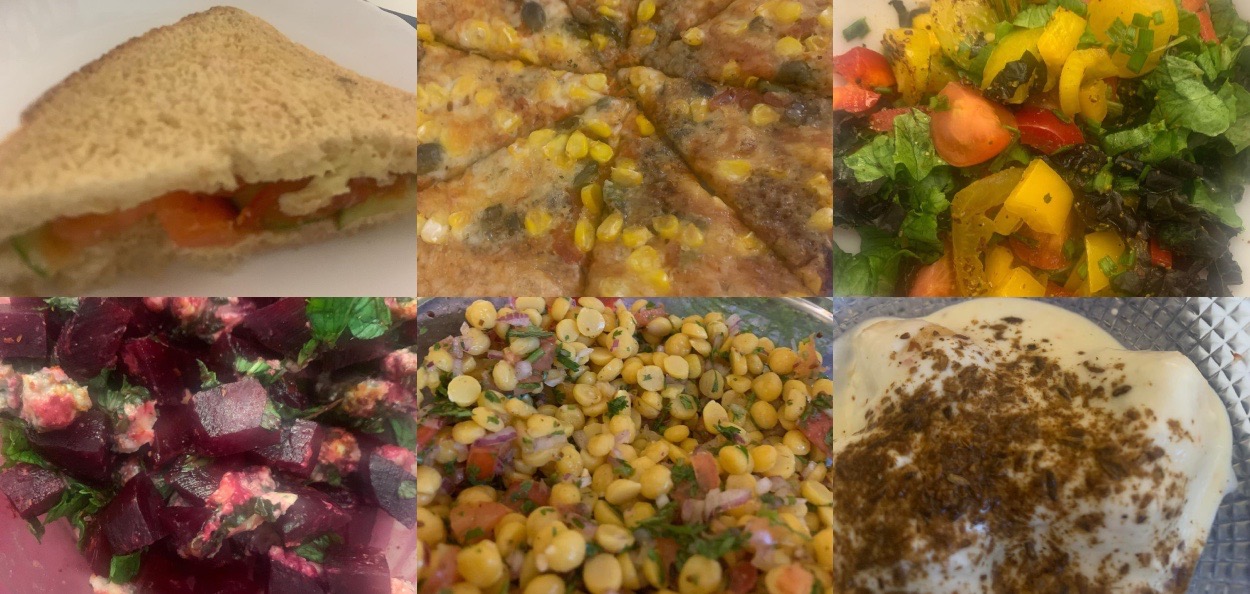 Lastly she suggests a humble sprinkle of her favourite coarsely ground bhuna zeera (roasted cumin seeds) which according to her truly elevates "humble dal!". Sitting beside her plate of salad was yet another staple roohafza lemonade.
Old Delhi's Jama Masjid and Ramazan go hand in hand. Rakshanda like many posted her "mandatory" Jama Masjid dinner picture with her friends Saif Mahmood, Aaliya and Kalidas Swaminathan after enjoying a scrumptious meal at the Karim's.