Suman Tiwari is a Zomato Delivery Partner who rides 100 km a day while delivering orders
Shaista Fatima/ New Delhi
For most of us, cycling may be a way to a healthy lifestyle but for others, it's a way to earn their livelihood.
As it is for Suman Tiwari, a Zomato delivery partner who routinely cycles about 100 km through the maddening traffic of South Delhi.
Clad in a sports cap and his quintessential Zomato red tee, Suman Tiwari, 46, proudly holds his bicycle and delivers food on demand and at times helps as a genie with other chores like carrying forgotten stuff like keys, books, and so on.

Suman Tiwari's bicycle is his means of transport and livelihood.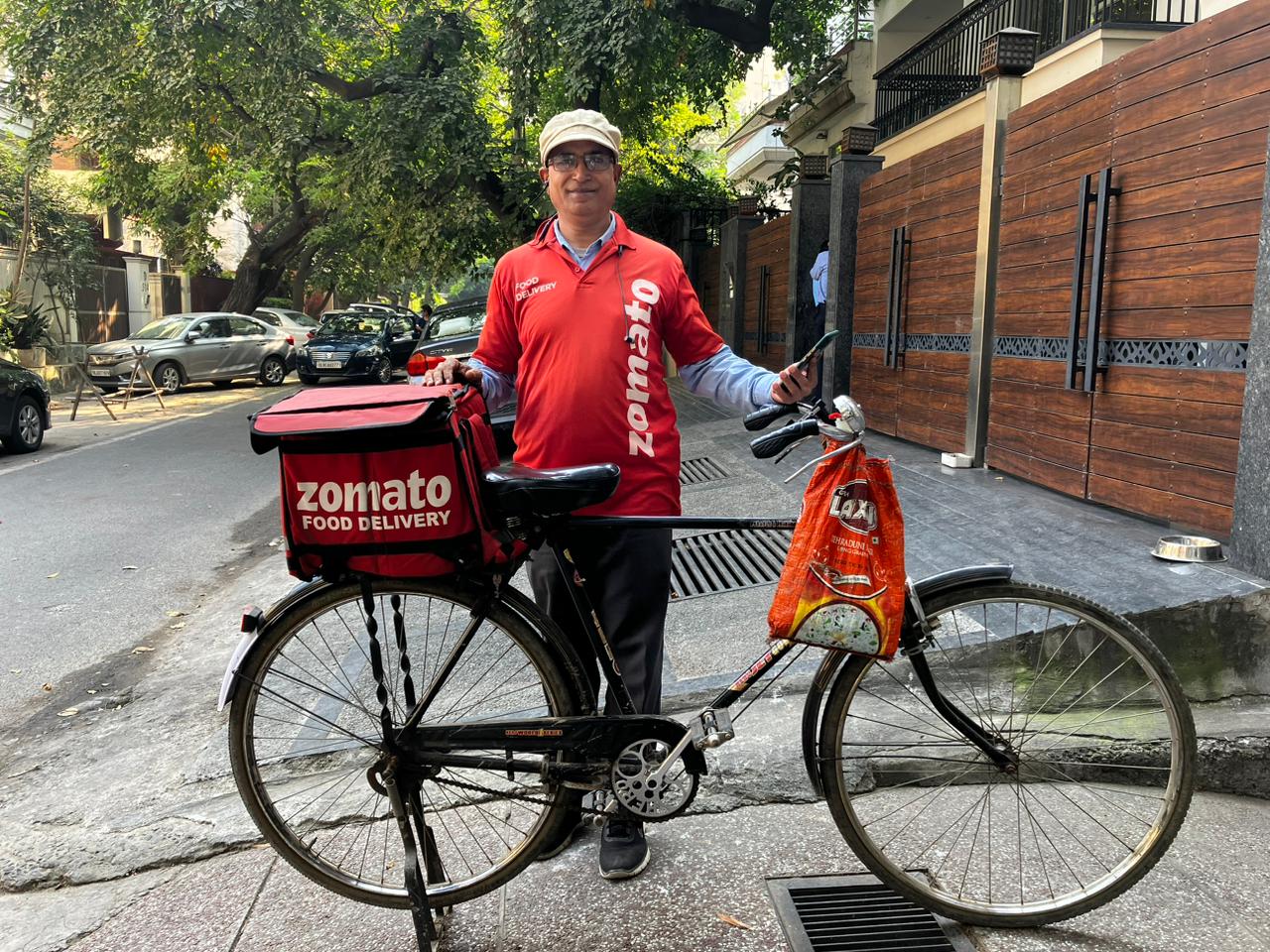 "I was working with a security firm as a guard but then the company thought I was too old for the night shifts thus I had no option left but to switch to being a delivery partner as the pay there was too low...".
He says that he lives in Jasola Vihar, New Delhi, and logs in at 7 am and logs out at 7 pm. He normally picks up his deliveries near Nehru Place as there the possibility of parcels is more.

Suman told Awaz the Voice that in a day he makes around 16-17 deliveries that approximately amount to 100 km a day (to and fro).
"I make somewhere between 16-17 thousand in a month…", he adds.
Suman's family lives in Bihar, "I have three kids and their education is very important to me thus I am striving to make two ends meet.."
He says that 17000 is not sufficient yet it is better than the security guard job. When asked whether it is tiring to ride around 100 km a day he says, "you have no idea..it is very tiring.."

For delivery partners like Suman, there aren't any incentives from the food giants.
A few months ago a similar case surfaced In Rajasthan when in April a delivery guy rode his bicycle in the scorching 42 degrees celsius.
ALSO READ: Shoaib Malik's Instagram post for Sania leaves fanfam confused
A tweet by the receiver worked miracles, crowdfunding happened and the delivery partner was able to buy a bike.