Shaista Fatima/New Delhi
The rumours of divorce between Indian tennis star Sania Mirza and Pakistan's cricketer Shoaib Malik left the fanfam in a state of shock.
Cryptic posts by Sania and statements by their close friend added fire to the fuel. A few days ago Sania Mirza took to Instagram and posted a pic with her son Izhaan captioning, "The moments that get me through the hardest days.."
Pacifying all this Shoaib Malik took to Instagram to wish Sania a happy birthday who turns 36 today. He wrote, "Happy Birthday to you @mirzasaniar Wishing you a very healthy & happy life!.."
The comment box flushed with comments like, "more than ourselves we were worried for you, I hope you guys are together, oh! thank god you posted, I hope the news before was a rumour and fake, let those who spread rumours rot in hell..."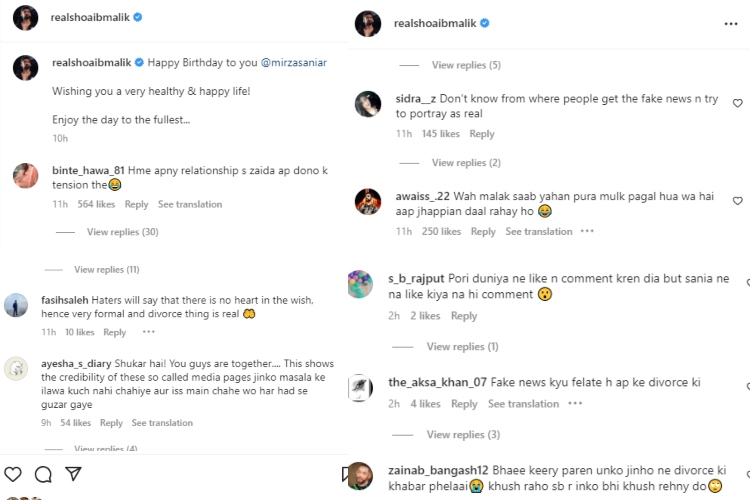 The screengrabs of the comments
While some are hopeful and happy, others wrote, "the whole world has commented by the birthday girl is missing.."
The star couple got married in 2010 and later moved to Dubai, they have a son from the marriage.
On the work front, Sania Mirza recently met Saeed Mohammed Hareb, Secretary General Dubai Sports Council and thanked the council for supporting the Sania Mirza Tennis Academy.
ALSO READ: Adnan Sami's tug-of-war with Pakistani Twitterati