Hafeez Ur Rahman
Amid extremities are the moderate Islamists, and there are many scholars and men of religion who have used their pens as instruments of peace and harmony in the world. Here are a few names that have made a positive impact on society.
Gamal al-Banna: He was an Egyptian author and trade unionist and ironically, the youngest brother of Hassan al-Banna, founder of the Muslim Brotherhood extremist organization. He taught that Islam cannot be the foundation of a civil state and explained the distinction between the secular and religious perspectives.
Sheikh Mohammad Al Ghazali: He influenced generations of Egyptians. As an author of 94 books, Ghazali attracted a huge following; his book "The Prophetic Sunna," published in 1989 was a best seller.
Imam Al-Ghazali Iranian scholar played a significant role in harmonizing Sufism with Shariah. His contributions also bolstered the prominence of Sunni Islam in other theological schools.
Dr. Osama Sayyid Al-Azhari, Egypt: He was an Azhari scholar, preacher, and academic also called a peace activist viewed as one of the most influential voices calling for and working towards reaching new understandings founded on the Islamic tradition and in ways that accommodate the contemporary condition.
Khaled Abou El Fadl, Kuwait: He stands as one of the foremost global authorities on Shariah, Islamic law, and Islam and is a distinguished scholar with a notable presence in the arena of human rights.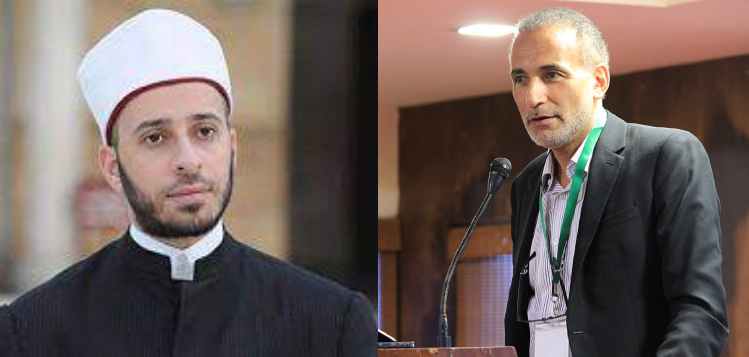 Dr. Osama Sayyid Al-Azhari and Dr. Tariq Ramzan
Dr. Tariq Ramzan: He is a Swiss Muslim scholar, philosopher, and author, Ramadan has published 20 books, more than 700 articles, and around 170 audio tapes on subjects including Muslim identity, democracy and Islam, human rights, and Islam.
Abdolkarim Soroush, Iran: He is arguably one of the most influential figures in Iran's religious intellectual movement.
Muhammed Fethullah Gulen, Turkey: A Turkish Islamic scholar, preacher, and former opinion leader, having served as the de facto leader of the Gülen movement, he was an Islamic poet, writer, social critic, and activist–dissident developing a Nursian theological perspective that embraced democratic modernity.Dr. Jawaid Ghamedi, Pakistan: He is a Pakistani philosopher, educationist, and a scholar of Islam. While using the traditional Islamic framework; he reaches conclusions that are similar to those of Islamic modernists and progressives on the subject.
Dr. Tahirul Qadri, Pakistan: He is one of Pakistan's most prominent religious authorities with a global following, recently issued a 600-page religious ruling (fatwa) condemning the perpetrators and their ideology of radicalism. This fatwa is seen as one of the most comprehensive and forceful condemnations of terrorism to date by any Muslim religious leader.
Ammar Khan Nasir, Pakistan: He is devoted to generating new knowledge and a greater understanding of how religious and secular forces interact.
Maulana Wahiduddin Khan, India: The Padma awardee was a renowned Islamic scholar who denounced radical interpretations of Islamic texts, and advocated moderate conduct.
Dr Waris Mazhari, India: He has a wealth of publications exploring contemporary Islamic thought, Islamic reform, and the reformation of tradition. His scholarly pursuits span from traditional Islamic education, human rights, gender, politics, and citizenship to bioethics, science, and the human experience. His book, "What is a Madrasa?" published in 2015, is a significant work examining South Asia's traditional Islamic seminaries (University of North Carolina Press).
Engineer A Faizur Rahman, Chennai He is an independent researcher and Secretary General of the Islamic Forum for the promotion of moderate thought and writes with a focus on inspiring all communities to work on propagating religious moderation.
ED Hussain from UK: He is a leading British author and professor in the Walsh School of Foreign Service at Georgetown University and senior director of the Atlantic Council's N7 Initiative which is focused on peace in the Middle East and broadening and strengthening relationships between Israel and its Arab and Muslim neighbors.
Maulana Abul Hasan Ali Nadvi, Maulana Yahya Nomani, and Maulana Sultan Islahi have written several books against Jamat e Islami's radical thought. Recently Darul Uloom Deoband has organized a debate against Maududi's literature while Barelvi, Shia, and Sufis have no place for Jamate Islami, Wahabi, Tablighi Jamaat, and Muslim Brotherhood's literature entry in their madrasas, mosques, and hospices at all because they believe in the peaceful Sufi tradition.
American Islamic scholars Shiekh Hamza Yusuf, Mohammad Hashim Kamali, and Tariq Ramadan who wrote Religion and Global Politics, and some scholars are working hard to build a platform on the foundation of a peaceful Islam spotlighting the moderate doctrines taught in the Quran.
These days, there are some young Indian scholars and columnists who are striving to present balanced cultural syncretism in India promoting the moderate path of Islam through their books, columns, and blogs while denouncing extremism. This tenacious task requires a mammoth amount of translation from Arabic, Persian, and English to Urdu, Hindi, and regional languages to widely spread moderate literature to counter radical literature.
Muslims must reject extremism
Young scholars in Indian universities and prominent madrasas should identify radical and extremist ideologies within the works of figures like Maulana Maududi, Hasan Al-Banna, Syed Qutub, and others and invest in education that encourages critical thinking, tolerance, and the understanding of diverse perspectives, fostering religious literacy and interfaith dialogue as done by Amir Khusro and Dara Shikoh and later by Sir Syed Ahmad khan and Maulana Abul Kalam Azad. Religious leaders need to collaborate to promote messages of peace, tolerance, and social cohesion within their communities, empowering youth through education, sports, arts, and cultural programs to provide constructive outlets for their energy and creativity.
ALSO READ: Maulana Maududi, et al misinterpreted Islam to give rise to radicalism, intolerance
All experts must generate Islamic literature with a twofold purpose: To challenge extremist ideologies and build a resilient, moderate Islamic narrative that promotes rational thinking and peaceful coexistence.
Dr. Hafeez Ur Rahman is the Convenor of the Khusro Foundation, New Delhi