Dr Shujaat Ali Quadri
A ubiquitous presence along Prime Minister of India Narendra Modi is National Security Advisor Ajit Doval. He is not only a virtual shadow of the PM; he functions as a parallel diplomatic core and PM's turn-to man to spearhead his key policies. Like the PM, he is also said to be working indefatigably.
As a retired Indian Police Service officer, who successfully worked on several successful missions, Doval is trusted as an intelligence czar. Besides, the PM sees in him a man who can communicate to people caught in the whirlwind of conflicts like those in Kashmir and affected by violence like that happened in Delhi in early 2020. Besides, he is dispatched to meet international leaders to carry the concerns of India and set the stage for the PM's tour.
Role in Building of Peaceful Kashmir
Doval had overseen the essential procedure to repeal Article 370, which had previously given the people of Jammu & Kashmir exceptional rights. He later took part in efforts to guarantee the Line of Control (LoC) ceasefire agreements between Pakistani and Indian military and persuade J&K political parties to engage in the political process.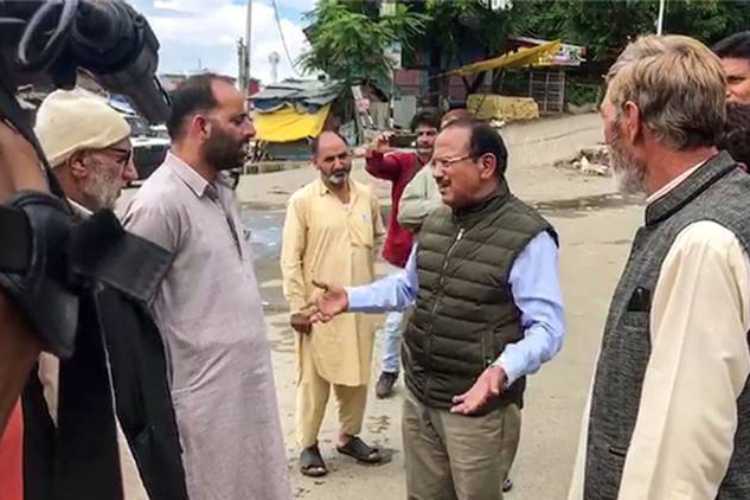 NSA Ajit Doval interacting with locals in Srinagar after abrogation of Article 370
Unfazed by resentment shown by the Kashmiris, Doval kept interacting with local leaders in the valley in an effort to persuade them to meet with the Centre. His efforts were able to break ice with the Kashmir leadership and the delimitation exercise was completed successfully in the valley. Now, the stage is set for the first post-370 Assembly elections that are likely to take place either at the end of this year or in the beginning of the next year.
Successfully effecting a groundbreaking change in J&K was not an easy task.
He played an important role in building a 4.1-mile tunnel at Sinku La on the recently built Darcha-Padum-Nimu-Leh route, which offers a third alternative road access to Ladakh, stipulating Doval's long-term strategy for India's security. In contrast to the other two roads between Srinagar-Leh and Manali-Leh, which become blocked for more than three to four months during the winter due to excessive snowfall at high altitude passes (Zozi La, Baralach La, Lachung La, and Tanglang La) on these routes, the tunnel, to be completed at the latest by 2025, will allow connectivity to Ladakh year-round.
2020 Delhi Riots & Meeting with Muslims
The February 2020 riots in Northeast Delhi in the wake of anti-CAA protests had left Muslims in stark desperation as they had suffered the majority of casualties. There was widespread anger among them against the Centre-led Delhi Police. In such mayhem, Doval visited Muslims and went straight to meet them in their streets. He assured them that the state would not show any bias when it would come to treat perpetrators of the violence with force. His sudden appearance among Muslims was certainly assuring.
As a Global Diplomat
His nature of work requires high-level negotiations and foreign diplomacy, which he is equally good at. His diplomacy is making waves in response to the needs of a rapidly developing geopolitical entity like India.
While India was engaged in a deep stalemate with China, Doval in March this year emphasised that the Shanghai Cooperation Organisation's (SCO) charter "calls upon member states to have mutual respect for sovereignty, territorial integrity of states and inviolability of State borders, non-use of force or threat of force in international relations and seeking no unilateral military superiority in adjacent areas" at the 18th meeting of the organisation's national security advisers in March.
President of Russia Vladimir Putin had himself invited Doval to Moscow in February for a rare one-on-one meeting to address international and bilateral concerns in lieu of the Ukraine War. Doval also spoke over the phone with Nikolai Patrushev, the Russian NSA and right-hand man of Putin, who serves as secretary of the Russian Security Council.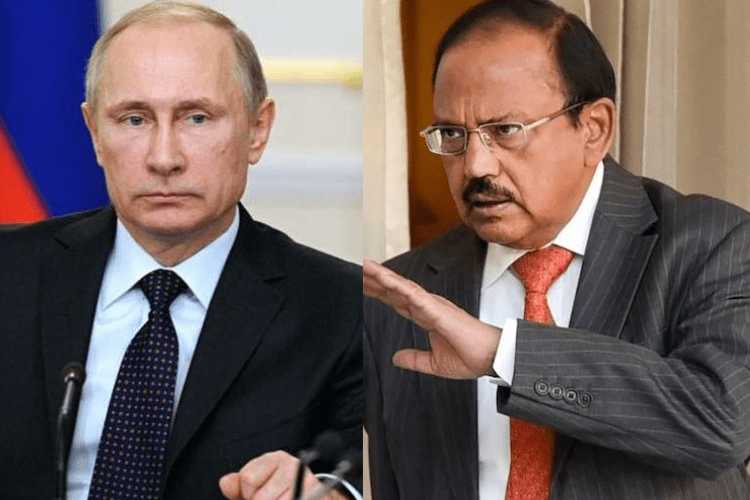 Russian President Vladmir Putin invited NSA Doval for a rare one-to-one meeting in February
Putin gave Doval a lengthy private meeting because he recognises the significance of India in maintaining open lines of communication between Russia and the West. Additionally, and perhaps more importantly, the meeting shows Prime Minister Narendra Modi's entire confidence in Doval's talents as well as the high regard in which he is held by international national security experts.
Doval met US Secretary of State Antony Blinken in Washington during the same month. They addressed developing bilateral strategic cooperation while exchanging opinions on a wide range of national and international topics. For the announcement of the India-US effort on crucial and emerging technologies, his delegation included five Union secretary-level officials and members of the Indian business sector from the hi-tech industry.
The Indian NSA once more met Tim Barrow, his British equivalent, at the cabinet office in London in February. In what the Indian high commission referred to as a "special gesture," UK Prime Minister Rishi Sunak joined the meeting.
Former Foreign Secretary Nitin Gokhale wrote in BharatShakti, a website devoted to the Indian defence industry, "Doval's trips in February — Washington, London, and Moscow (publicly known) and a couple of unannounced ones in the close vicinity — are indicative enough of the workload he carries in maintaining India's foreign policy and strategic affairs."
In May, Doval toured Tehran and Jeddah. His tour came after much-talked about rapprochement between Iran and Saudi Arabia midwifed by China. In Iran, he met President Ebrahim Raisi and other key figures and raised Indian concern on increasing Chinese footprints and future of India-linked projects there.
In order to further their shared vision of a more secure and prosperous Middle East connected to India and the rest of the globe, he met with his counterparts from the US, the UAE, and Saudi Crown Prince Mohamad bin Salman in Jeddah. The meeting sought to increase backchannel communication between Saudi Arabia, the US, the UAE, Israel, and India to build a loose alliance known as I2U2.
ALSO READ: Why did NSA Ajit Doval seek an end to takfiri terrorism during his recent visit to Iran?
Apart from keeping his eye on solving various national and international issues for his country, NSA Doval has endeavoured to restructure the National Security Apparatus of India to meet requirements of the modern time and to achieve the goals set by the government of India. This ultimate devotional rigour to his duty makes him PM Modi's most trusted lieutenant.
*The Author is Chairman of Muslim Students Organisation of India