Aasha Khosa/New Delhi
India is just a 75-year-old democracy and yet it has had a woman (Indira Gandhi) and a religious minority member (Dr. Manmohan Singh) as elected Prime Ministers and two Dalits (K Narayanan and Ram Nath Kovind) as Presidents. The record of western democracies, including the U.K. and the US, pales in comparison.
The USA, for example, is yet to elect a woman President although Hilary Clinton came very close to the coveted post.
News Analysis
The first nation people of Australia and North America are still struggling with the trauma caused by the rejection of their culture by the "Western democracies" not to speak of one of them being elected to the highest offices in these countries.
By choosing Murmu as its Presidential candidate, the BJP-led NDA has drawn the attention of the world to its efforts to mainstream and empower the tribals.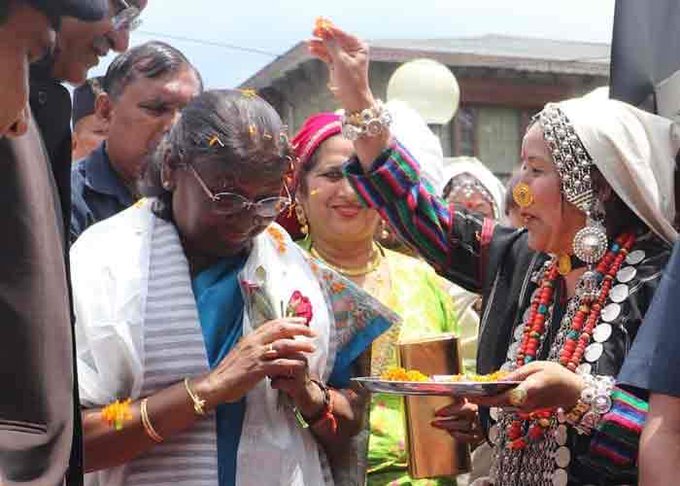 President-elect Droupadi Murmu during her campaigning
In this context, the election of Droupadi Murmu as India's 15th President is a step in making scheduled tribes (the first nation) of India - 10.43 crore people constituting 8.6% percent of India's population – stakeholders in polity and honoring them.
India's next President comes from the poorest of the poor strata of the Indians who, like her, are gradually coming up in life through education, the law of reservations (affirmative action), and the Forest Land Rights Act.
India's President was born in the village of Baidaposi, Mayurbhanj district of Odhisa. She belongs to the Santal tribe. Her father Biranchi Narayan Tudu and grandfather were elected village heads.
Looking at the life of the 64-year-old Murmu, she comes across as a poised woman who rose in life by sheer dint of her hard work and integrity. This connects her to the lives of most of the ordinary women of her generation even socially privileged classes. She twice became the minister in the BJD-BJP government of NPatnaik in Odhisa and also held senior positions in the BJP that she had joined after quitting her government job. Droupadi has served as Governor of Jharkhand and therefore has a range of experience in the functioning of the government at all levels.

.
Murmu's integrity and dedication to the cause of public service have made her live a quiet life, away from the media glare. When India's unsparing media tried to probe into the background of the President-elect, all it got to report was a very positive report card of an honest lady.
In her affidavit submitted at the time of contesting the Assembly election in 2009, she declared that she had a cash deposit of nine lakh rupees and a loan liability of Rs four lakh.
.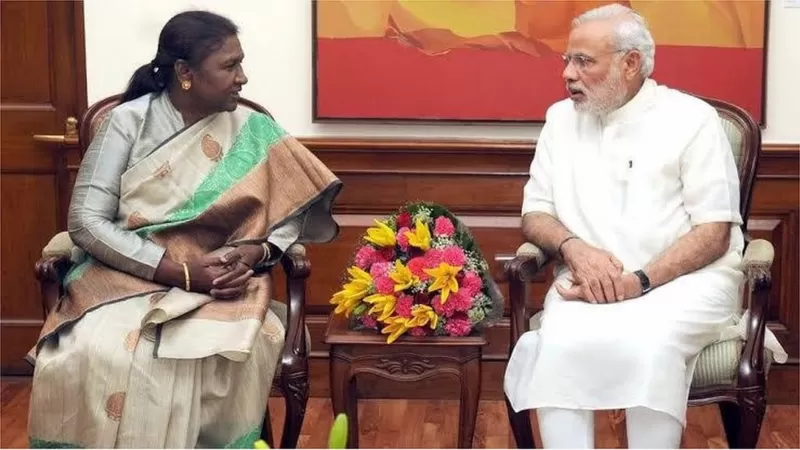 Droupadi Murmu with Prime Minister Narendra Modi
She declared that her husband Shyam Charan Murmu had a Bajaj Chetak scooter and a Scorpio vehicle in his name. By this time, she had been a minister for four years and during this period she also received the Neelkanth Award for being the best legislator in Odisha Legislative Assembly.
Personal tragedies – the death of her husband and two sons in quick succession – made her a political recluse at least for some time. She went into shock and refused to join any political activity. She took charge of her life by embracing the philosophy of Bramhakumaris and healing herself. Sadly, her husband and her sons are not around to share her happiness on becoming the head of the state but her daughter Itishree Murmu who works in a bank is her biggest cheerleader.



During her campaigning, Murmu declared that since she has no large family, she has dedicated her life to public service and the nation.
Droupadi, the woman and a Tribes-woman, symbolizes India's inherent strengths, character resilience, and spiritual roots.