Dr Mohammad bin Abdulkarim Al-Issa with NSA Ajit Doval and religious leadersu during his recent visit to India
Atir Khan
Dr Mohammad bin Abdulkarim Al-Issa, Secretary General of Muslim World League's India visit concluded on Sunday. Other than strengthening diplomatic relations between India and Saudi Arabia it exposed Indians to the progressive and moderate ideas of the new world.
During his six-day visit to India, Dr. Issa called on President Droupadi Murmu, Prime Minister Narendra Modi, External Affairs Minister Dr S Jaishankar, and Minister for Women & Child Development Smriti Irani. He described his meetings as meaningful discussions with the top Indian leaders.
His most comprehensive interaction was with India's National Security Advisor Ajit Doval, who shared the stage with him at an event jointly conducted by India Islamic Cultural Centre and Khusro Foundation on 11th July in New Delhi.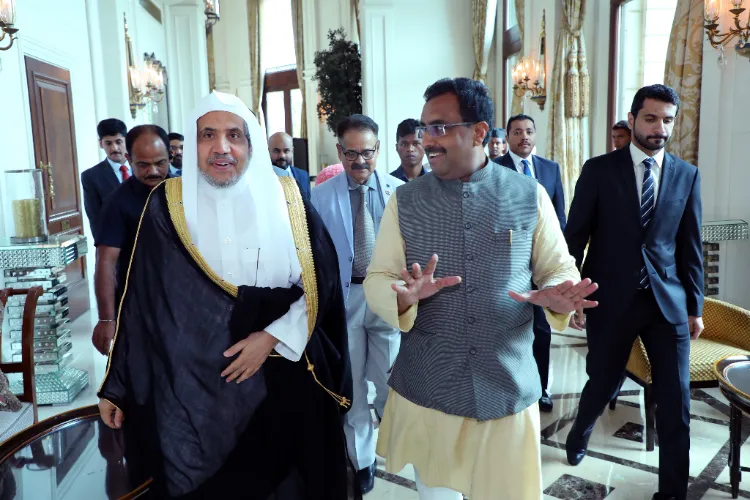 Dr. Al-Issa with Ram Madhav of India Foundation
Both eminent personalities gave speeches, which promoted moderate values and respect for the rule of law of the land. The event turned out to be an occasion for a huge gathering of people from all sections of society. Prominent Muslim religious leaders and Muslim intellectuals, ambassadors from several countries also attended the event.
At the event, Dr. Issa spoke about the greatness of Indian democracy and its Constitution, which accommodates diversity. He spoke about the need to respect the rule of law to maintain the sanctity of nation-states.
He also talked about how moderate values and better understanding between people could help avoid the clash of civilizations, which primarily emanate either from religious or cultural conflicts.
Dr Al-Issa visiting Akshardhan Temple in New Delhi
The National Security Advisor Ajit Doval reiterated what Prime Minister Modi had said some time back that this is no more the age of war. Future battles for the good of humanity will have to be fought against hunger, ignorance, and want.
In today's complex world, with complex geopolitical challenges confronting us, religion must become a beckoning light for humanity to usher into an area of peace and harmony.
One of the salutary effects of Dr. Al-Issa's visit was the propagation of modern Islamic values in a world, which is increasingly becoming polarized and narrow in tolerance.
Dr. Issa is seen as a champion of moderate but core Islamic values, which are needed to guide Muslims in the world today. The Muslim World League the body he leads is doing phenomenal work in spreading moderate Islamic values. These initiatives are leading to world peace and harmony.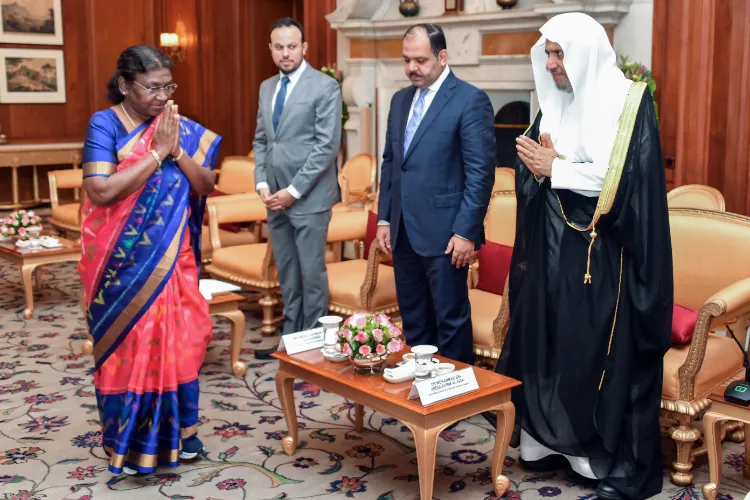 Dr Al-Issa meeting President Droupadi Murmu at Rashtrapati Bhavan
Such outreach is becoming a beacon of light for Muslims as a desirable alternative to radical ideas being floated in the Islamic world. It is focusing on the core Islamic value of peace, tolerance, and understanding, rather than just the rituals.
Dr Issa's leading the Friday prayers at Jama Masjid was very well received and so was his visit to Akshardham Temple. Also, his interaction with various faith leaders and intellectuals at the headquarters of the prestigious think tank Vivekanand Foundation generated a lot of goodwill.
ALSO READ: Religious differences should not become cause of conflicts: M. Abdulkarim al Issa
Overall, his visit created just the right optics and sentiments, which are required in the present times to promote social and communal harmony. There is a need to build upon the trail of goodness he has left behind.