Dr. Udai Bhanu Singh
In its position as the G20 President, India hosts for the first time the two-day G20 Summit in New Delhi on September 9 and 10 which brings together leaders and delegates from the 20 member States and organisations and guest delegates from an equal number of other countries. Although now it's confirmed that the two major leaders- China's President Xi Jinping and Russia's Vladimir Putin will not attend the Summit, the presence of other international luminaries will make this an event to be watched.
Besides the main event scheduled in New Delhi, India planned 200 meetings in over 60 cities over the year. The first two meetings held were the G20 ambassadors' meeting in the Andaman Islands and the sherpas' meeting in Udaipur. These two meetings were by way of familiarising the delegates with India's culture and diversity. They were meant to focus on India's digital transformation, financial inclusion, and advances in health facilities.
G20 is the premier international economic cooperation forum, established in the aftermath of the Asian Financial crisis in 1999. It brings together the world's largest economies every year to address global economic challenges and major issues of concern including climate change, and international trade and development. The G20's importance lies in its economic potential (85 percent of world GDP) and large population (two-thirds of the world). India took over the rotating presidency of the G20 from Indonesian President Joko Widodo and will hand it over to President Luis Ignacio Lula da Silva of Brazil. In its position as the G20 President, India joins the G20 Troika comprising India, Indonesia, and Brazil- the current, previous, and incoming G-20 Presidencies, respectively.
The world is going through a critical phase in its history. Nations of the world are going through a post-pandemic recovery phase. COVID-19 which originated in late 2019 in Wuhan spread as a global pandemic; it impacted not just the health sector but in all related sectors as well. Second, the G20 membership comprises Argentina, Australia, Brazil, Canada, China, France, Germany, India, Indonesia, Italy, Japan, the Republic of Korea, Mexico, Russia, Saudi Arabia, Turkiye, the UK, the US and the European Union (EU).
The G20 Invitees include the heads of state or government of Bangladesh, Egypt, Mauritius, Netherlands, Nigeria, Oman, Singapore, Spain and the UAE. In addition, international organizations (UN, IMF, WB, WHO, WTO, ILO, FSB, and OECD), chairs of Regional Organisations (AU, AUDA-NEPAD and ASEAN), and Guest IOs— ISA, CDRI, and ADB, will be represented.
Premier Li Qiang will represent China at the conclave.
The Russia-Ukraine War which has lasted longer than Russia expected, has adversely impacted food and energy security at a global level. It has had a global impact on the supply chains, both global supply chains, and regional supply chains. At first, it was said it would take away the focus from the Indo-Pacific, but the opposite seems to have happened. It has led to a lot of churning in international relations, as Russia faced considerable opposition from the West. This has posed a policy dilemma to countries such as India which relied on that country for a large component of military hardware.
Third, Sino-US rivalry added complexity to the economic woes. There are competing systems vying for attention: China's Belt and Road Initiative (BRI), the US and the 'Western world's Free and Open Indo-Pacific (FOIP), and ASEAN's Outlook on Indo-Pacific (AOIP). Amid an uncertain global environment, India has tried in its way to be the voice of moderation. This was exemplified in PM Narendra Modi's Keynote Address at the Shangrila Dialogue, (Singapore) in 2018, where he called for an inclusive Indo-Pacific.
Another set of challenges before the G20 pertains to the impediments in the way of achieving the Sustainable Development Goals (SDGs) as they relate to the health, education, nutrition, water, and energy sectors.
No less significant is the challenge which faces the entire planet and that relates to Climate Change. Somehow, adequate funds are not forthcoming to deal with this challenge.
As a founding member, India has been actively involved in the G-20 forum from the start. There is an acknowledgment by New Delhi that we live in an interdependent world where our economic opportunities and challenges are interlinked. There is also recognition that India's economic, and foreign policy interests are closely intertwined with the rest of the world. India holds the presidency of the 18th G20 themed Vasudhaiva Kutumbakam or "One Earth, One Family, One Future" from 1 December 2022 to 30 November 2023.
India's economic, political, strategic, and technological heft has been growing. First, India is the world's most populous country which makes it difficult to ignore it because of its emerging middle class and large market. It is already the world's fifth-largest economy and soon to be the third-largest one.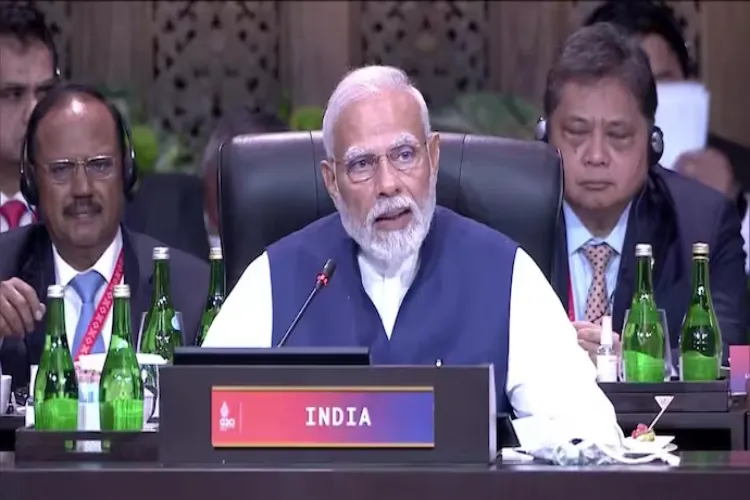 Prime Minister Narendra Modi speaking at the G-20 summit at Bali, Indonesia

Second, India is becoming known for its scientific manpower and its technological skills. The recent moon mission (Chandrayaan-3) and the Sun mission (Aditya-L1) have reinforced this perception.
Third, India has been quick to respond in times of natural disaster. It has a demonstrated capability helping other nations, in times of crises like the Pandemic. India Navy has been the first responder during floods, cyclones, etc. as evident from our supportive missions in Indonesia, Myanmar, and Turkiye. We have equally demonstrated our capability of rescuing our people from crises (eg. Operation Ganga, and Operation Kaveri).
Fourth, India's strategic profile has been rising as the Atlantic-led era ended, and the Indo-Pacific era began. As a Nuclear Weapon State, its voice counts. However, India's Strategic Autonomy policy has meant that it has kept itself consciously away from any form of military alliance. India's foreign policy today is at an inflection point - it is participating in not only multilateral forums like the United Nations but several multilateral forums and regional organizations. India is playing an important role in the Shanghai Cooperation Organisation. It is active in the Quadrilateral Security Dialogue along with the US, Australia, and Japan, to develop an alternative to a Sino-centric regional order. Then, as Europe seeks to diversify its relations, India again becomes important, while India retains its ties with Russia. BRICS (Brazil,-Russia-India-China-South Africa) is another forum where India participates; with agreement being reached at the recent Johannesburg summit on further expansion to include eleven more states.
During its G-20 Presidency, India seeks to highlight the four D's: promotion of Decarbonisation; Digitalisation; Development that is equitable; and De-escalation of Conflict. India's emergence on the global stage has provided it an opportunity to serve as a 'bridge' between the North and the South and between the East and the West. This is increasingly being acknowledged. India has advocated greater African representation. New Delhi has also had historical experience of developmental cooperation since the early 1960s and it would showcase low-cost development solutions. India seeks to give voice to the global south's problems and achieve the Sustainable Development Goals (SDGs). It is an opportunity for India to set the priorities or agenda for the global south, without having to side with any Major Power.
India seeks to be a knowledge economy by 2047. It seeks data-driven development as an aid to decision making which helps in monitoring scheme implementation. Successful examples include the Jan Dhan Yojna, Aadhar which have tremendously helped women's financial inclusion. This model can be replicated in other lesser-developed economies. India is seen as a responsible, innovative Power driving global thought; it was India that pushed for the International Day of Yoga; the International Solar Alliance; and the International Millets Year. The inclusion of Think Tanks in the T-20 (Think-20) format provided an excellent avenue for idea generation.
The G-20 Summit in New Delhi is an embodiment of hope and an opportunity to forge global consensus under Indian leadership. As India hands over the Presidency to Brazil later this year, the hope and expectation is that Brazil will carry on the momentum set by India. As External Affairs Minister Jaishankar put it: "One day in the future when you will look back, you will find that the year 2023 was very important for India in which the G20 presidency established us in a special place in front of the world".
Dr Udai Bhanu Singh îs a strategic analyst was formerly associated with Manohar Parrikar Institute for Defence Studies and Analyses, New Delhi