Tripti Nath/New Delhi
Sufism is a syncretic culture across nations that gives value to the pre-Islamic local traditions, says Dhritabrata Bhattacharjya Tato, author of the book Sufism- its spirit & Essence (Har Anand Publications). The concept of multiplicity is right at the origin of Sufism, he adds.
Sharing his views on an Awaz-The Voice podcast, Tato says that Sufism is one of the most liberal philosophies which is required not only by India but also globally as a central theme to talk about love and peace.
Explaining the relevance of Sufism, Tato says, "In the contemporary period, we have at least 500 kinds of guns available in the arms market. If human civilization can reproduce weapons to kill other human beings in so many ways, then I think that everybody should write a book on Sufism, peace, love, and harmony. "
Tato is convinced that Sufism has the power of love. "At the end of the day, we need syncretic or social values that make us less violent. Sufi saints were always at the receiving end of violence. Let us take the example of Hazrat Sarmad whose dargah is right in front of Jama Masjid. He was of Jewish descent. He was born in Iraq. He came to India and became a very good friend of Dara Shikoh, son of Mughal emperor Shah Jehan. Dara Shikoh came up with this very beautiful book called 'Majma 'Ul-Bahrain: The Mingling of the Two Oceans which means the mingling of two oceans. There, he talks about Hindu-Muslim syncretic ideas. Somewhere, he also talked about similarities.''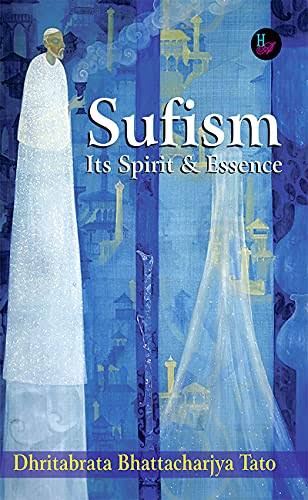 The cover of Dhritabrata Bhattacharjya Tato's book

Tato who holds a postgraduate degree in French literature from Calcutta University and M.Phil in Cultural Studies from Universite de Paris, Sorbonne Nouvelle, says that the function of education and spirituality is not to talk about differences between individuals but talk of similarities for coexistence.
He said that in a structured society, spirituality is something that actually pervades the entire society. "Sufism, in particular, has played a pivotal role in bringing communities together. If you to Sheikh Nizamuddin Auila's Dargah Sharif, you will find people from different faiths and you will find rituals that are not the official rituals of any of the prominent religions. Love is the central theme of Sufism.''
Tato went on to say that love is the need of our civilization now and more particularly love towards animals, birds, and trees. "By slowly making our civilization more technology-oriented, we are losing the nuances of love somewhere. I strongly believe that Sufism can restore it.''
Asked how he would place Sufism in the global context in the age of the oft-used rhetoric 'Clash of Civilizations', Dhritabrata said that there is only one country that preaches Sufism as its official language and that is the Kingdom of Morocco. "It is an Islamic country but it is a Sufi country.''
He said that Iranian history tells us that some Sufi sects were also engaged in political activities. "In this context, I remembered that when Ghiyas-ud din Balban was the Sultan of Delhi, a Sufi saint advised his elder son not to mix up politics and religion. He did not pay attention to his advice and the prince got killed eventually.''
Tato says that if politics tries to be the messenger of spirituality, then there will be a problem.
What inspired him to write a book on Sufism? Tato said that when he came to Delhi at a young age, he was surprised to see a huge board of Hazrat Nizamuddin Railway station. "I kept wondering why they have named a railway station after a man's name and not the place. Thus began a journey and then I found out that in the vicinity of the railway station is the Sheikh Nizamuddin Dargah Sharif. It was in February and when I went there, I found that they were celebrating Basant Panchami.''
Tato explored Sufism further by visiting Maghreb -northern Africa only to find out how their Sufism is different from ours.
This Kolkata-born author said that human history always tries to divide people but there was always an underlying network of love that had also covered the world at the same time. "And it is important to talk about that more than our differences. In India, Sufis played a pivotal role. Some rituals observed in Dargah Sharif are very akin to my culture. I am a Hindu and I don't feel out of place.''
To a question on the message of Sufism for the younger generation, Dhritabrata recommends that they read all Sufi poets like Amir Khusroo, Sadi, and Hafiz and take the challenges that society poses to young lovers. "They should be able to sort out many things through these poems.''
ALSO READ: How Pak terrorist Mast Gul tried to annihilate Sufism in Kashmir and failed
Tato says that all religions and all belief systems somewhere tend to talk of a universal human outlook and that is exactly what you find in Sufi poems. "Sufi and Bakti existed in India at the same time. And the same kind of music is coming out. All religions respond to human sensibilities.''
Asked if he would call himself a Sufi, Dhritabratra said, "I would not call myself a Sufi. " I would rather say that I am a researcher who is trying to look for human values in unformatted subjects and disciplines. Religion, belief systems, and Sufism are the last repository of unformatted human knowledge. We have discarded knowledge that has no consumer-oriented value. In Sufism, Vaishnavism, in Sikhism, you have many unformatted values of human society of the yesteryears. I am trying to bring out some of those human values to see if these are valid in our society.''