Malick Asghar Hashmi/New Delhi
When a country is facing an existential crisis, its artists rise to make it do a soul search. Something similar is happening in Pakistan where amidst an economic meltdown, rampant terrorism, food scarcity, and political upheaval; an iconic play "Saadhay 14 August" by Dawar Mahmood and Anwar Maqsood is set to be re-staged in Lahore from February 27 to March 21.
The play that throws light on the contemporary social concerns of Pakistan is the final part of the trilogy that started 10 years ago as "Pawnay 14 August", "Sawa 14 August", and ended at "Saadhay 14 August".
The trilogy refers to August 14, that is Pakistan's Independence day.
The main characters of the play are Quaid-e-Azam Muhammad Ali Jinnah and Mahatma Gandhi. Anwar Maqsood, whose satirical shows on television are liked by millions in both India and Pakistan, plays the role of a common Pakistani trapped between the ideologies of the two leaders.
The play conveys that Pakistan is yet to get its full freedom.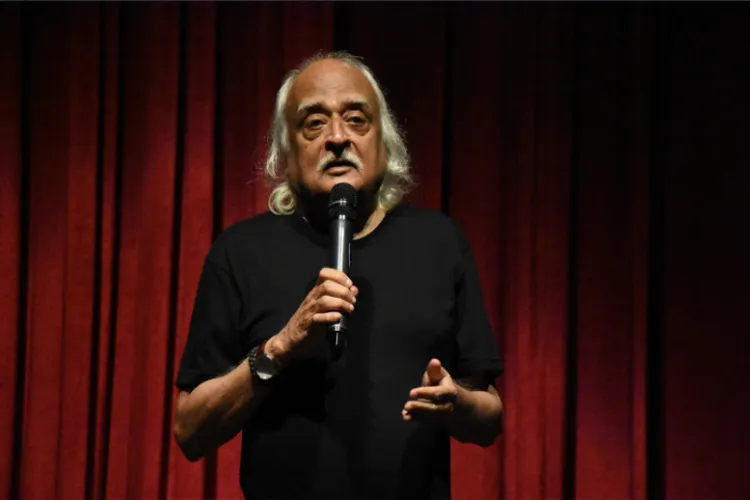 Dr Anwar Maqsood

The drama revolves around the people of Pakistan, who are trapped between the ideologies of Mohammad Ali Jinnah, the founder of Pakistan, and Mahatma Gandhi, who played an important role in the freedom of India from the British and was opposed to the division of the country.
While staging the play for the first time in August to mark the 75th anniversary of Pakistan becoming a country, Anwar Maqsood said that India was a big country when it was broken, and people raised questions that who was responsible for it, Jinnah or Gandhi. The play shows people in different cities - Lahore, Delhi, Kashmir, and London – trying to find the answer to their questions by talking to Gandhi and Jinnah.
Director Dawar Mehmood said that the highlight of this play is the great acting of Umar Qazi in the role of Quaid-e-Azam and Tanveer Gill in the role of Gandhi
Director Dawar Mehmood, actor Sajid Hasan and director of Alhamra Arts Council Zulfikar Ali Zulfi say that the staging of Anwar Maqsood's famous work 'Sade 14 August' from February 27 to March 22, in a way, also marks the comeback for Pakistan's drama.
He said that the play throws light on the contemporary social concerns of Pakistan and is a great way to connect the youth to their past.
According to the review of "Sadday 14 August" in Pakistani media, "The show was a treat to the eyes as the scenes not only depicted Pakistan's ongoing political issues but also encapsulated past events — with promising social commentary through satire and humour."
Anwar Maqsood, known for the TV serial 'Loose Talk', is one of Pakistan's famous writers, novelists, and cookery experts. He has been writing plays, and novels since the 1950s. Before starting his television career, he used to paint. In 1958, he exhibited his paintings for the first time.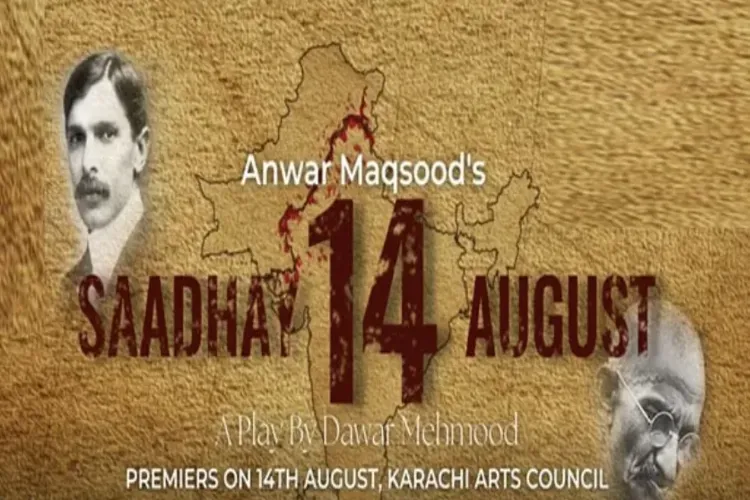 Poster of Dr Saadhay 14 August

Maqsood has been associated with Pakistan's State television since 1970. He has hosted and scripted many shows. His wife Imran Maqsood is also a novelist. He is a recipient of the Hilal-e Imtiaz, Life Time Achievement Award in Pakistan.
His famous plays are 50:50, Aangan Tera, Kissa Nisaf Saadi Ka, Half Plate, Nadan Nadiya, etc.
He did his schooling at Gulberg Trust School in India. After the partition, he came to Pakistan along with his family. After migration, his family had to face many obstacles. Due to poverty, he had to suffer in education and yet being fond of reading Maqsood graduated in English Literature.
His other sister Zahra is also an Urdu screenwriter and poetess. His deceased younger sister Zubaida Tariq was a famous food expert in Pakistan. His daughter Arjumand Rahim is a known Pakistani television actor.
ALSO READ: Orange-seller Padma Shri Harekala Hajabba wants to build a college in his village
Dr Anwar Maqsood's show Loose Talk has been aired on more than 300 channels worldwide.