Mohammad Akram / New Delhi
Forget about the higher dropout rate among school-going girls, even boys of the Muslim community in most parts of India have low access to higher education. Cumulatively, it all leads to low literacy and poor educational advancement of Muslims.
This has come out in a report - Status of Muslim Dropout in Comparative Perspective by the Institute of Objective Studies. This study is done by Rubina Tabassum, Professor of Jawaharlal Nehru University, New Delhi, and she credits Brijesh with helping her in this.
Shocking revelations on the dropout rate of Muslims have emerged in this study; it claims the rate of school enrolment among Muslims is decreasing along with a further increase in the dropout rate.
In West Bengal, where Muslims constitute 27 percent of the population, the dropout rate among the community is 27.2 percent. As against this, the dropout of Hindus is 22.0.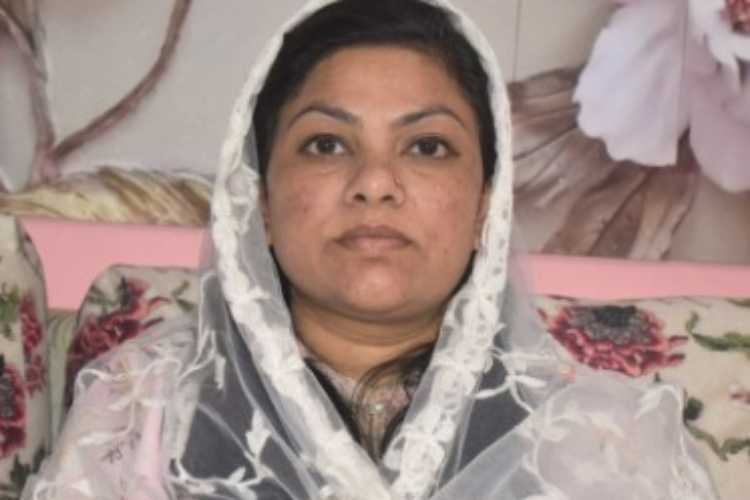 Prof Rubina Tabassum

In Bihar, the dropout rate of Muslims is 13.9 percent.
As per the report, while the income of Muslims has increased, they are not able to focus on education. Unfortunately, since Maulana Abul Kalam Azad's demise, no Muslim leader has focused on education.
The report presented by the Institute of Objective Studies has been given the shape of a book Status of Muslim Dropouts in Comparative Perspective.
Rubia Tabassum has also presented reports on Dalit and Adivasi communities.
According to Rubina Tabassum, the Muslim dropout rate is 23.1 percent compared to the national average of 18.96 percent.
Rubina says that the percentage of dropouts is higher in states like Bengal, Lakshadweep, and Assam. Muslims, she says, are less inclined towards formal education. "People are giving importance to education, but they are not giving it in the way it should be given."
She says under the right to education law, parents must send their children in the 6-14 years age group the parents take the responsibility for education. However, Muslims often make children drop out the child at the age of 15 years and push them into work.
The situation is no better in Jammu and Kashmir where Muslims are in the majority. The dropout rate (percentage) in J&K isLPre-Primary) Hindu 0, Muslim 0.7; (Primary) Hindu 6.5, Muslim 5.5; (middle and above class) Hindu 6 Muslim 12.8; (Secondary classes) Hindu 17.3, Muslims 25.8.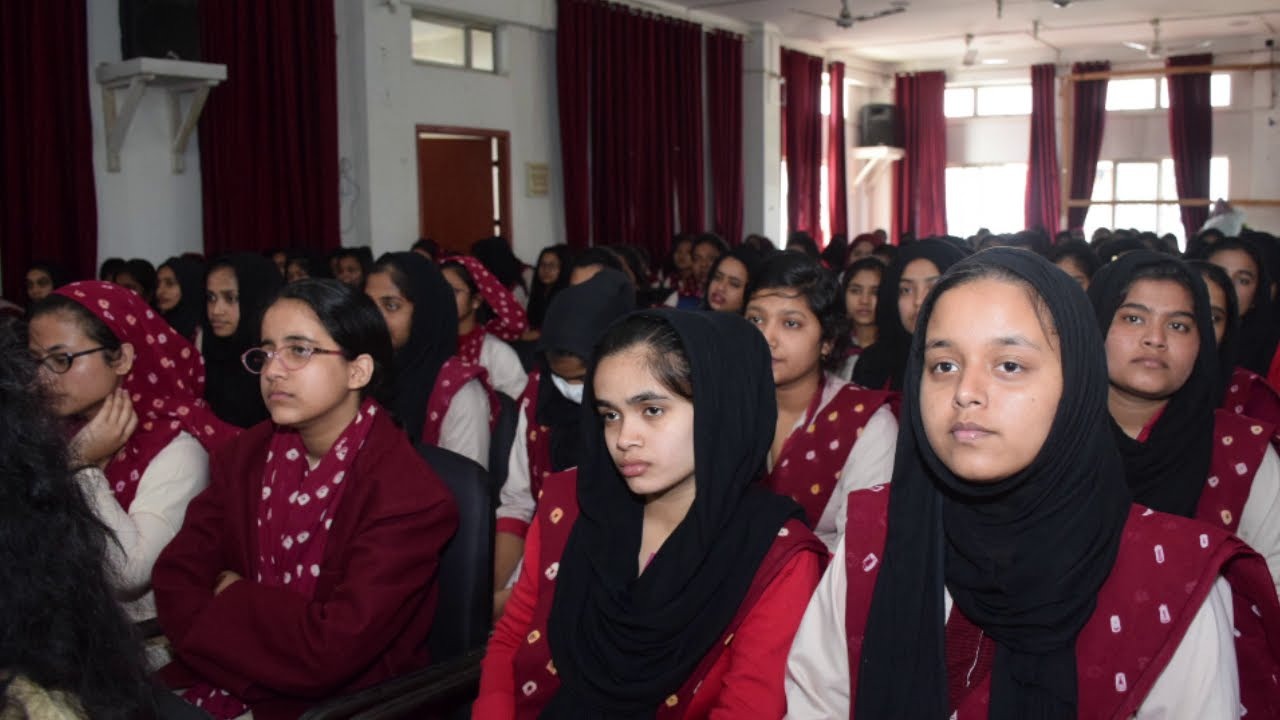 Muslim Girls in a classroom Maryam Ajmal Women's College of Science and Technology Guwahati, Assam
And in the higher secondary class, the Hindu dropout rate is 15, and the Muslim 15.4 (percent).
According to the 2011 census, Muslims in Assam constitute 34.22 percent of the population. Here too the dropout rate of Muslims is worrying. Hindu 6 in pre and primary class, Muslim 5.9 and Christian 28.8, Hindu 15.0 in primary, Muslim 12.5 and Christian 26.4, Hindu 28.0 in middle and upper class, Muslim 26.0 and Christian 30.0, Hindu 25.8 in secondary class, Muslim 30.2, Christian 32.0 In the higher secondary class, Hindus are 13.9, Muslims 19.6 and Christians 19.2. Similarly, Hindus are 11.5, Muslims 9.6, and Christians 0.0 in post-graduation.
In West Bengal, where Muslims constitute 27 percent of the population, the Muslim dropout percentage is 27.2, while that of Hindus is 22.0.
The trend of higher dropout rates among Muslims in schools continues in Jharkhand, Karnataka, Gujarat, Kerala, Telangana, and Delhi.
She also attributes this trend among Muslims to financial constraints.
According to the study, 23.0 percent of Muslim children and 18.7 percent of Hindus, whose household income is Rs.1231-1700 are leaving school as dropouts.
The trend is slightly lower in the higher income bracket.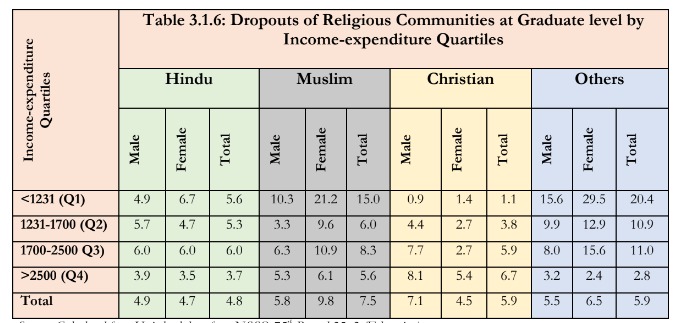 Figures of school droouts of Hindus and Muslims on the basis of income

Also, the trend of Niqab and the provision of early marriage of girls contribute to the higher dropout among Muslim girls.
According to Rubina TabassumIf the Narendra Modi government withdraws the Maulana Azad Education Fellowship and bans women to wear a burqa, niqab, etc inside schools and colleges in Karnataka, is likely to increase the dropout among girls.
As the madrassas were closed in Assam, the dropout became very high there.
Rubina Tabassum said although in West Bengal the percentage of Muslims is more than 27, the state sees maximum dropouts among Muslims.
Rubina considers the lack of leadership among Muslims as a major reason for the dropout in schools.
She says the Muslim leadership in India is weak and there are very few people who talk about education. "After Maulana Abul Kalam Azad, Muslims could not find any leader who could show them the right path and connect Muslims in India with education. There are no such Muslim leaders who can play a role in policy-making," she said.
14.23 percent of Muslims in India are very poor. Muslims are earning like other communities, but are spending less on the education of their children. We have to see where dropout is happening, and how to stop it in the primary, and middle classes.
On the other hand, Rubina Tabassum told the Christian community that their population in the country is very less, but their entire focus is on education. That is why this community has the most educated children. Muslims also need to focus and invest in education.
ALSO READ: Maulana turned politician who educates and empowers Muslim girls of Assam
Tabassum Rubina replied to some of the questions:
Where are the obstacles coming from?
Muslim girls are very weak compared to other community girls. If the girls study more, then early marriage will not happen. Boys are not that much educated in the community. Secondly, as parents are worried about the age of marriage, girls are not allowed to go out to get an education and for jobs.
What should Muslim institutions do?
To stop the dropout of Muslim children, Muslim institutions should make people aware. SC and ST were far below Muslims in education before independence. But after independence, these communities were made aware of education, and today Muslims lag far behind them. The Muslim organizations that are working on this should make people aware of education at various places. Tell the benefits of this. The community will have to show a little big heart that if girls are going out and studying, and earning, then it is not wrong. Wherever there are madrassas, modern education should also be introduced, UP has the least dropout, the reason for that is madrassas, where girls are also given education.