Ghaus Siwani/ Varansi
Haji Irshad Ali Banarsi, a 53-year-old businessman from Benaras, has written Shrimad Bhagavad Gita in calligraphy using Ganga's soil and water on large sheets of white cotton cloth and he wants this to be displayed in the Parliament.
Irshad Ali, a devout Muslim, who had earlier similarly scripted Quran, wants to gift his artworks to celebrities including President Draupadi Murmu, Prime Minister Narendra Modi, and UP Chief Minister Yogi Adityanath.
Amid the media-led controversy over Ramcharitmanas written by Goswami Tulsidas, Haji Irshad Ali's devotion to Hanuman is a point of discussion among the locals in Benaras.
Haji Irshad Ali Banars lives in the Bhilopur area of ​​the city and is an established Saree trader. He has earlier written the Hanuman Chalisa on a cloth with the soil of the Ganges on a two-meter cloth. Irshad wants also wants to gift Hanuman Chalisa to President Draupadi Murmu.
He finished Hanuman Chalisa, an ode to Lord Hanuman, in about four days. Irshad read and understood the Hanuman Chalisa before writing it.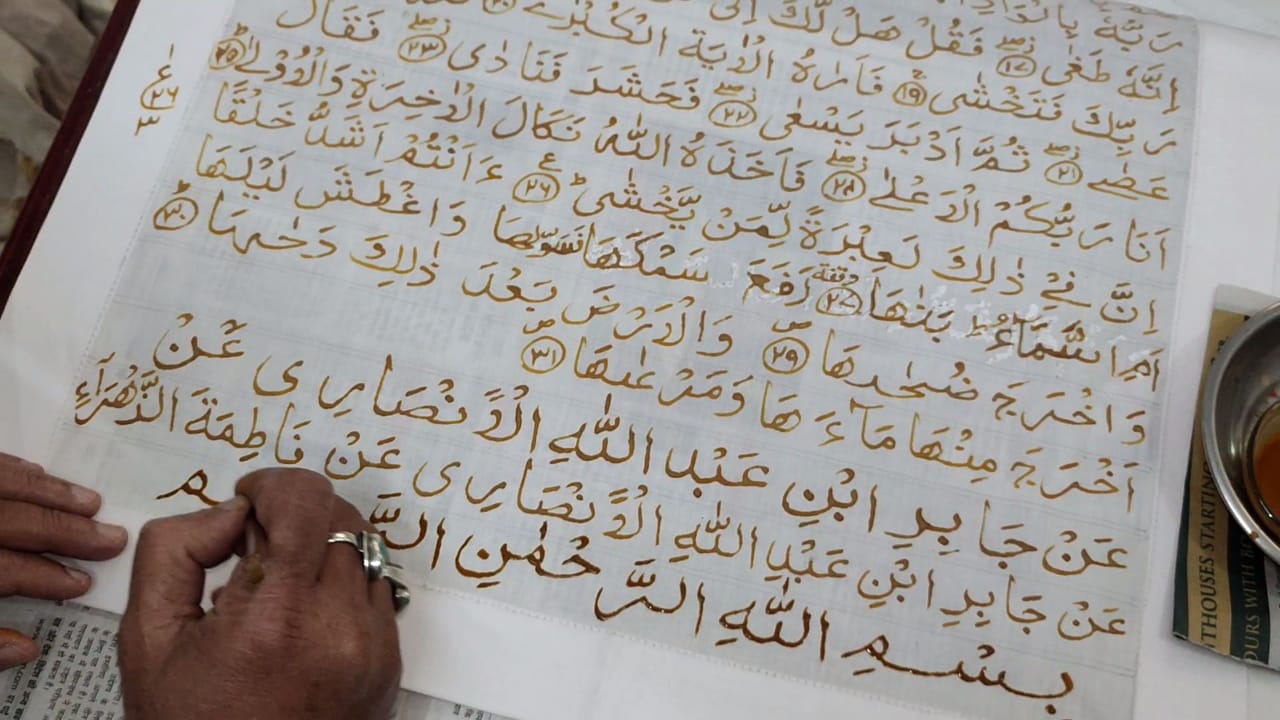 Haji Irshad Ali Benasari writing Quran on cloth
He imprints the text on the fabric that has an orange-coloured Banarasi Saree border in a lotus flower pattern.
He said that he had gathered the soil of the Ganga home during the flood. It was filtered and dried. Later he wrote this Hanuman Chalisa by mixing Gangajal and handmade glue.
He also seeks the blessings of Lord Rama's devotee Hanuman before working on his manuscript. Irshad scripted not only the Hanuman Chalisa but also verses from the Hanuman Sahastranam, a hymn praising Lord Hanuman and the Bhagwad Gita.
In all Shrimad Bhagwat Gita, Hanuman Sahastranam, and Hanuman Chalisa have been written on 30 meters of cloth.
Irshad wants the manuscript of his Bhagwad Gita to be displayed at the Kashi Vishwanath Dham and the country's new parliament building.
He has been busy talking to the officer about his proposal.
He said that his children have encouraged him to continue this project.
He has not only set a record by writing these religious books on cloth but also become an icon of India's inclusive civilisation.
Haji Irshad Ali has written the Holy Quran, Hanuman Chalisa, and other religious books on cotton cloth in the same style.
"When I was 14 years old, I started writing testimonies on a half-meter piece of cloth to put on the shroud before burial," said Irshad. Shahadatyn means declaration of faith - declaring that there is only one God and that Muhammad is His Messenger. "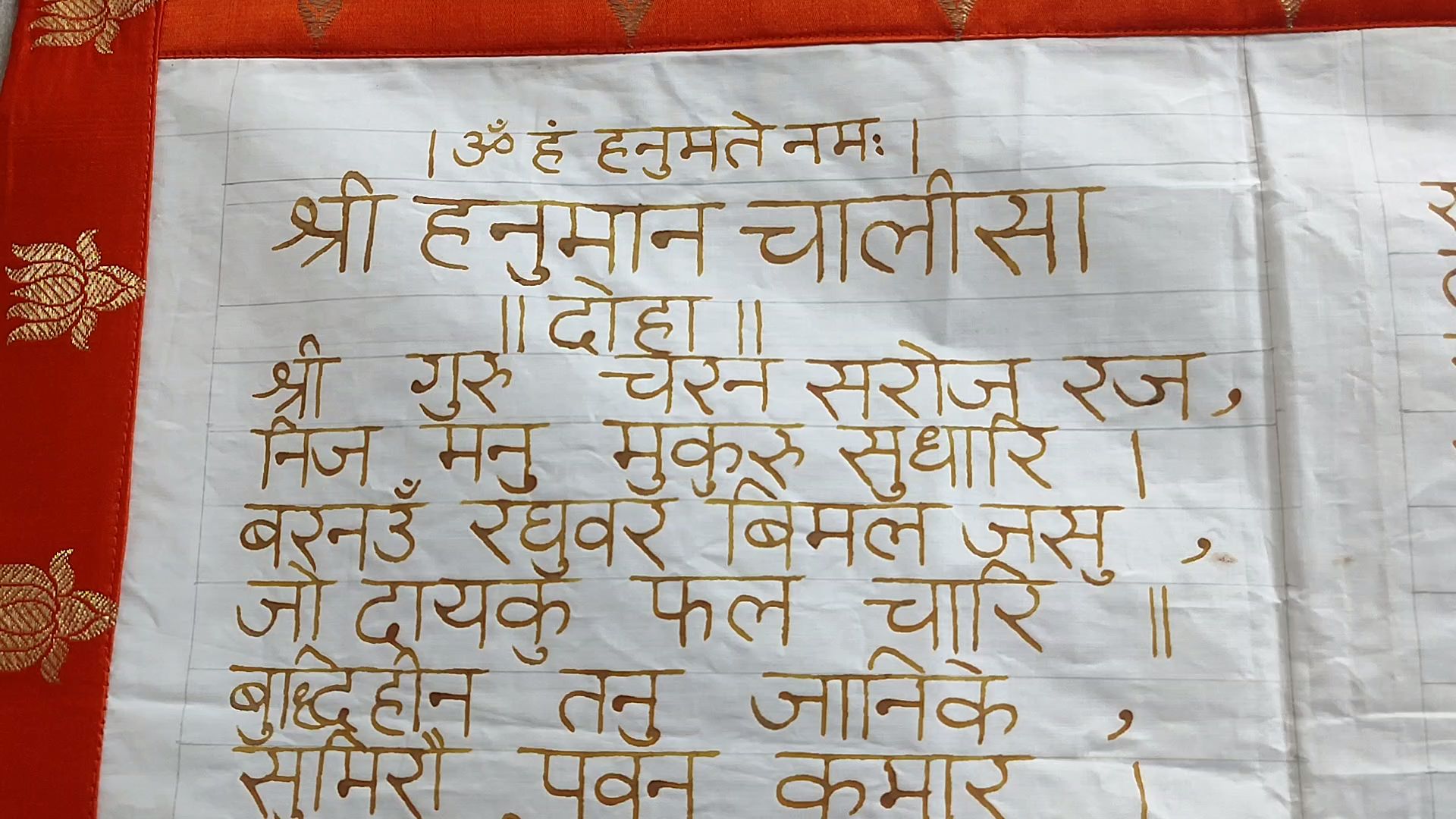 Haji Irshad Ali's hanuman Chalisa

His passion for writing increased, and he decided to write the Holy Quran on pieces of cloth. It took about six years to complete all 30 verses of the Holy Quran using ink made from Ganga clay, Zamzam well water, and saffron) and gum to make the holy ink. He bound his Quran with Banarasi silk brocade.
To write the Shrimad Bhagavad Gita he learned Sanskrit to understand the scripture. "I bought a Sanskrit translation of the Gita and with the help of local experts learned it," said Haji Irshad.
He also wrote Vishnu Shastranam, Hanuman Chalisa, and National Anthem on pieces of cotton cloth.
Interestingly, his entire family is involved in this hobby of writing. He said that all family members including his wife, two daughters, and two sons support him in this work. The sheets of cloth are prepared by his wife and daughters while the ink is prepared by his