New Delhi
Syedna Mufaddal Saifuddin leader of the Dawoodi Bohra Muslims who trace their heritage to the Fatimi Imams, direct descendants of the Prophet Mohammed, in Egypt, is celebrating his 80th birthday on a low-key note because of the ongoing conflict between Israel and Hamas in the Middle east.
Syedna is the 53rd al-Dai al-Mutlaq (unrestricted missionary) of the Community whose members spread across 40 countries are generally highly educated, qualified professionals in numerous fields and have thriving businesses.
Their population is around 1 million and yet their services to humanity and civic causes are widely praised.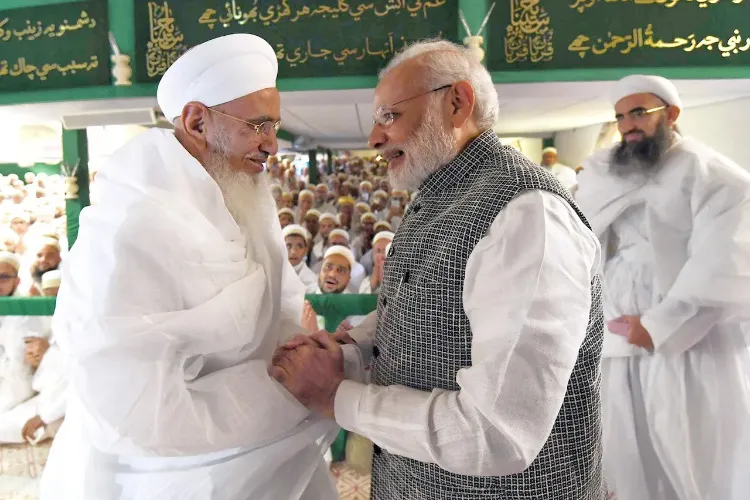 Syedna Mufaddal Saifuddin meeting Prime Minister Narendra Modi
The community's present spiritual head al-Dai al-Mutlaq Syedna Mufaddal Saifuddin, has dedicated his life to the service of the community and the betterment of society at large, with a special emphasis on education, environmental responsibility, and socio-economic development
Interestingly, he was born on August 20, 1946, in Surat but he chose to celebrate on the birth anniversary of his late father Syedma Mohammad Burhanuddin.
Last year major function was held in the community's center in Surat, Gujarat where heads of interfaith groups greeted him.
Syedna Saifuddin guides his followers across the globe drawing them closer to their faith, culture, and heritage. He teaches them the Islamic values of peace and patriotism while emphasizing the need for every member of the Bohra community to be productive citizens who make a positive contribution to the social fabric of their respective countries.
Most Dawoodi Bohra community members live in India with large congregations also in Pakistan, Yemen, East Africa, and the Middle East as well as growing populations in Europe, North America, South East Asia, and Australia.
The Dawoodi Bohras are united by a set of centuries-old principles; an unwavering commitment to the faith, a genuine love for the countries in which they live, a belief in the value of society, education, women's empowerment, engagement with other faiths, physical health and well-being, and a responsibility to care for the environment and all creatures that dwell within it.
Under the guidance of their spiritual leader Syedna Muffadal Saifuddin, the Bohras have always been loyal and law-abiding citizens of their country. They maintain cordial relations with all manner of governments to foster harmony and goodwill. From Mughal emperors to the British Raj as well as with modern-day political parties, the dais have looked for common ground on which to lay the foundations for mutual understanding that can lead to betterment for all.
The Bohras' unique blend of religiosity and modernity along with the way they contribute positively towards the development and prosperity of the places they live in gives them a special place wherever they reside.
According to Syedna Muffadal Saifuddin, Prophet Mohammed has taught Muslims that love for one's country is an integral part of faith. He advises the members of his community that they must work to achieve prosperity as that is the only way they can help others and give back to society.
ALSO READ: Seyed Ehtesham Hasnain: scientist who changed the course of TB diagnosis in India
Wherever they are Dawoodi Bohras run successful businesses: creating jobs, generating wealth, and contributing to the development of our nation. With an emphasis on higher education for both men and women, the community includes many doctors, IT professionals, teachers, academics, public servants and business owners spread over the countries they live in.