Nakul Shivani/ New Delhi
Reebu Hassan is a die-hard Shah Rukh Khan fan. She has watched his inspirational film 'Chak De India' close to a hundred times. "Each time I watch it, especially his speech in the locker room, I get goosebumps."
It was SRK's celluloid adaptation of Indian women's Hockey team's success that inspired Reebu to take up Hockey as a serious passion. At 25 years, she is already a three-time national level player and a much sought after coach in the Kashmir valley. She happens to be the youngest sports coach in J&K.
"My journey started when I saw some boys playing the sport in school," recalls Reebu. Much against her parents wish who wanted her to learn martial arts, Reebu went up to Mehta Singh, a renowned coach at that time in Srinagar, and pleaded with him to teach him the art of playing the sport. Coincidentally, it was around that time, 'Chak De India' had caught the imagination of the country, specially sports buffs.
"There was SRK on screen inspiring girls to play Hockey and there was a Hockey stick in my hand. What else could I have asked for," says Reebu reminiscing her initiation into India's national sport.
Reebu with her state teammates
It took an effort by her coaches to convince her parents to send her for practice sessions. There weren't many girls in the Kashmir valley playing Hockey at that time. She often practiced alone hitting the ball hard on the wall to avoid being noticed. "I was scared being caught. I practiced alone secretly."
It was her selection in the Jammu and Kashmir team for the 2016 nationals, that people began noticing her. "It wasn't just about me, many girls and their parents thought if I could do it, so could they."
Reebu then decided to take her sport to the next level. She completed a coaching certification course from National Institute of Sports, Patiala. Armed with a qualification, she then went about scouting for young kids who were interested in learning Hockey. As chance would have it, her efforts were recognised by the local administration and she was asked to coach at the Khelo India Sports Centre in Kupwara.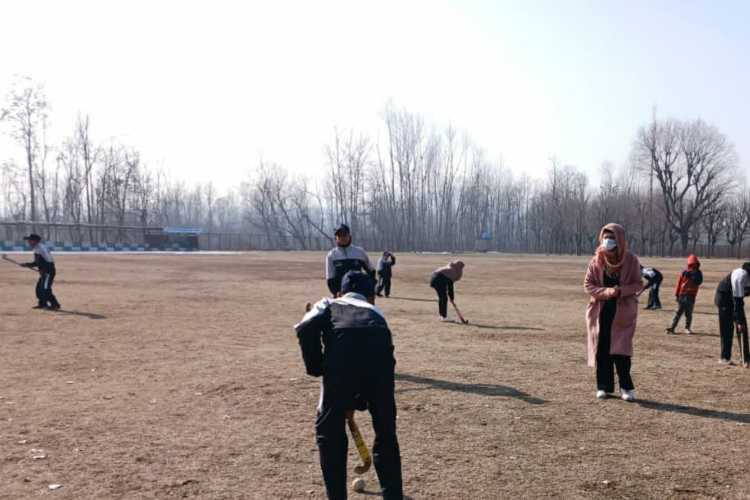 Reebu finetuning skills of aspiring Hockey players in Kupwara
This is where her journey becomes even more romantic. Undeterred by the challenges the new assignment posed, Reebu today travels more than a hundred kilometers each day, changing trains and buses to reach her coaching centre where more than 50 children in the age-group of 10 -16 wait for her each evening.
"It's the hope in them that draws me each day to take this tough journey. In fact, I don't want to call this tough since it is something I am passionate about," says Reebu.
Each morning at 7 am sharp Reebu is on her way to the railway station to catch a train to Sopore. From Sopore she takes a bus for an hour-long journey to her training ground. The same close to three-hour journey is repeated the other way in the evening after her classes get over.
Her passion to teach and produce champions has also taken her to Tripura, where she coached the state team in the 2022 national championships.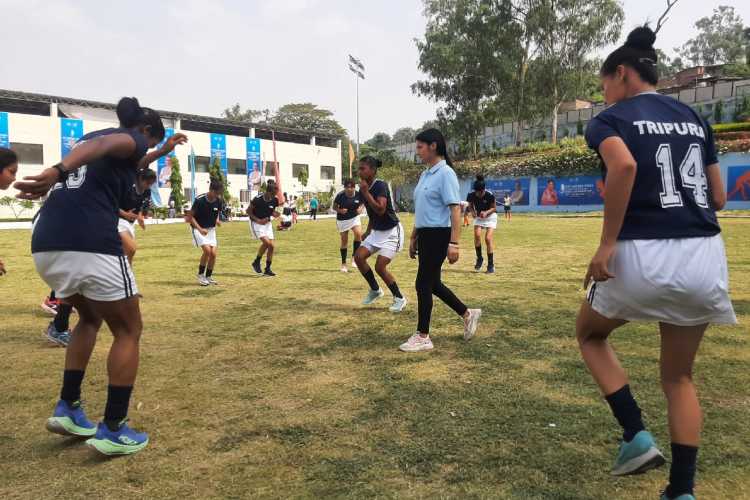 Reebu was appointed the chief coach of the Tripura womens' Hockey team in last year's Nationals
Coming back to Kashmir, Reebu is very optimistic about the future of Hockey here. "Earlier there was no infrastructure, now we have Astro-turfs and playing kits are provided for free to children. This gives hope. Many parents are now willing to send their daughters and sons to play," says Reebu who has seen the times change from when she was forced to practice in secrecy, to now when parents are themselves approaching coaches to enrol their children in Hockey academies.
"Kashmiris have stamina, endurance and the weather is perfect for playing, if not throughout the year, then atleast during the non-snowy days," she says with a chuckle.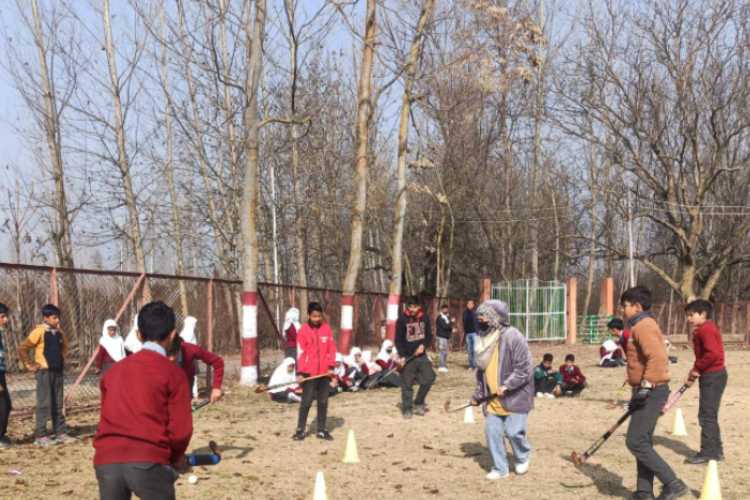 Reebu completed her coaching course to share her skills with youngsters in Kashmir
"What the Kashmir valley needs today is coaches and more competitive matches with outside teams. I want to take the sport to the next level here. I want to produce international players from the valley," she adds.
ALSO READ: Hockey finds its place in the Kashmir valley
With the passion Reebu has, the day may not be very far when one of Reebu's trainees dons the India jersey and takes the already growing popularity of Hockey to an even higher level.