Srinagar

Rubia Syed, a promising woman cricketer from south Kashmir, will be playing for the Gujarat Giants in the upcoming season of the Women's Indian Premier League (IPL).
"I will give my best to the team's success," said the 29-year-old cricketer hailing from Badasgam village of Anantnag district to the News Agency Kashmir News Observer (KNO),
Rubia is an all-rounder who bats right-handed and bowls right-arm medium pace.
She has been playing cricket since 2012 and has represented Jammu & Kashmir Cricket Association (JKCA) for the last ten years. She has also played in the Ranji Trophy and Senior Women's T-20.
It was on Friday that Rubia received a call from the Gujarat Giants. Rubia said, "I received a call from officials who told me that I will be part of the IPL team Gujarat Giants for the upcoming season."
Rubia said her father, Ghulam Qadir Sheikh, a fruit merchant, has always believed in and supported her. She said there is a lot of excitement among her family members and fans and every one of them wants to see her playing for the Gujarat Giants.
Earlier she told the media that her parents allowed her to pursue her passion for cricket despite the financial constraints at home. "At times, my father had no money but he never let me feel the burden," she said.
Kashmiri women cricketers have been noticed. Jasia Akhter, who is from the Shopian district, was selected for the Women's Premier League (WPL) for the Delhi Capitals for Rs 20 lakh in the auction.
Rubia is the first woman from J&K to make it to the North Zone team of women's cricket.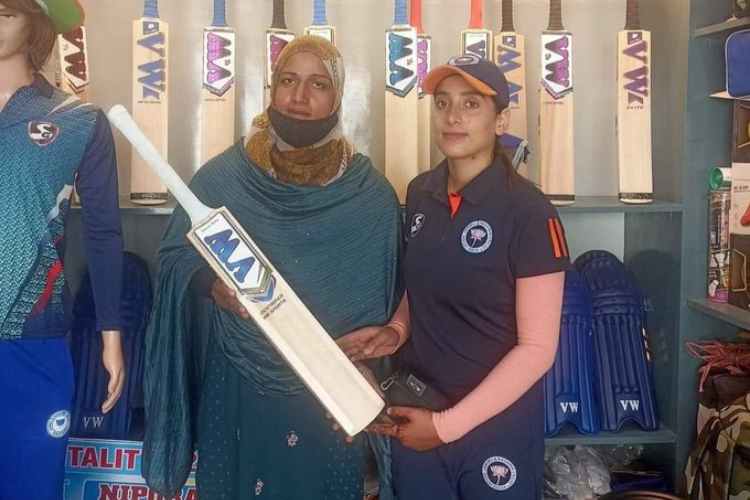 Rubia Syed with her coach Sakeena Akhter (Courtesy Facebook)
Rubia Syed has always attributed her success to her coach Sakeena Akhter, the first qualified woman coach at the University of Kashmir. Sakeena, she said prepared her initially and also helped her.
"Sakeena Akhter is my inspiration and she has always encouraged the girls to play. She has trained many
In the meanwhile, a 14-member team of J&K Women's Cricket Team from Jammu and Kashmir's Anantnag visited the National Defence Academy (NDA) in Pune.
This is part of the mission to promote the game in Kashmir and increase the value of interaction between the people living in Kashmir's remote areas and the rest of the country as well.