Nakul Shivani/ New Delhi
India' Alfiya Pathan defeated local favourite Ismail Husaili in the 81+ weight category on Friday to win a gold medal in the Asian Elite Boxing Championship currently underway in Amman, Jordan.
Such was the dominance of Alfiya in the final bout that the referee had to stop contest midway the first round itself. Husaili was disqualified in the opening round of the contest.
Alfiya was among the four Indian women to win a gold medal at the championship on Friday.
Speaking to Awazthevoice.in, an excited Akram Pathan, her father said, "This is the biggest achievement of her young career. Not just the family, but the entire neighbourhood is very happy."
An elated Akram added, "What more can a parent ask for than success for one's child? Alfiya has brought so much happiness yesterday that I cannot express in words."
Her gold medal victory in her very first outing at this prestigious championship led to late-night celebrations at her Nagpur home. Akram said, "Our neighbours burst crackers till late night to celebrate Alfiya's triumph."
Her family followed her final bout on youtube where it was being live streamed.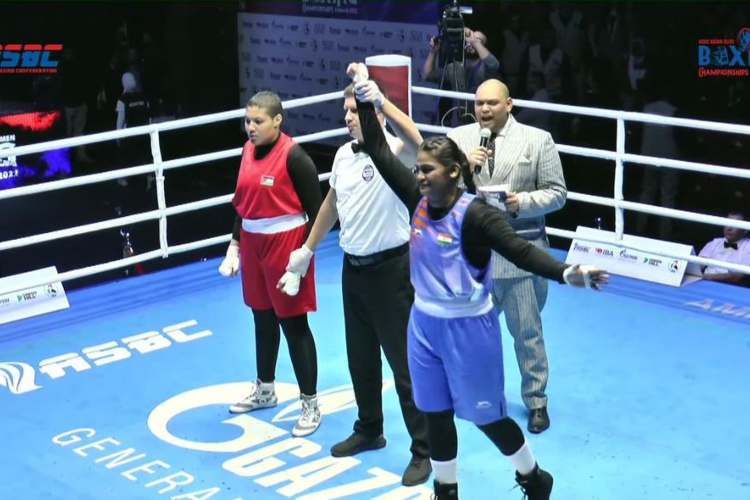 Alfiya Pathan declared winner in the 81+category. Picture courtesy: Twitter
In her semifinal bout Alfiya defeated 2016 world champion Lazzat Kungeibayeva whom she has now defeated twice this year. The 2021 Youth Boxing World champion had earlier stunned the Kazakh in the Elorda Cup final to secure her first championship title in the senior category.
Despite the huge achievement, Alfiya will not return to her home after returning from Amman. Her family will ensure she continues to train at the SAI centre in Rohtak. "Celebrations at home can wait. Let her not get distracted. She still has a long way to go," said Akram.
Other Indians to finish on top were Tokyo olympic bronze medalist Lovlina Borgohain in the 75 kg category, world championship bronze medalist Parveen in the 63 kg category and Saweety in the 81 kg weight category.
Meanwhile, Minakshi finished with a silver medal in the 52 kg category.
ALSO READ: Alfiya Pathan: another rising star on Indian boxing scene
This is India's third best performance in the history of the event so far. In 2003, India had won seven golds and in 2005 the Indian women had won five gold medals. In this edition, the Indian women boxers finished with seven medals including four golds.