Fordousa Jan receiving the Florence Nightinglae award from president Droupadi Murmu at Rashtrapati Bhawan
Ehsan Fazili/Srinagar
It was a moment of excitement for Firdousa Jan, Staff Nurse at the Sher-e-Kashmir Institute of Medical Sciences (SKIMS), Srinagar, when she received the information that her name was on the list of awardees for the National Florence Nightingale award. She was excited and thought of her mother, whose motivation had made her decide in favour of joining Nursing as profession, 21 years ago.
Firdousa Jan received the award from President Droupadi Murmu in Rashtrapati Bhawan on June 22; she was among 15 other nurses from all over the country to receive the award. Her husband, Dr Manzoor Ahmad, who works in Saudi Arabia, was also present at the event. Their school-going daughter and son watched with bated breath their mother being honoured by the President.
"My mother has been the force behind my choosing the profession", she told Awaz-the Voice over the phone from her Baghe-Mehtab residence in Srinagar. "I was least interested in the medical profession, as I could not see people in pain".
Firdousa said that when she could not get into a medical college she decided to be a Nurse and joined the SKIMS. "My mother kept reminding me that facing challenges is a great learning in life."
She completed her disploma in General Nursing and Midwifery from SKIIMS; B.Sc Nursing from IGNOU in 2002 and her M.Sc again from SKIIMS. She has submitted her Ph.D. thesis in Nursing and is waiting for her final presentation – called defending the thesis.
Firdousa has two booklets and a couple of articles published to her credit and her thesis focuses on handling cancer patients.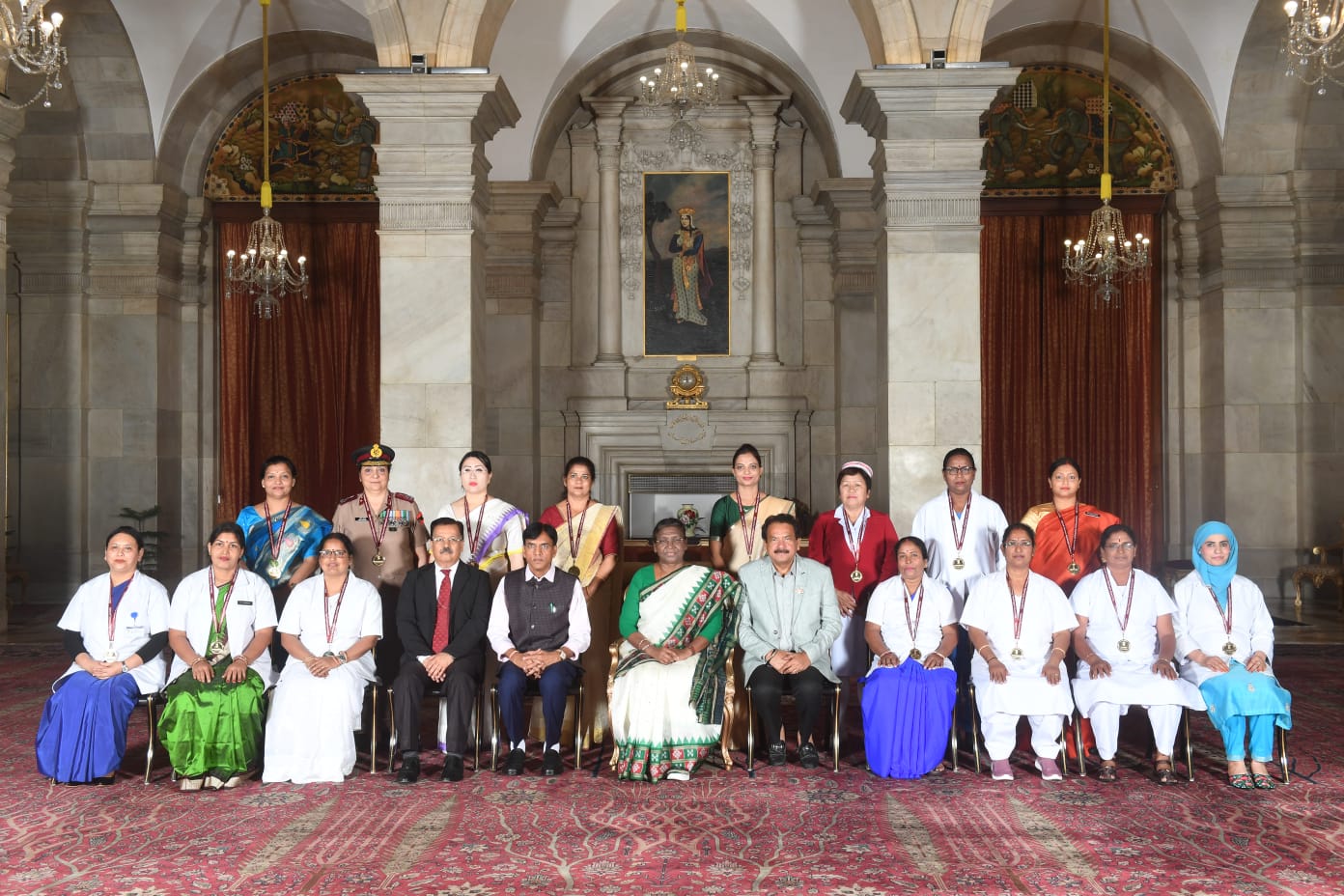 Firdousa Jan (Extreme right, sitting) with President Droupadi Murmu and other awardees at Rashtrapati Bhawan
Firdousa Jan teaches at the Nursing College of the SKIMS. She has also the distinction of working with the victims of drug addiction who require psychiatric treatment. She also did great work in the vaccination drive during the Covid-19 pandemic.
"It is a challenging job at the SKIMS as a large number of patients are referred to from other hospitals" in the valley, Firdousa commented. "All the professionals at the Institute, including doctors and nurses deserve not only national but international awards as they are doing a challenging job to the best of their capabilities."
"It is a challenge for a nurse when she has to make a balance between family and profession", she commented. "I was kind of a strong woman and knew how I have to make a balance between my job and the family", Firdousa added. "I had that kind of strength…without my parents", she said.
Firdousa admits she never thought that her work deserves an award because she only worked hard. "Recognition and appreciation help one to move forward, but ultimately a job requires dedication and honesty", she said.
"It was very difficult and a great challenge to manage my family and profession", Firdousa said. "In Nursing, we are taught how you have to be strong and take care of yourself", which eventually became the title of one of her papers, "Who will nurse the Nurses?"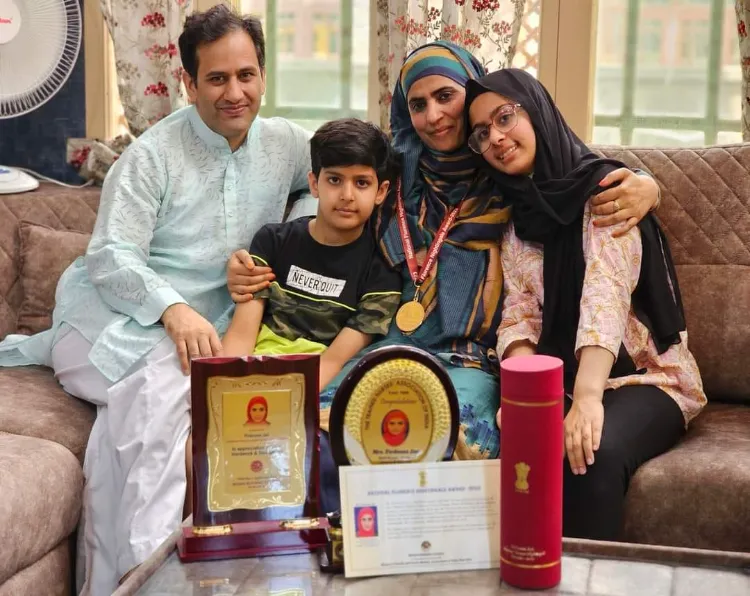 Firdousa Jan with her husband and children
Even as she faced the struggle amid stereotypical beliefs about the profession, her mother's words that she is into the noblest professions kept her going. "I have proved myself.…many, including my relatives, have been inspired by me".
Many of her relatives joined Nursing after her. She said the mantra for her is that keep improving her skills each day for self-satisfaction.
Her husband's family hails from Chrar-e-Sharief; while Firdouse, her doctor husband had shifted to Srinagar for work. Besides her husband, her supportive family includes her elder brother and sisters.
Firdouse has not seen her father, for he had passed away as soon as she was born; her mother also died in an accident. She did her schooling at Chrar-e-sharif, the venue of the shrine of Kashmir's patron saint Nund Rishi. Firdausa Jan received her early education from a Government school in Chrar-e-Sharief
ALSO READ: Dr Abdul Majid raises alarm at rising use of injectable heroin in Kashmir
"I haven't seen my father….there were little resources for us", and therefore no facility to study in a private school, while many others were studying in private schools," she said.
Firdousa would manage to get textbooks from the senior students. Never did the lack of resources come in the way of her studies.